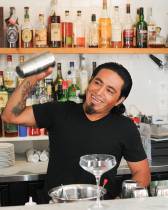 If you operate a restaurant that has a full-service bar, you really can't ask for a better bartender than Isaac Martinez. He's the man behind the taps at the very popular, always bustling Hank's Oyster Bar in Washington, D.C. When asked during a recent interview with the Beverage Journal what his overall work philosophy is, Martinez had this to say: "I am interested in learning more and more so I can become better. I want to know everything! When people come in and say, 'Can you make this drink?' I always want to be able to say, 'Yes, I know how to make that drink.'"
Martinez came to the United States from Mexico in 2001 and has never gone back. His English is not the best. This reporter had to ask him to repeat a few answers during our chat and had to rewind the tape more than a few times while transcribing. But, clearly, the force of his personality is what has his customers coming back to him again and again. And the fact that he makes one of the town's best Old Fashioneds! He remarked, "I really like it when people say to me, 'Oh, you work HARD! I like how you work!' I am motivated by this as much as when people say, 'I like this drink you just made me.' When you work at a bar, you have to have a lot of energy. You have to be in shape."
He continued, "I've always worked in restaurants and bars. I've worked as a barback and as a bartender. Right from the start, I really liked the job and the business. I enjoyed mixing drinks, and I still like coming up with something new for the customers."
...