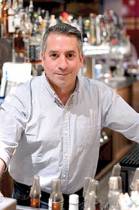 Most people who I interview for this column have come to the bar business with similar stories. "I started bartending in college and fell in love with it" or "My dad owned a tavern, so I grew up in the business." That's not the case with Babak Pakravan, head bartender at Penn Commons in D.C. A first-generation Iranian-American, his family's travels took him back to Iran where he had to eventually be smuggled out in 1983. He tried university life, but dropped out to join the United States Marine Corps. from 1985 to 1989. After those four years, he went back to college before becoming an officer in the U.S. Army.
He didn't get his start in hospitality until 1995, working various taverns and restaurants in Chicago. A year later, he moved to the District of Columbia and continued his service in our sector. "I was on the periphery early on," he recalled. "I was a dishwasher. I became a barback. I worked security. I worked at Timberlake's for 13 years. When Timberlake's closed, I came over to Passion Food Hospitality, the group I'm with now."
He initially started working at 10 Penh, a Pan-Asian restaurant, then went to Saba. He was the bar manager there until it closed, which brought him to Penn Commons, the newest restaurant in the company. Pakravan believes he has found a home.
...