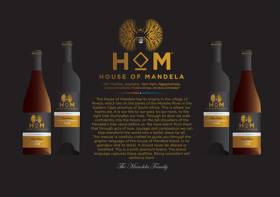 When people think of wine, what often comes to mind is a sense of tradition, a diverse richness that can speak volumes of its origin. With House of Mandela wine, it is all of that and then some. The wines are not simply juice in a bottle, but the story of those behind it and the rainbow nation of South Africa.
Each wine contains a distinct piece and flavor of Africa, her history, and her people--from the Royal Reserve Cabernet Sauvignon, a red with a rich and opulent palate of sweet-yet-dark fruity notes; to the Royal Reserve Chardonnay, a white that delicately balances citrus fruit and natural acidity with oak integration. For this reason they chose wine as a bridge between the past, present, and future – an appropriate way in which to tell their story, and pay homage to their ancestors.
The House of Mandela is conceived of and led by the women of the Mandela family, Makaziwe and Tukwini (pictured), respectively daughter and granddaughter of Nelson Mandela. They draw much of their inspiration from his words, "I was shaped by the cultural traditions and values of
...