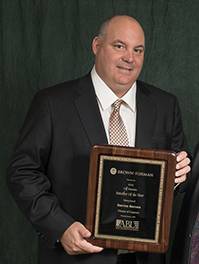 Brown-Forman Retailers of the Year were recently recognized for their commitment to the beverage industry.
American Beverage Licensees was pleased to recognize twenty-one beverage retailers for their success and dedication to the beverage alcohol industry at the 2015 ABL Annual Conference earlier this month. The 2015 Brown-Forman Retailer of the Year awards recognizes independent beverage business owners who engage in responsible sales and service of beverage alcohol and who are committed to their state associations. ABL congratulates all of the honored businesses and their proprietors for their outstanding contributions to the industry and their communities.
This year marks the 13th consecutive year that Brown-Forman, one of the world's leading distilled spirits producers, has sponsored the awards and made the recognition a truly special event.
"Our continued partnership with Brown-Forman has given us a great opportunity to recognize licensees in the industry that embody the spirit of responsibility and commitment to their profession," said ABL Executive Director John Bodnovich. "Independent beverage licensees, both on- and off-premise, foster a vibrant beverage marketplace for consumers while also upholding their responsibilities as licensed retailers."
Darren Barnes, owner of House of Liquors in Westminster, had never originally set out to win the 2015 Brown-Forman Retailer of the Year award.
The beverage industry has been a part of Barnes' life from an early age, when his father owned JB Liquors of Mt. Airy in the early 1970's. He laughed about it, saying how "it was a different time and place back then," and children would be allowed into the stores. As time went on, he and his father opened H.O.L in Westminster in 1990, joined the Maryland State Licensed Beverage Association, and eventually became one of the directors for Carroll County.
He attributes his success to lots of hard work and dedication, as well as proper management, a good location, and willingness to being open to new ideas. "You have to take care of your employees and be willing to get into the trenches with them. It's just an honor to know that people recognize the years of hard work," he says.
(Pete Spiropoulos of Town Center Market in Riverdale was also one of the 21 award recipients but was unavailable for an interview at press time.)