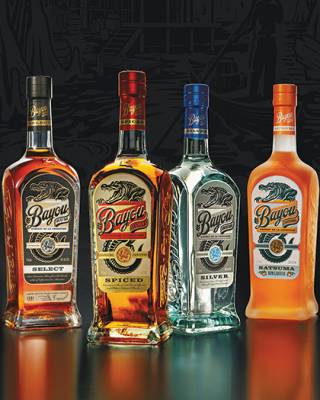 Bringing the Spirit and Spirits of Louisiana to Maryland and the District
When I was a little boy, to make me laugh, my grandma would spontaneously break into her rendition of Hank Williams' classic country song "Jambalaya (On the Bayou)." You know the lyrics: "Goodbye Joe. Me gotta go. Me oh my oh. . . . Son of a gun, we'll have big fun, on the Bayou!" Granny was a drinking woman, and I wish she was here with me now to sample some fine Bayou Rum.
Louisiana Spirits debuted its four variations of the product in Maryland back in May, and they've been hot sellers statewide ever since. Founded in 2011, the company follows an authentic "sugar house" recipe in gathering raw, unrefined cane sugar and molasses from M.A. Patout & Sons Enterprise Factory in Patoutville, La. Bayou Silver is the company's original, copper pot-distilled base rum. "It's a lot different from most white rums on the market," said Louisiana Spirits President Trey Litel, during a recent interview with the Beverage Journal. "It's colorless; clear; and has an almost grassy, fruity sort of aroma. It also has a wonderful flavor and after taste and is great for sipping on ice, or with cranberry juice, or lemonade."
Silver Bayou Rum is proofed with triple filtered fresh water, delivering a truly clean, even pure taste. I found its smooth and subtle character perfect over ice, but I could see where it would also work in a classic daiquiri or mojito or in your favorite rum cocktail creation.
By contrast, Bayou Select is the company's premium rum that's been aged three years. It has been fermented with cane yeast, also distilled in copper pot stills, then rested in American oak in the Louisiana heat. Of the four I sampled, this was my favorite -- a classic dark rum that I think has the ability to excite long-time rum lovers' palates with its complex aroma and sensuous finish.
"It's really kind of a sipping rum. We like to call it 'the finest Louisiana rum from the darker side of the sportsman paradise,'" said Litel, who worked for Bacardi earlier in his career before striking out on his own with his brother and another partner to launch Louisiana Spirits.
So what's with all the copper? "The copper pot still does some things that are very different than the industrial rums of today," Litel answered. "For example, copper removes sulfites, so you have a very pure product. The batch process is where all of the flavor is."
The other product I sampled in this line was Spiced Bayou Rum, which is infused with classic traditional spices and Louisiana-grown ingredients to create a unique and satisfying blend that makes for a great mixing rum. Spiced Bayou Rum livened up my rum and Coca-Cola, while the wife enjoyed mixing it with her unsweetened tea. It's no wonder that it was chosen Best in Class by the American Craft Spirits Association and the American Distilling Institute.
Finally, one of the company's most promising products is its Bayou Satsuma Rum Liqueur. "Satsuma is kind of the Mandarin orange of the South," Litel noted. "It's 60 proof, so it's a little bit lower alcohol content. It's delicious either straight or chilled. . . . You can down it as a shooter, [and] it's also a nice alternative to high-end triple secs. It's in that kind of range."
Bayou Rum is in the range of rum drinkers in Maryland, with the product now being served at places like Libations Bistro in Millersville. You can also buy it at such packaged goods stores as the Wine Bin in Ellicott City, the Perfect Pour in Elkridge, Hair O' the Dog Wine & Spirits in Easton, and many more. In Washington, D.C., Bayou Rum products are served at such hotspots as Chapling's Restaurant, District Commons, and the Velvet Lounge and sold in such outlets as Riggs Liquors and Georgetown Wine and Spirits. The list keeps growing in both markets.
Litel and company are especially excited to be in Maryland finally, which he calls "good rum-drinking country. Your rum index is a bit higher than the national average. We were also attracted because of Craft Wine & Spirits. Shannon Crisp, Raul Mejia, and those guys had been after us for two years to bring Bayou Rum to Maryland. They convinced us that your state was a great opportunity with its many coastal and nautical communities and diverse customers. So, we said, 'Yeah, let's do it!'"
Big fun on the Bayou ... er, Chesapeake indeed!