Casey's Bar and Restaurant Holds Charity Golf Tourney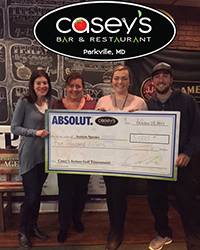 I always enjoy hearing about good deeds being done by members of the industry. I came across something that is very worthy of some press. Casey's Bar and Restaurant in Parkville, MD recently hosted their 7th annual golf tournament in honor of three of their favorite customers on the spectrum (the Autism Spectrum) … Christina Pollizzi, CJ Manouse, and Eric Kane.
Owners Casey Brooks and his mom, Terry Santoro started their annual golf tournament as a way for employees and patrons to get together and have fun outside of the establishment. There was no specific charity. More recently proceeds were donated to a local church. This year, however, Casey wanted to support an organization that works to provide resources, research, and awareness to his patrons. He chose Autism Speaks and he worked hard to get sponsorships from his distributors and donations from nearby businesses. Most of all, he needed golfers. Well, he got them, lots of them. Casey's efforts paid off as he raised $5,000 to benefit Walk Now for Autism Speaks: Baltimore.
This industry is full of people and organizations giving back to their communities in very heart-warming ways. If you or your company has conducted a fundraiser, let us know about it. We are very happy to tout your efforts here in the Beverage Journal.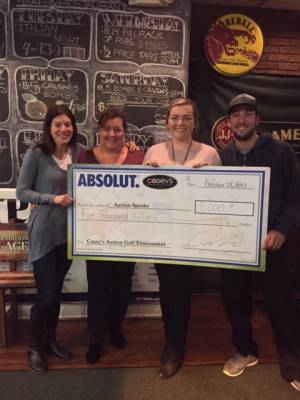 Here are Susan Pereles, Autism Speaks; Kelli and Kayla Manouse, mother and sister of CJ Manouse; and Casey Brooks,
Casey's Bar and Restaurant.