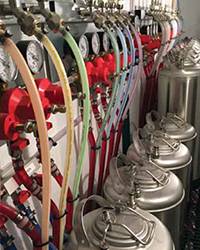 Cocktails on tap are no longer just a fad ...
When Anton Baranenko, owner of Draft Choice, a New York-based company that customizes draft systems, began installing cocktail lines in 2010, the response from his bartending peers was hostile, even Luddite, with accusations that he was cheapening the value of craft cocktails, and could put bartenders out of work.
In 2015, just five short years later, he estimates that in 2015 more than 80% of his clients sought out cocktail as well as beer or wine lines. "Before, I'd have to pitch people on draft cocktails when I went in to sell a beer system," says Baranenko. "Now they ask me."
Welcome to the new world of draft, in which speed of service, efficiency and pre-batching can sometimes trump, or at least help resolve, some of the problems created by the 15-minute cocktail.
Tad Carducci, as part of the Tippling Bros., created a program at Mercadito (NYC, Chicago, Las Vegas) with seven cocktails on tap. He predicts, based on conversations with national account restaurant executives, that by the end of 2016 draft cocktails will be flowing in some major chains. "Operators are now seeing the long-term value and return on investment possibilities, and there are now so many more vendors, for everything from tubing and fittings to installation, in the game, it's far easier to set up," says Carducci.
No Blueprint Yet
Draft cocktails are uncharted territory. Consider two recent openings: Yours Sincerely in Bushwick, NYC, has an all-draft program with 20 cocktails on tap. Quarter+Glory in Washington, DC, has two. One is a barrel-aged Negroni, the other seasonal—currently "Jamie (Here's How)," made with rye, bitters and sarsaparilla.
Kenneth McCoy, Chief Creative Officer for Public House Collective, the NY-based hospitality company that opened Quarter+Glory, admits some customers might wonder if the cocktails are bought in bulk rather than batched in-house. But he feels draft cocktails can provide quick service and consistency especially at busy times, allowing bartenders to be more social and interactive.
"The cocktail world can be extremely stuffy," says McCoy. "We've all seen the bearded and suspendered bartender, frowning while standing behind the bar staring at you. We want to have a place that offers a fun experience, and while execution is part of the show, this sort of approach allows more time devoted to actual hospitality," he says.
Yours Sincerely, with a dominant 20-handle tap, self-identifies as a "cocktail laboratory." The drink menu—9 nitrogen cocktails, 5 carbonated cocktails, 3 shots, 3 non-alcoholic—spells out specific ingredients along with hand-drawn flow charts that provide both an air of simplicity and scientific precision. Classics get new life, such as the Pineapple Express (coconut-infused denizen rum, organic pineapple juice, vanilla coconut syrup).
Sacramento's Hook & Ladder Manufacturing Company serves four draft cocktails at a time, recently including the Local 916 (spiced Tullamore D.E.W., honey, cranberry and lime juices). "We set out to offer draft from the start in response to many customers saying they felt craft cocktails took too long to make. To us, waiting 20 minutes just isn't acceptable," says head barman Chris Tucker.
While draft cocktails more often tend to be spirit and fortified wine only, Tucker includes those made with fresh juice, avoiding spoilage by making smaller batches that will be depleted quickly. (Juices are commonly clarified to preserve freshness.)
Quick Study
Baranenko credits the growth of craft beer and draft wine for bringing more attention to the potential for draft cocktails, and for the greater availability of better systems. There is also easy-to-grasp logic in the idea that draft cocktails are not a huge leap beyond batched cocktails. (A typical five-gallon cornelius, or "corney," canister, often used for soda, holds about 120 drinks.)
Like draft wine, draft cocktails have some particular requirements. Type 304 stainless steel components (valve couplers, tubing nipples, faucets, shanks) are essential to maintain the integrity of the system. The type commonly used for beer, 303, contains sulfur and can taint wine and spirits easily. Similarly, oxygen barrier tubing is sometimes required, as liquids oxidize quickly when exposed to tubing common in beer systems, and even flavor transfer can occur.
With the genre of draft cocktails effectively not even a decade old, there is a lot of learning to be done, and still some fundamental questions. Operators will naturally be concerned not only with issues of storage and delivery of draft cocktails, but also preservation and provenance. Cocktails are a different liquid than beer and wine; systems need to be able to handle the harshest and most acidic liquids.
Gas choice is also important, as is level of pressure—with both being variables to be tinkered with. Tucker says he thinks using nitrogen mellows cocktails, and he notices a distinct and favorable difference between a draft cocktail and one made fresh in some instances, with the draft version gaining a silkier texture. Products can change even in an oxygen-free environment. He notes some vermouths become slightly more bitter, even in stainless steel, and so careful monitoring is always required.
And no doubt, the more attention operators pay to this trend, the more they will learn.