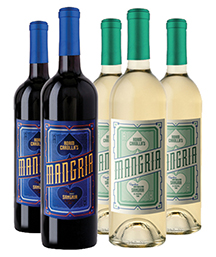 Adam Carolla is a man known for wearing many hats.  Comedian, author, actor, talk-show host, podcast host,... and now beverage biz mogul.  The third of his highly successful Mangria products recently launched and is now available in our market via Atlantic Wine and Spirits.  A Brand Profile is running in this month's edition of the Beverage Journal complete with a few quotes from Carolla himself.  As a Web edition extra, here is the full Q&A:
BEVERAGE JOURNAL: Every brand has a story behind it. What is Mangria's?
ADAM CAROLLA: I drink red wine every night to knock me down after my typically stressful days.  One night, I went to pour my second round and I only had half a glass left.  I still wanted to get my end of the day buzz, so I foraged around and dumped a little vodka in to fill the glass.  It tasted like Hell.  But I don't waste booze.  It's against my alcoholic moral code.  So I put some orange juice in and created an extra powerful Sangria.  I brought it up my podcast the next day and dubbed it Mangria.  Then, I started mixing batches and bringing it to Jimmy Kimmel's for Football Sunday and people liked it.  Eventually, we hooked up with some real wine guys in Napa and started bottling and marketing it. It kind of started as a joke but now it's bloomed into a real business.  We've sold over 200,000 bottles!
BJ: Having sampled the product, I think its taste really distinguishes it.  Could you talk about its flavor profile and recipe?
AC: I'd be lying if I started talking about "hints of this" and "notes of that" in the flavor profile.  I just know that it tastes good.  You can definitely taste the citrus flavor in the red mangria and in the white peach and pear flavor the sweetness really stands out.  And when it comes to the recipe I leave that to the wine experts.  I'm not a wine expert.  I'm a drinking expert with over 40 years experience.
BJ: Do you consider it a "man's drink?"  Or has this been crossing over to the female demographic?
AC: The name makes it seem like it's only for guys, but I know a ton of women who love it.  We've got the white peach and pear flavor, which appeals a little bit more to the ladies.  But my wife loves the original Mangria.  Sometimes we'll say it's strong enough for a man, but sweet enough for a lady.  Again, it wasn't like I set out with an intention of making a "man's drink."  I was just trying to get drunk and improvised with the stuff in my house.
BJ: This article is for the Maryland and Washington Beverage Journals.  We're always curious when interviewing those outside our region if they have any thoughts or insights on the MD-DC markets?  Any interesting drinking stories from a past time in Baltimore or Washington or elsewhere locally?
AC: I guess if you want to know my thoughts on Washington, D.C., you should get my new book on politics "President Me: The America That's In My Head."  
I have one D.C. drinking story, though it's more of a vomiting story.  It was 1997, I was doing Loveline and was asked to come out to D.C. for the WHFStival, a big 90s alternative music fest at R.F.K. stadium.  The night before I enjoyed some Maryland soft-shell crab for first time ever and then hit the 9:30 Club, a famous D.C. rock venue, where I saw Ben Folds Five play and did a couple of shots with Andy Dick.  The next day I was scheduled to go to R.F.K., stand in front of 55,000 people, and introduce Beck.  At 6 a.m. I woke up and instantly began violently throwing up.  This happened every half hour while I was curling in the fetal position on the bare hotel bathroom floor.  Unless Andy Dick put something in one of my drinks, I assume I'd gotten food poisoning from the crabs.  It was miserable.  
Long story short, I made a promise that if I could put together 60 minutes without vomiting I would get on the subway and head to the venue.  I managed to stop vomiting, got some Gatorade backstage and hit the stage at R.F.K. even though my head hurt worse J.F.K.
5) What has surprised you the most with your foray from comedy, radio, TV, podcasts, etc. into the beverage business?
Having the podcast and my other projects has given me a nice marketing platform and really helped get the word out.  So the booze business and the entertainment business can work well together. As far as surprises, I can't necessarily say I'm surprised, but the red tape and bureaucracy around the booze business has been harder to navigate than the stupidity of the entertainment business.  I chronicle this in detail in my new book so I'll keep it brief.  We went through months of back and forth just on the labels.  I didn't realize that I would have to get the creation story I told you earlier approved by the government for the back label.  The ATF has to approve your label and they had a beef with me saying I was an "alcoholic" or that my product "packed a punch".  They said, I couldn't refer to its "intoxicating qualities."  Seriously, that's a quote from our rejection letter.  To which I argue that it's a f***ing wine bottle, and more importantly, the product inside has a higher alcohol content than wine so I should be sued if I DON'T say that it's alcohol or that it packs a punch!  Again, check out "President Me" for all the gory details on getting Mangria out to the people.