Devil's Backbone "Vienna Lager"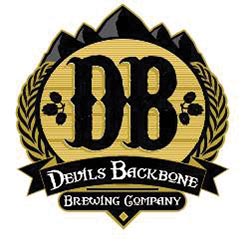 The Devil's Backbone Brewery of Lexington, VA, currently Virginia's largest craft brewery, has won many awards for its beers over the years.  In 2013 the brewery was named "Small Brewer of the Year" at the Great American Beer Festival and its flagship brand "Vienna Lager" has won both Gold and Silver awards at GABF and a Gold award at the 2012 World Beer Cup Championship.  Most recently, the brand won The Washington Post's "Beer Madness" award after five rounds of tasting. 
Vienna Lager, a new style of beer, was first brewed in Austria in 1830 by Anton Dreher a brewmaster at Vienna's Schwechater Brewery.  It was his goal to create an alternative to Germany's popular Oktoberfest and Marzen beers. Stylistically, Vienna Lager is similar to both of them, but is lighter bodied and has less alcohol. 
When poured and held up to the light, Devil's Backbone Vienna Lager is an amber, or might some say chestnut, color with a thick creamy head of foam that tends to linger.  To add to the picture, a steady stream of small carbonation bubbles continue to rise through the beer as it sits. 
After taking a first sip, the initial impression is one of sweet malt upfront followed by caramel. Both flavors remain throughout the drinking process.  To achieve these flavors, Brewmaster Jason Oliver uses a combination of Vienna Malt, Pilsen Malt, Dark Munich Malt and two types of Cara Malt.   Any tendency toward cloying sweetness, however, is counterbalanced by the presence of German Northern Brewer hops used for bittering and Czech Saaz hops, which are known for their aroma and flavoring characteristics.  The beer has a bitterness rating of 118 which puts it slightly under the maximum IBU level for a typical Vienna Lager at 125.
Vienna Lager is a true thirst quencher and beer that is meant to be enjoyed in any season and with more than one bottle at a time.  And, it is only one of the fine beers from the Devil's Backbone Brewery.