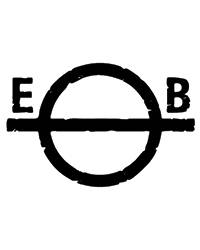 "Mind Your Draft"
Most craft brewers are entrepreneurs who have an interesting back story. The Escutcheon Brewery, located in Winchester, Virginia, is a good example of an interesting story and some interesting beers.
Escutcheon Brewing Co. started with the friendship between two guys who both really like beer. John Hovermale and Art Major met while John was working to open a different brewery in Winchester. While that venture didn't work out, their friendship did. Together, pint after pint, the pair discussed how they would "do it the right way," were they to launch a brewery of their own.
John, a master brewer, began at the Siebel Institute in Illinois more than fifteen years ago and has worked for breweries in Vermont, Maryland and Mississippi. Art is an accomplished entrepreneur who has founded other successful businesses. Although he doesn't boast the same experience brewing. The combination of their backgrounds and experiences, as well as their passions and drive to create good beer, were the perfect ingredients to build Escutcheon Brewing Co.
"John brews the beer; Art keeps the lights on," explains Kyle Kersey, VP Sales and Marketing at Escutcheon. "John developed the recipes and brewery design; Art built the branding. They both drink the beer. Art spent some time in the merchant marine and wanted to incorporate that experience into the brewery. As such, the brand name, beer names and even the tap room design all carry a nautical theme."
"When Art said he wanted to have our theme be related to the industrial maritime industry I thought, 'Sure, we're 150 miles from the ocean … that makes sense.' What a jerk," states John.
"Now, after building the brewery from the ground up, the men have grown to absolutely detest one another," Kyle jokes. "Luckily, the quality of the product allows them to continue working together – proving good beer heals all wounds!"
The Story on The Logo
In the mid-1800s, a nearly 30-year-old man named Samuel Plimsoll attempted to become a coal merchant in England. Although he failed and was reduced to destitution, he learned to sympathize with the struggles of the poor. When his good fortune returned, he focused his efforts on creating regulations for what were known at the time as "coffin ships." The corrupt owners of these overloaded and often heavily-insured ships would risk the lives of the crew, knowing that they would benefit whether the ship sank or arrived at its destination.
After many years of fighting, Plimsoll, then a member of the British Parliament, championed a bill known as the Merchant Shipping Act. This new law forced ships to place a mark … known as a Plimsoll Mark … on the hull, indicating the safe limit to which a ship may be loaded, ie. the maximum draft (or how deep the ship sits in the water), saving countless lives in return.
In honor of Samuel Plimsoll, Escutcheon Brewing Co.'s logo is a Plimsoll Line, forever reminding their drinkers, to "Mind Your Draft."
At Escutcheon the team obviously has a lot of fun, while taking their beer very seriously. These beers include: Bremen's Harbor Berliner Weisse; Growler Kölsch; Agonic Line Lager; Bowditch American Pale Ale; Plimsoll India Pale Ale; Blackstrake Stout; and the most recent edition, John Riggins 4th and 1 Pilsner.
John Riggins 4th and 1 Pilsner has been crafted in collaboration with the NFL Hall of Fame running back. Mr. Riggins' friend and business partner, Art Major recently stated, "We consider our partnership with John Riggins (pictured on the left) to be a real game-changer, and we're excited as hell about this beer. Any excuse to spend time drinking beer with John is a good excuse – and making a beer for him is a REALLY good excuse."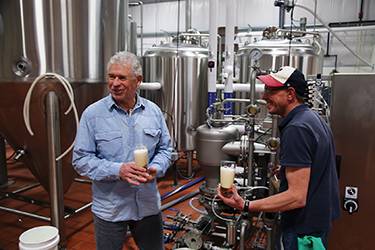 While in the brewery sampling his new brew, Mr. Riggins said, "I've known Art Major for awhile, and when I thought of the possibility of brewing a beer to my liking, Art's name was the only name on the list." Mr. Riggins continued, "Not because there weren't other possibilities, but because I know [Art] doesn't half-step anything, and after meeting Brewmaster John Hovermale, it became obvious Art had chosen his brewmaster wisely. In my opinion, John Hovermale (pictured on the right) may have created a Pilsner that will put a fork in the road of the Pilsner Parkway. 4th and 1 Pilsner may be the road less travelled, but most enjoyed."
Escutcheon is distributed in in Maryland by Kenco and in DC by Kysela Pere Et Fils. For further information, contact Kyle Kersey, VP Sales and Marketing, Escutcheon Brewing at 703-689-1039 or kyle@escutch eonbrewing.com.