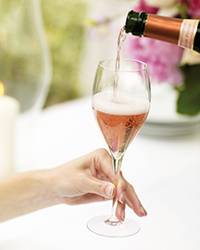 It is now old news that rosé Champagnes (and rosé wines in general) are more popular than ever. The trend began around the turn of the century, and sales have been growing steadily since. My local retailer told me that 47% of the wines he sold this summer were rosés.
The reason? We have gotten over the "sweet" curse of white Zinfandel, and blush wines in general (these wines still sell, of course, to those people who prefer sweeter wines). One popular theory is that people started to realize that most rosé wines—particularly Champagnes—are not sweet, but dry, and not frivolous.
Going back a while, I can remember the time that a "real man" wouldn't drink pink anything, especially Champagne; the myth was that "rosés are for ladies." I never believed that trash, thank goodness, and have been enjoying rosé Champagnes for decades. I must admit, though, just from my own observation, that rosé Champagnes tend to be even more popular with women than with men.
Pink-flation
A mere 15 years ago, rosé Champagne sales represented 2% to 3% of all Champagne sales. That figure has multiplied five-fold, with more than 10% of all Champagne sales now being rosé. And it seems to be increasing—despite the fact that rosé Champagnes are always more expensive than white Champagnes, at least $10 more, and often a lot more than that.
The price of fame can sometimes be costly. Or profitable, depending on how you view it. Let's look at two Champagne houses that always championed rosé Champagnes, even before they were "in," Laurent-Perrier and Billecart-Salmon. Pre-2000, Laurent-Perrier's Cuvée Rosé Brut was the largest-selling rosé Champagne in the world; it retailed last century for about $35, sometimes less on sale. Laurent-Perrier's style emphasizes fruitiness. When rosé Champagnes became hot, Laurent-Perrier for a while could not make enough; Rosé Brut became difficult to find. Nowadays, Laurent-Perrier Cuvée Rosé Brut retails for about $78 a bottle; its white non-vintage brut's average price is $41, making that a $37 premium for the rosé! (Laurent-Perrier is no longer the largest-selling brut rosé; that honor goes to the largest Champagne house, Moët & Chandon, whose NV Rosé Imperial averages $58 retail).
Billecart-Salmon was the darling of so many rosé Champagne lovers, so much so that at one time an astounding 40% of this house's Champagne sales were rosés (they normally produce at least 20% of their Champagnes as rosés, a very large amount compared to other houses). Its followers (including me, at that time) loved the light, delicate style of this salmon-colored rosé. It retailed for about $40 before 2000. Today, Billecart-Salmon's NV Rosé's average retail price is $87 (Billecart-Salmon's NV Brut averages $57).
You might say that both Laurent-Perrier and Billecart-Salmon cashed in on the popularity of their rosés, big time, but they are the exceptions rather than the rule. For example, Moët's white NV Brut Imperial averages $49; the NV rosé is just $9 more.
Surprising Value
Rosé Champagnes are more expensive than standard bruts not just because they are so popular. They always were slightly more expensive; it's a costlier process making rosés compared to standard bruts. (The pink color of rosé Champagne typically comes from the addition of still Pinot Noir red wine, as opposed to red-grape skin contact; blind tastings have demonstrated the differences in taste between the two methods are negligible.)
Are they worth the extra money? My answer is a resounding "Yes." Not only are rosé Champagnes delicious and really pretty to look at, but they also generally accompany food very well—better than most other Champagnes.
It's no surprise to hear that the very best rosé Champagnes are quite expensive. But there are so many good rosé Champagnes being imported into the U.S now at multiple price levels—and the non-vintage examples recommended in the sidebar all fit into the $45-$80 SRP range, hardly a dealbreaker for consumers who have their sights set on the best of the best. (If you are looking for a sparkling rosé under $40, forget about Champagne. But Roederer Estate makes a really fine Brut Rosé in Mendocino County for under $30 SRP.)
Like other Champagnes, rosé Champagnes are made in different styles: they range from elegant and light, such as Billecart-Salmon and Perrier-Jouët Cuvée Belle Epoque, to full-bodied and powerful, such as Bollinger and Krug. My personal preferences lean toward light, subtle, floral and elegant. For example, I did not list Piper-Heidsieck's Rosé NV Sauvage, which is intensely fruity; some people love it, but it's not for me.
Note that there are far more NV rosés listed than vintage rosés; many Champagne houses do not bother to make vintage rosés because NV rosés are easier to produce.
There are still more fine rosé Champagnes out there, albeit often in small supply. Charles Heidsieck's Brut Rosé 1999, for example, is over $100 and might be difficult to find at this point. If you can find it, you will love the 1999, but Charles Heidsieck's 2006 Brut Rosé is readily available and excellent. Charles Heidsieck's Rosé Reserve NV is a delight as well, a bit lighter and more floral than the typical robust style of Charles Heidsieck. Champagne Louis Roederer's 2008 Rosé is one of the best Champagnes I have enjoyed in the past few years; lighter-styled than usual, it is an utterly delicious rosé.
Prestige cuvées, by definition, are the best Champagnes a producer makes. Most Prestige cuvées are made in small quantities, especially rosés. For example, only 5% of the already small production of Cristal is its rosé. Prestige Cuvée rosés are expensive; some are over $300 retail; the Cristal Rosé retails for $500 plus.
Are they worth the price? For me, three of the ones I list in the sidebar are worth the price in terms of quality: Cristal, Krug and Dom Pérignon. But frankly, since Cristal white is half the price of the rosé, I would choose it over Cristal Rosé. And for the price differential, again about half the price, I would choose DP white over DP Rosé. Krug is a different story….
Recommended Rosé Champagnes
Listed alphabetically, with top favorites in bold face
Non-Vintage
Bollinger Rosé
Delamotte Brut Rosé
Deutz Brut Rosé
Drappier Brut Rosé
Drappier Brut Rosé Nature (Zero Dosage)
Duval-Leroy Rosé Prestige
Fleury Brut Rosé
Gosset Grand Rosé Brut
Alfred Gratien Brut Rosé Classique
Charles Heidsieck Brut Rosé Reserve
Henriot Brut Rosé
Lanson Brut Rosé
Lanson Extra Age Brut Rosé
Moët & Chandon Brut Rosé Imperial
G.H. Mumm Brut Rosé
Bruno Paillard Brut Rosé
Première Cuvée
Pascal Doquet Brut Rosé Premiers Crus
Perrier-Jouët Blason de France Brut Rosé
Philipponnat Brut Reserve Rosé
Ruinart Brut Rosé
Veuve Clicquot Brut Rosé
Vintage
Bollinger La Grande Année Rosé 2004
Deutz Brut Rosé Millesimé 2009
Charles Heidsieck Brut Rosé 2006
Pol Roger Brut Rosé 2006 or 2004
Louis Roederer Brut Rosé 2008
Veuve Clicquot Brut Rosé 2004
Prestige Cuvée
Gosset Célébris Rosé Extra Brut 2007
Alfred Gratien Cuvée Paradis Rosé NV
Krug Rosé NV
(Moët & Chandon) Cuvée Dom Pérignon Rosé 2002
Perrier-Jouét Cuvée Belle Epoque Rosé 2004
Louis Roederer Cristal Rosé 2004 or 2006
Ruinart, Dom Ruinart Rosé 2002
Taittinger Comtes de Champagne Rosé 2004 or 2005
Veuve Clicquot La Grande Dame Rosé 2004