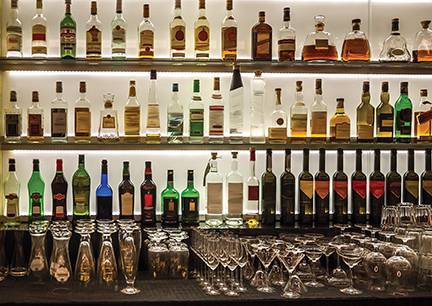 A restaurant that doesn't routinely change its menu always has plenty of open tables. The same holds true for a bar. If you find yourself in need of a financial shot in the arm, consider taking a page from the beverage consultant's playbook and revamp your backbar. Regardless of the size or concept of your operation, the backbar is your principal and most effective marketing device. Ensuring that it has the most advantageous product mix is a tried and true strategy for boosting revenue and rejuvenating a beverage program.
To that end, here are the important things to consider when renovating your backbar and adding punch to your beverage line-up.
Taking Stock — Over time the inventory at most beverage operations grows to the point of being unwieldy. New products are added to the backbar, while older, slower moving products are allowed to remain on the shelves. The reality is there's a physical limit to how many products can effectively market on all backbars.
One way to cull through the inventory is to analyze each product's depletion rate. If an item takes 4 months or longer to deplete, it should be considered "on the bubble" and you'd be well advised dropping it from inventory. Underperforming products have low returns on investment.
Products taking 9 moths or longer to turnover are no longer a viable investment and for all intents "dead stock." The backbar space they occupy could be put to much better use marketing brands people actually want. These products are often unsightly with old tattered labels that give the backbar the appearance of neglecte. Dead stock are financial lost causes and need to be removed from display shelves.
Maintaining Control — Stocking the bar with the products necessary to meet demand requires a significant investment of working capital. Realizing the necessary return on that investment is partially a question of control. To be profitable, you need to know exactly what inventory you have, what you paid for it, at what rate you use it and exactly where it is at any point in time. It necessitates tracking every product from the moment it comes through the back door until the end of the inventory period it was depleted.
In jargon it's referred to as "cradle to grave" accounting and it involves implementing a series of overlapping internal systems—e.g. purchase orders, requisitions, bar par, perpetual inventory, comp and spill sheets—that track every product through the inventory cycle. While uncomplicated, the key to the system is ensuring that all of the components are in place and being used properly.
Capital at Risk — It's especially important in these challenging economic times to keep your company's working capital flowing through the checking account and not needlessly tied-up in inventory. There's another reason to maintain inventory levels as low as is operationally feasible. Once a product leaves the relative security of the liquor storeroom, your investment in that product essentially becomes "capital at risk," meaning it can be stolen, given away, wasted, spilled or otherwise lost. Therefore, the lower your inventory levels the lower your exposure to loss.
Back Bar Orientation — Are the liquors and liqueurs on your backbar still the best brands to feature? The spirits being promoted should reflect the character of the business and help establish its identity. Like a blood transfusion, changing those brands may infuse your operation with new life. For example, some of the finest spirits produced are being handcrafted by small distillers quite possibly down the road from your establishment. You may therefore decide to feature a large selection of American micro-distilled spirits. With the renaissance of the cocktail and the ever-growing interest in high quality spirits, stocking American-borne vodkas like Tito's, Cold River and Vermont Gold makes considerable sense.
Mixology Support — Liqueurs and cordials are essential products in drink making. And yet, some of liqueurs and cordials you stock may actually be doing little more than collecting dust and taking up space on the backbar. Before investing your working capital, make sure there is a legitimate demand for each and every liqueur and cordial stocked. For instance, if you're not planning on serving many Rusty Nails, you probably don't need to invest in a liter-sized bottle of Drambuie.
Gaining the Upper Hand — Few things boost premium spirit sales more than a knowledgeable staff. Ensure that your bartenders and servers are well informed about the top-shelf products, what makes them so exceptional and why they're well worth their higher price tag. Guests often inquire what makes one brand better than another and delivering a concise, informative answer is usually all that's needed to close the sale.