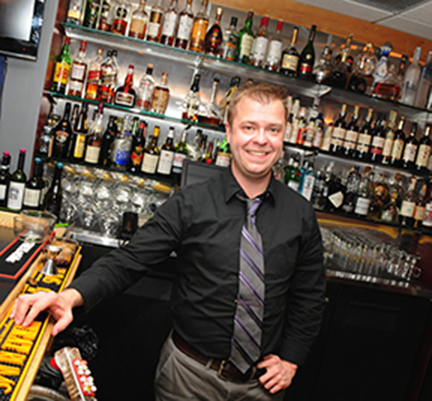 Lucien Smith didn't come to Annapolis in 2003 to be a bartender. He came because he was accepted into the U.S. Naval Academy. But a sailor's life was not for him. He ended up voluntarily resigning from the Academy to pursue other interests. But there was something about Maryland's capital city that kept this former Californian around. He took a job as a catering bartender in Timonium, then found work right back in Annapolis as a bar-back at the Castle Bay Irish Pub on Main Street. By then, he was hooked on the biz!
In 2007, he was hired at Osteria 177 to be their service bartender. He's been there ever since. "It was here I began to extend my cocktail knowledge through self-study and a desire to continue on this career path and to excel in it," he recalled, during a recent interview with the Beverage Journal. "I'm now a Certified Mixologist through Bar Smarts and Pernod Ricard. "
Over the years, Smith has managed to develop a personal beverage philosophy that he's only too happy to share. "I believe that quality comes from not only presentation and how you make the drink, but to the spirits that you use," he stated. "You should emphasize the classics and the original ways of preparing things, but then you need to adapt them to difference palettes. I think it's good to have a balanced cocktail and not something that is too sweet or too tart or has too much going on in it where you can't taste the base. It needs to accentuate the base of the cocktail."
Smith has been accentuating the base of many cocktails at Osteria 177 for the past seven years. The restaurant was created by executive chef and proprietor Arturo Ottaviano, who had a vision of opening a fine-dining restaurant in the heart of Annapolis that would have an emphasis on Northern Italian and coastal Italian dishes.  "I think we serve the best Italian in Annapolis," Smith said proudly, "including some of the freshest seafood you can get in all of Maryland."
For Smith, the biggest perks of the job are personal ones. He likes being a positive part of people's afternoons and evenings. He knows that sometimes just getting to his bar, his eatery, has been the thing that has gotten some customers through some tough days. He remarked, "I love serving a guest a drink, watching them take a sip of it, and then watching a smile come over their face.  That means I did my job well and I made someone happy. Osteria 177 excels at pleasing our guests."
He continued, "You should always strive to make the customer happy. But don't be afraid to tell the customer, 'Maybe you should try something else instead of this,' and move them in a different direction. Elevate their palette and help them realize that it's sometimes about finding new things and trying new things. But it's also about having someone with the capability behind the bar or behind the line in the kitchen to make something that's good that the guest will enjoy trying out."
Smith recalls his early days as a midshipman and how he marveled that there were lines around every bar in downtown Annapolis. Being a bartender in Maryland's state capital was and still is a coveted position. He commented, "You have to work your way from the ground up as a dishwasher, a bar-back, whatever it takes. You have to learn the craft in order to advance and get the good shifts. You have to be passionate about it. There are a lot of career bartenders in Annapolis, and the majority of them are good friends of mine. I love and respect them all. We all do different things, and we all have our own way of doing  things. Our ways are right for our particular establishments. That's what brings variety to Annapolis. Annapolis just isn't a town anymore with draft beer and crab cakes. We're becoming a town with dining establishments that people really want to visit and enjoy their food and drinks."
As for his advice to young bartenders just coming to town? "Show that you care," he stated. "Show up for each shift, work hard, and study on your time off. That's right. Read, read, read, read!"
FAVORITE MOVIE: "Legends of the Fall"
SPORT HE LOVES TO PLAY: Golf
HIDDEN TALENT: "I make a killer coconut cream pie!"
PRIZED POSSESSION: "My great-grandfather's pocket watch from the late 1800s-early 1900s that he had with him when he came over from Sicily."
FAVORITE AREA TOURIST SPOT: The Mall in Washington, D.C.