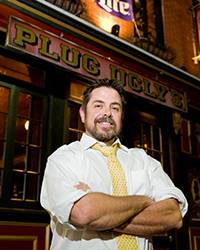 Behind the Bar At Plug Ugly's
Mark Walker, bartender extraordinaire at Plug Ugly's Publick House in Baltimore, still remembers the first time he ever poured drinks professionally. It was on a particularly busy night at Charm City's fabled Hammerjack's, and The Alarm was rocking out on stage. "Yeah, my first training shift was a sold-out concert," he recalled, during a recent interview with the Beverage Journal. "There was probably around 2,000 people there. My boss looked at me and she said, 'Well, Mark ... sink or swim!' I guess I swam."
Walker has been doing more swimming than sinking ever since. A lot more. Last year, in fact, he was named one of Baltimore's 10 Best Bartenders by the Baltimore Sun. With well over two decades of experience, Walker got his current gig at the popular O'Donnell Street restaurant and watering hole because of his longtime friendship with co-owner Tommy Welsch. "He's a really good friend of mine," Walker said, "and I actually waited for him to open this place up for two years while I was working elsewhere. As soon as he opened the doors, though, I started working for him."
The place that he refers to is a thriving restaurant by day that turns into more of a nightclub in the evenings, complete with a DJ, music, and a party atmosphere. Co-owned by Mark Bogosh, Plug Ugly's Publick House opened in March 2012 where Helen's Garden used to be. It is named after the old 1850s political gang of tough guys who would use strong-arm, "Gangs of New York"-style tactics to try and force people to vote a certain way.
Walker says the thing that distinguishes him is his toughness and longevity. "I have been doing this for so long that even what I used to consider a challenge isn't really a challenge anymore," he stated. "After you've been doing a job for as long as I have, you have to make your weaknesses your strengths. The things that used to bother you, you learn how to turn them around so they don't bother you like they used to. I tell you, if you let things bother you in this business, you're not going to make it very long.
He continued, "I enjoy talking with all of the people who come in, but that means you do have to try and be in a good mood all of the time. You definitely don't want to bring your personal issues into the bar, because then there would be a lot of upset people sitting around. When people come in, they want you to be in a good mood and make them smile and be their friend. They don't want to be sitting around and asking each other, 'What's wrong with that guy?!'"
While Walker himself doesn't have a signature drink that he has become known for, he has gotten to be quite adept at making Plug Ugly's main specialty drink, known as Pirate Juice. "It's not my drink," he was quick to point out. "I didn't make it up. But people love it. It's a rum-based drink, made with seven different rums. It infuses with fruit, and we pour it over crushed ice, add fresh-squeezed orange juice and a little berry juice on top. That's our signature drink. [chuckling] And we do have some nicknames for it, and I'll leave it at that."
Having been in the game since 1988, Walker says he has certainly seen his share of changes in the bar and restaurant business. "The biggest difference is credit cards!" he declared. "Everybody uses a credit card for everything. When I started, everybody always used to pay cash."
In addition, there is the little matter of technology. Chiefly, mobile technology. He concluded with a sigh, "Everybody is on their cell phones these days. Even most young bartenders today seem to be on their phone a lot, which is kind of annoying to me and to some customers. They really need to take their jobs more seriously. But, hey, I'm glad we didn't have these phones back when I was their age, because I probably would have been on them, too!"
FAVORITE MOVIE: Forrest Gump
HOBBY: "I play golf three or four times a week."
HIS CUSTOMERS WOULD BE SURPRISED TO LEARN: "That I don't really drink all that much."
OTHER CAREER WOULD LOVED TO HAVE TRIED: "I should have gone to college and been a doctor. A plastic surgeon would have been great!"
PERSON HE'D MOST LIKE TO SERVE (living or past): "My mom. She's no longer with us."