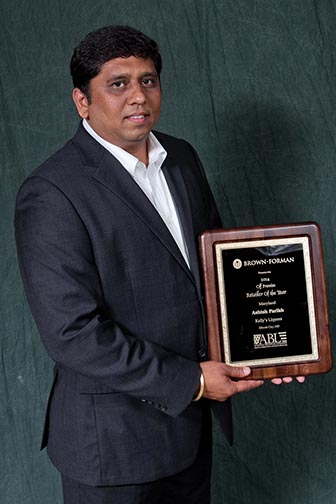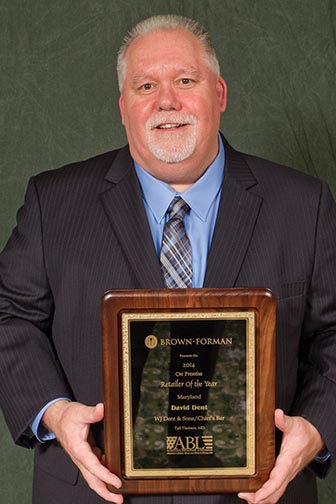 One of the highlights of the American Beverage Licensees (ABL) conference was the recognition of twenty-one beverage licensees for their success in, and dedication to, the retail beverage alcohol industry with the 2014 Brown-Forman Retailer of the Year awards.  This is the twelfth year that the distilled spirits company has sponsored the honor. "Thanks to the support of Brown-Forman, we're able to honor the best bar, tavern and package store owners in America," stated Bodnovich.  "Independent beverage licensees, both on- and off-premise, are where customers discover the brands they love in settings that foster a sense of community, responsibility and hospitality."  
Among the 21 recognized were Maryland's own Ashish Parikh, proprietor of Kelly's Liquors in Ellicott City; and David Dent, proprietor of WJ Dent & Sons/Chief's Bar in Tall Timbers. Eligible retailers had to be members of the Maryland State Licensed Beverage Association (MSLBA), and they had to be nominated by its members.
"It was a real surprise, and it means a lot to us," Dent said.  "We're just a little country grocery store basically that has a neighborhood bar.  My family has owned the business since 1978, but the business has been here since 1927.  It has a long tradition in the community … for us to win such a prestigious award is overwhelming," Dent stated.  
Dent has been active with the St. Mary's County Licensed Beverage Association for more than five years now. He also currently serves as vice president of the MSLBA.  "That involves going to Annapolis and attending legislative committee meetings and trying to promote responsible beverage consumption and things like that."
Maryland's other winner, Ashish Parikh is more than just the operator of Kelly's Liquors and MSLBA member. He is perhaps best known as President of the Asian American Retailers Association of MD. The organization has worked closely with the MSLBA over the years in both supporting and opposing state legislation that impacts the industry. Parikh, though, didn't come to the beverage business from the usual channels.  In his native India, he spent a decade in the pharmaceutical industry before coming to America. He joked, "In the business I am in now, I feel this is just one other kind of medicine . . . a medicine that you can enjoy!"  
Parikh concluded, "It's a big achievement for me as a retailer winning the Brown-Forman award, being an MSLBA member and being recognized by my colleagues and Brown-Forman helps motivates me for what I do."