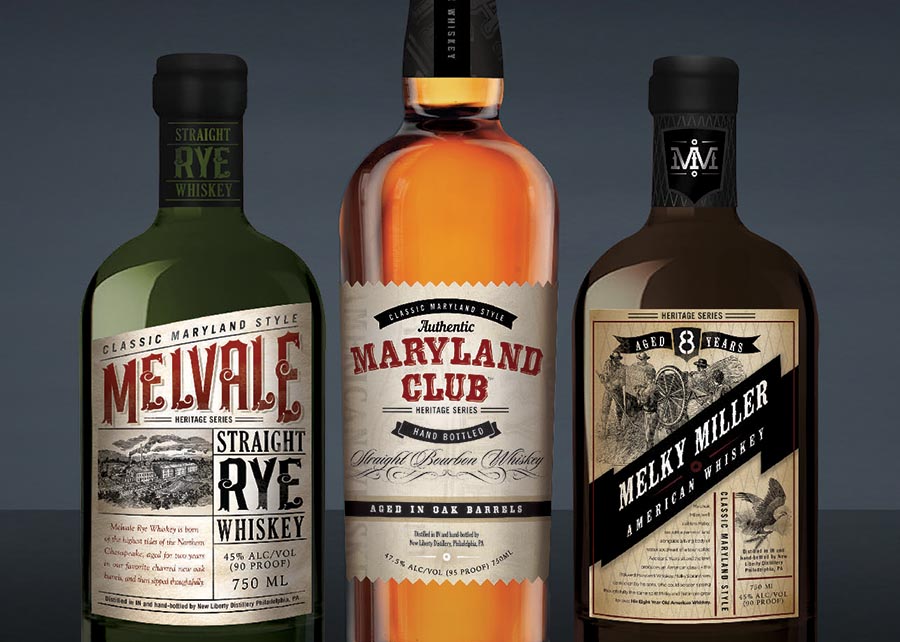 New Liberty Distillery, located in Philadelphia, PA, is reinterpreting some of the famous, but forgotten, Pennsylvania and Maryland brands that once formed the foundation of the U.S. whiskey business. As Michael Jackson, the renowned international whiskey critic, commented, "American whiskey had its beginnings in Pennsylvania and Maryland." Many of the region's brands were lost to Prohibition or Americans' changing tastes after World War II that led to the rise of light mixable spirits like vodka.
"Our Heritage Collection is made up of whiskeys we are reintroducing and New Liberty is honored to make them once again available to consumers," stated Thomas Jensen of New Liberty Distillery. "We introduced our first Heritage Collection release, Kinsey, in 2014. Kinsey is a famous Pennsylvania-based whiskey that was once nationally known for its witty advertising and easy drinking style. We currently are launching our Maryland Heritage Series exclusively in Maryland and The District of Columbia. Maryland rye was a softer rye whiskey usually with a 51% rye content, unlike Pennsylvania rye which was usually 95% rye and very spicy. At the turn of the century, the Baltimore area was home to numerous distilleries which are now long closed. After extensive research, we decided on three distilleries that played unique roles in making Maryland whiskey famous. Our master distiller, Robert J. Cassell, sought existing whiskey stocks that could be used to create the easy drinking style of pre- and post-Prohibition Maryland whiskey, and we hope you can taste the history in every sip."
The Melvale Distillery, maker of Melvale Rye Whiskey, was located in the Jones Falls section of Baltimore, on Cold Spring Road. One of the original buildings remains intact, although the site no longer distills alcohol. Melvale Pure Rye was one of the most premium of the pre-prohibition Maryland ryes.
Melvale Straight Rye: Mash bill will be 51% rye and 49% barley to capture the bright and grassy flavor of the old Maryland rye brands. It will be a straight rye, aged three years and hand bottled at 90 proof.
Until Prohibition, M.J. Miller's Sons Distillery produced Melky Miller Rye Whiskey just outside the village of Accident, MD. The ruins of the abandoned distillery stood for decades until destroyed by fires in the 1970s and '90s. The Garrett County Historical Society has marked its location with a sign.
Melky Miller Eight Year Old American Whiskey: Mash bill is 100% corn, produced and aged in the USA, and is at least eight years old. We will hand bottle it at 90 proof.
Maryland Club Whiskey was originally produced between 1870 and 1919 at the Cahn, Belt & Co. facility on 32 W. Lombard Street in Baltimore, MD. It featured creative ads and marketing. The brand enjoys a unique role in history as a date book with an ad for Maryland Club was found on the Titanic!
Maryland Club Straight Bourbon: Mash bill is 51% corn and whiskey has been aged in new oak barrels for at least three years. It will be a straight whiskey and hand bottled at 95 proof.
For More information on the New Liberty Distillery you can contact Tom Jensen at 917.226.9022 or tom.jensen@millstonespirits.com www.newlibertydistillery.com.