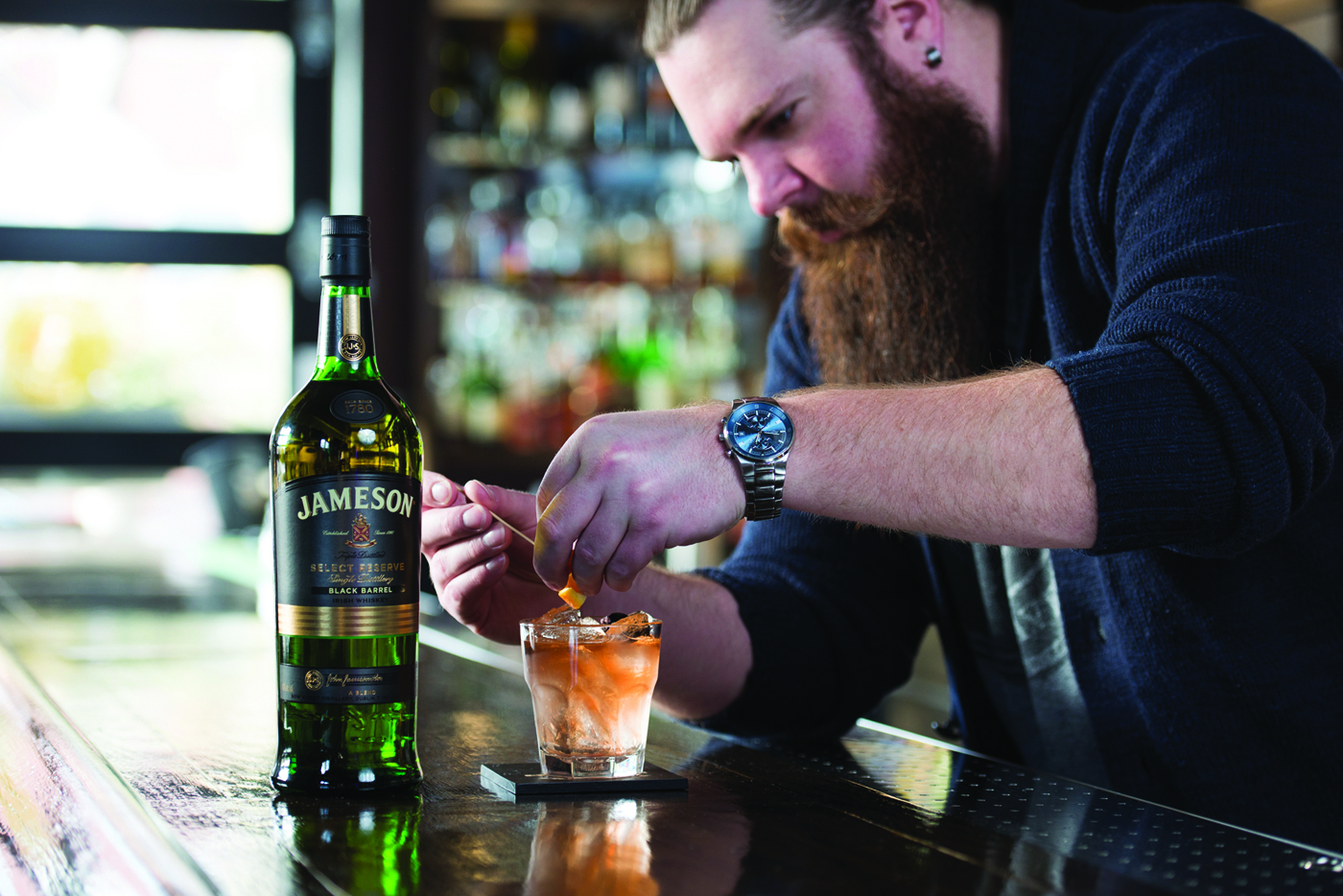 At the Jameson-centric Barrelman Tavern in Chicago, Irish whiskey keeps getting reinvented.
There may be venues that pour more Jameson Irish whiskey than Barrelman Tavern in Chicago, but it's hard to imagine that any pour it with more enthusiasm. "We've always had a special thing for Jameson," says the bar's owner, Blake Itagaki. And his regulars are on board too; instead of ringing in 2016 with a Champagne toast at midnight, the crowd at the Barrelman raised shots of the brand new Jameson Caskmates expression.
Not a big bar, Barrelman Tavern has plenty of TVs mounted high for easy viewing, but it is more neighborhood joint than sports bar. The drinks menu is dominated by whiskies, with a tilt toward shot favorites, and is rounded out with 25+ mostly craft beers, on tap and in can or bottle. Wine? Try another bar. Heck, they don't even serve food at the Barrelman (patrons can order in).
No surprise: Jameson is also the focal point of the bar's handful of listed cocktails. Itagaki and his GM, Danny Lenart, chose Black Barrel for their take on the Old Fashioned because its "charred character and sherried sweetness makes it a pretty close match to a bourbon."
Their approach to using Jameson in cocktails is straightforward. "We try not to add anything that could overwhelm the whiskey," says Itagaki.
The bar's signature cocktail, The Barrelman, was developed after he went to the distillery in Ireland and sampled a Black Barrel-based summer cocktail with a hint of OJ and orange bitters. "We were working on what our signature drink would be," Itagaki recalls. "So when I came back we put our own spin on it and used cider and added Averna. In the beginning we thought we would have a summer and winter Barrelman signature cocktail, but this cocktail was so popular we've kept it as the only one."
The Barrelman's Jameson focus is kept fresh by the bartenders playing not only with mixed drinks, but also with infusions to create new shot experiences. One that became a year-round staple is Black Barrel with apples, pears and cinnamon stick. "We also did a blueberry-infused Jameson," notes Itagaki. "It tasted better than it looked."
The rage in January was a new shot featuring Jameson's brand new Caskmates expression (finished in stout barrels) infused with Andes mints (and a secret ingredient, if you must know). It does not have a name—it's just the latest word-of-mouth, try-this-one creation—something the regulars have come to not merely expect but to embrace.
And for Itagaki, Lenart and the Barrelman staff, those novelties keep them ahead at the leading edge of Irish whiskey in general and Jameson in particular. "We don't like to follow trends," says Itagaki, "we try to make them!"