Weyerbacher Last Chance 120 IPA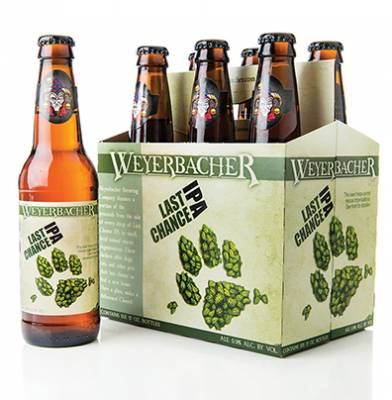 When a brewer describes his beer as being a "….full blown hop assault-delightfully lacking in balance," the beer drinker is clearly forewarned as to what to expect. Without a doubt Last Chance 120 IPA is a hop centric brew, but it is by no means off putting to the beer drinker who prefers a mild pale ale or lager.
Last Chance 120 IPA is one of the Weyerbacher Brewery's seven, year round beers. Other year round brands include: Blithering Idiot, Double Simcoe IPA, Merry Monk, Old Heathen, Tiny and Verboten. They are all more or less examples of the abundant use of aromatic and flavoring hops as the means of giving each brand its own unique character.
Founded in 1995 by the husband wife team of Dan and Sue Weirbach, the Weyerbacher Brewery has remained true to the owners' vision of producing full flavor beers of a high quality. Since the beginning, the brewery has had a loyal customer following that over the years has grown exponentially. From its small humble beginnings in a livery stable in Easton, PA, Weyerbacher has gone through several growth iterations. It is now housed in a modern facility with an up-to-date brew house and a fully refurbished Krones bottling line. The owners and Weyerbacher sales team now sell their thirty-one brands in 19 states.
With an alcohol level of 5.9%, Last Chance 120 IPA has a mid-level alcohol content, and its strong hop content yields a somewhat hefty bitterness reading at 60 IBUs. With a backbone of Apollo (A), Centennial, Cascade, Simcoe and Columbus (A) hops, Last Chance has an aroma of grapefruit, pine and citrus and there are clear hints of citrus orange in its flavor profile. From the first sip through the finish and aftertaste there is a strong hop presence throughout.
"Have a glass and make a difference." For every drop of Last Chance 120 IPA sold, the Weyerbacher Brewery makes a donation to a local animal rescue organization. Most recently, the company donated $2700 to the Mid Atlantic Horse Rescue Association which is located on Maryland's Eastern Shore. This is another good reason to consider stocking Last Chance 120 IPA as well as Weyerbacher's other fine brands.
The Weyerbacher family of quality beers will certainly be appreciated by your loyal craft beer customers.