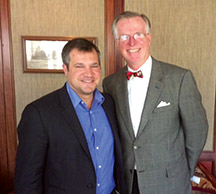 Pretzels and beer are an unbeatable combination.  So, too, are whiskey and rye.  And certainly wine and cheese.  Just before Thanksgiving, another unbeatable combo hit the Maryland-Washington, D.C. market in the form of Marcus Notaro of Stag's Leap Wine Cellars and our own Fran "Pineapple" Schmitz.  Schmitz ushered Notaro around to several major accounts to press the flesh and talk up the Stag's Leap label.
"Every time I've come to the market," stated Notaro, during an interview with the Beverage Journal, "I've had the privilege of working with Mr. Pineapple. He has never failed to deliver me to some world-class establishments. When I have done wine dinners here, the folks who attend are very passionate wine consumers. They are very knowledgeable, and they travel. People in the D.C.-Maryland area not only know about Napa Valley wines, but wines from around the world.  There's also a surprising number of our wine club members here.  So for me to be out in their market and to be able to tie them back closer to our winery is pretty special."
Among the stops this time around were presentations at Le Diplomate and The Palm in Washington, D.C., along with a luncheon at Baltimore's Center Club and a wine dinner at the Maryland Club.
Notaro was named winemaker for Stag's Leap Wine Cellars in May of 2013.  He brought with him over 10 years of experience producing top-quality Cabernet Sauvignon-based wines.  "Wine drinking is very cyclical," he stated.  "There's the growing season.  There's fermentation.  There's blending, bottling, and then you start up a new year the next year.  Every year is unique and exciting.  No two years are ever alike.  You should remember what you did and what worked in the past.  But you have to have an open mind."
Prior to joining Stag's Leap, he was the winemaker for the prestigious Col Solare winery, a partnership between Ste. Michelle Estates and Marchesi Antinori located in Washington State.  It was there that he came into Schmitz's orbit. It wasn't long before Pineapple had him visiting our market.  "These trips are not something that I regularly do," he said.  "It's pretty seasonal.  Obviously, during the growing season and harvest, my primary responsibility is to be at the winery.  For me, what I like about getting out and into the market is that it gives me the chance to connect with consumers.  I love to make wine.  It's what I do.  It's my passion.  But obviously I make wine for people.  I make it for them to enjoy and to consume, and I love and need to hear feedback from folks who are fans of our wine.  I want to hear what they think of our wines and the pairings."
He continued, "It's also great to educate folks about what is happening back at the winery.  There has been a lot of curiosity on this visit as to what our season was like, and what is the 2013 vintage like?  People have heard about the drought.  They've heard about the Napa earthquake.  So, they're very interested in hearing the intricacies of that."
Among the questions he most commonly fields at the various wine dinners and tour stops are "What was the best vintage in the last 10 years?" and "Where can I buy the wines?" and "When is a wine ready to be opened?"  He stated, "Especially fans of ours who do collect our wine, I get asked a lot: 'I have a 2000-and-whatever in my cellar.  When should I drink it?  When should I open it up?'"
As for the most challenging part of his job, Notaro was quick to talk about the unpredictable nature of weather, agriculture, and the grapes themselves.  He concluded, "In wine-making, you always have to strive to make the best quality wine that you can.  But you have to be flexible and open-minded as to what Mother Nature holds for you so you can react to it.  When I went to college, I studied Engineering.  In the engineering field, there is usually a definite answer to most problems.  But with wine, often times there is not.  A lot of it hinges on decisions you often have to make based on a gut feeling -- particularly decisions in the vineyard.  You can't really predict what Mother Nature is going to give you.  I know I've never made a perfect wine."