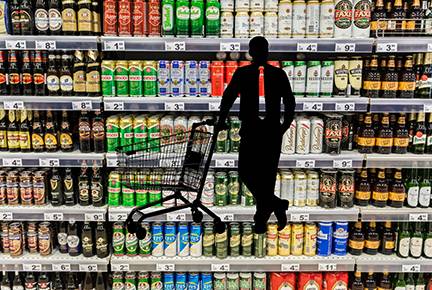 Twenty-five or so years ago, the floor, shelves and cooler of Bowie Liquors in Bowie, Maryland was chock full of wine, liquor and beer. A customer entering the store was greeted immediately by one of the owners, and was asked "May I help you?" If the customer said no, he/she was free to walk the narrow aisles of products to peruse and shop the wide-ranging inventory. The stacks of beer, wine and liquor seemed to be a complete listing of all the products advertised in the Beverage Journal. But, it was up to the consumer to choose what to buy with or without the owner's advice.
At some point during this time period, Tony Gentile co-owner of Bowie Liquors said these important words to me - "You can't sell from an empty cart." His words and this thought have stuck with me as being one of those immutable truths of retailing that ranks up there next to the well-worn maxim "location, location, location."
Prior to joining his older brother Fred and his father Fred Sr. in the retail alcohol business, Tony worked for one of the area grocery chains. He learned a valuable lesson from that experience. It was obvious to him that a successful retailer had to have what a customer wanted, when he wanted it or risked losing a sale or even worse losing a customer.
The Gentile's customer friendly approach stood in contrast to a more prevailing attitude of the day, which was, " If we don't have it; you don't want it and you don't need it." But wait, this very broad generalization needs to be put into some form of historical context.
It is important to remember that as recently as twenty-five years ago, Sam Adams, on the east coast, was the entire craft beer market. Heineken was the number one imported beer and had been for many years until it was overtaken by Corona. Customers of that era were brand loyal to a much greater degree. The leading beers of the day, contrary to what some of today's critics would have us believe, Budweiser, Bud Light, Miller Lite and Coors Lite were not identical beers, but were variations of a type of pale blond, light bodied, highly carbonated beers brewed in the pilsner style. Beers with interesting sounding names such as Hefeweizen, Stout, India Pale Ale, American Pale Ale, Imperial anything were not part of a typical beer drinkers' lexicon. Back then; what you needed to carry in inventory was pretty straight forward and relatively simple. A retailer only needed to have available the most popular brands in various can and bottle configurations and sell them at a competitive price
Beer advertisers, for the most part, tailored their selling messages to separate their brands from their competitors through interesting but frequently contrived imagery. The typical beer drinker was often referred to as "Joe or Jane Six Pack." Scantily clad women or buff men, sporting events and humor played well with the audience of the day. Now let's be clear, there is nothing wrong with "Joe or Jane Six Pack," because whether or not we want to admit it, these men and women remain the mainstays of the today's beer business. Upwards of 75% of all beer sold in the U.S. is still purchased and consumed by what industry experts refer to as "regular beer drinkers." And, despite the tremendous growth of many craft beers and current import favorites from Mexico - Modelo and Corona, America's typical beer drinker still consumes tons of Bud Light, Miller Lite, Coors Light, Budweiser, and in recent years Yuengling, but these same consumers also drink other beers in addition to their favorite brand. These "other" beers are referred as a consumer's "brand set." Many beer drinkers today have between two and four primary brands they buy and consume on a regular basis. They are no longer ultra-loyal to only one brand, but will consume one of these other beers depending on use occasion.
Returning to the question about inventory and how to manage it, in a recent issue, there were some ….brands of beer listed in the Beverage Journal. The number of beers actually available in the marketplace is understated as not all brands are advertised or listed. Suffice it to say, if we compared the number of beer brands listed in the Beverage Journal today with one from twenty-five years ago, it would be very different. There are many many beers available now than there were then. Herein lies the problem for today's retailer.
It is unlikely that the average liquor store or tavern over time has increased its storage capacity to any large degree. So, what does a typical retail business do to accommodate a rapidly changing landscape with so many new products? In the past, when a beer distributor wanted to sell a new product to his retailer, a typical retail response was, "That's fine but you have to eliminate it or take it out of your own space." That's a response no salesman wants to hear. It's heresy to voluntarily give up hard earned and sometimes well-deserved shelf or cooler space. Today, optimistic thinkers on both the retail and distributor side usually try to be creative in order to address the challenge and opportunity new products represent. There is always a new star product on the horizon or so it seems.
How does a retailer who is already pressed for space agree to take in a new product or group of products? Admittedly it's not an easy decision, but it can be made on a somewhat rational basis. Although the number of beers brewed in Maryland is increasing, it is fortunate for Maryland retailers that most beers introduced to the market come from out of state brewers that will have some track record of success prior to their arrival here. Their degree of success in other markets may help Maryland retailers to decide on what new risks to take on as there is a constant stream of new beers seeking to enter the state.
It is useful for retailers to monitor various social media platforms as they have a way of spreading the word about hot brands faster and better than traditional advertising as beer consumers share their likes and dislikes. For retailers, the word "like" on Facebook is a quick and easy way to learn about prevailing opinion with regard to a new beer. It can be a useful gauge of a brand's probable success or failure. Regardless of whether consumer opinion is uniformed or unscientific, opinion leaders on the internet can easily become powerful brand endorsers or brand killers.
So, is there a formula that can be used to help decide what new brands to bring into your inventory? The quick answer is no, there is no magic formula. Sometimes the decision will be based on your own individual knowledge or reading about up and coming breweries in trade journals. Or, it may be the result of research you have done on internet websites such as www.ratebeer.com or www.beeradvocate.com. Naturally, recommendations will be made by your local distributors' sales personnel. Another valuable source of knowledge about new products is your own customers, who have had some direct experience with products outside of the state or from friends who live in other areas. Or often, thoughts about new products will come from your network of fellow retailers. Retailers who have made themselves into "craft beer destinations" are generally well known within the industry, and their knowledge and opinions can be of considerable value in deciding which new brands to bring in.
But as with so many other aspects of business, bringing a new item into your inventory is still at best an educated guess and at worst it's a crap shoot. It is necessary to try new products to meet or anticipate consumer demand, but it would be imprudent to bring in a brewer's entire product line until you have some firsthand sales experience with a few products and you can more readily estimate consumer acceptance. If a product doesn't work out, don't linger over the decision but cull it from inventory as soon you recognize consumers aren't accepting it.
There will always be a delicate balance behind having the correct number and variety of beers in inventory. It is obviously more art than science with no magic formulas. But it is also clear that in order to grow your business, you need to be sure your cart is always full in order to keep satisfied customers.
Thank you to Tony Gentile for his mentoring, and Danny and Nick Cipriani of Dawson's Liquors in Severna Park for their recent conversation about how to bring in new products into inventory.