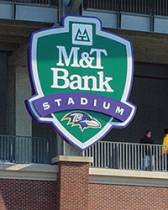 Tim Graham Looks to Score With Beverage Service at M&T Bank Stadium
If you've ever owned, operated, or tended bar at a sports-themed restaurant or tavern, you know there is always the risk that some customers may get a bit out of hand if their team is losing. Heck, even when the Ravens, Redskins, Orioles or Nationals are doing well, the atmosphere can get rowdy. Chances are, you only have to be concerned about a few diehards getting too distraught over a final score. Tim Graham, Beverage Manager at M&T Bank Stadium for concessionaire Aramark, has to worry about a few thousand!
Graham has held his current job since last June, having previously served as Beverage Manager at Oriole Park at Camden Yards. He wasn't there when the Ravens had their Super Bowl run a couple of years back. But he was there for this past season's injury-plagued, 5-11 disappointment.
...