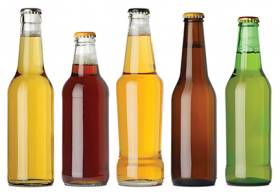 Draft, bottle or can? Each person has his/her own preference when it comes to enjoying a brew, and each of these beer packages has its own unique history.
Draft Beer was First
Draft (or draught) was the first method of getting beer from the brewer to the beer drinker. In fact, draft beer has been available in kegs for several hundred years. Early on, beer kegs were wooden barrels made by artisans called "coopers." The barrels they made were large, bulky and much heavier than today's stainless steel, aluminum or polyethylene kegs, but for the times they allowed large amounts of beer to be transported to local pubs and on ships across oceans.