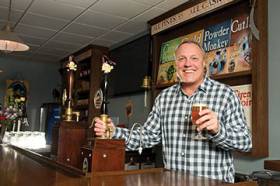 When this journalist suggested to Joe Gold that he was a "beer nerd," the Sales Manager at Heavy Seas Beer in Halethorpe chuckled and replied, "Yeah, I guess I am." Then, he thought for a moment and proudly declared, "Actually, I'm more of a 'beer explorer.' I go on beer hunts. What I do is I keep a beer journal, and I travel the globe looking for fun things to visit beer-wise -- taverns, brewpubs, historic sites. I tend to plan my trips around beer. For instance, when I'm on the road for work, I'll do some research as to what's happening that weekend with beer. If there's a festival or some sort of pub I've never heard of, I'll stay over the weekend just to check it out."
Sorry, Joe. That pretty much qualifies you for "beer nerdom." Not that there's anything wrong with that! After all, how many people get to turn their life's passion into a full-time job. Gold earned his first paycheck in the brewing business in 1986, working for Young & Co.'s Brewery in London. His younger days as a lacrosse player had moved him from Baltimore to England three years earlier. When it came time to get a job, the beverage business there beckoned.
"So much has changed from when I first got involved," he stated. "I used to walk into taverns in the '80s and say, 'I have this phenomenal beer. It's fantastic. We just came out with it.' And the buyer would say, 'I've never heard of it, and nobody's ever asked for it. Get out of here!' I go in today and tell the buyer, 'Hey, we came up with this new batch of beer. It's fresh off the line.' And the buyer says to me, 'I've never heard of it, and nobody's ever asked for it. I'll take three kegs!' It's the weirdest professional shift I've ever lived through!"
...