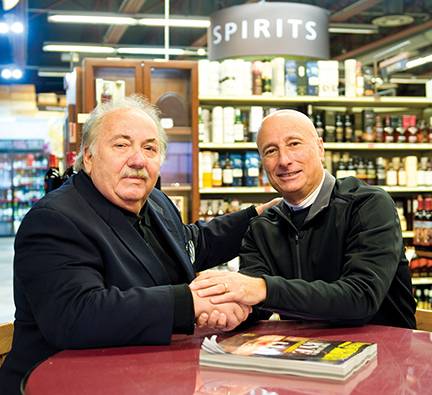 Movie fans are definitely looking forward to Harrison Ford, Mark Hamill, and Carrie Fisher reprising their "Star Wars" roles after 32 years when "The Force Awakens" hits theaters this coming December. And just this past week, Sylvester Stallone took to social media to confirm that he would not only be playing Rocky Balboa again, but also John Rambo in a sequel to be subtitled "Last Blood."
Well, the local beverage business has a similar tale of longtime heroes returning to action to tangle with today's young guns. They are Emery Coccia and Larry Brookman. The former has never left. He has been running his Maryland-based independent brokerage, Active Marketing and Sales LLC, since 2005. Overall, he has been active in the beer, wine, and spirits industry since 1971. Brookman, meanwhile, was basically retired after career stints at several companies, the last being Constellation Brands where he was a part of their Spirits Division for 10 years. But late last year, he bought into Active Marketing, and now the two are full partners.
Brookman stated, "God willing, if we stay healthy, Emery and I can do this for at least the next 10 years or however long we want. We're a lot alike. We do business in much the same way, and we know a lot of the same people. His and my goals are very similar. It's not all about the money, especially at our point in the business. We can still make a difference. Emery and I have cloned ourselves. We've duplicated. If both of us are working effectively, we should be able to cover a LOT more territory and build a LOT of brands!"
The company currently represents such brands as Exclusiv Vodka, Midnight Moonshine, Senor Sangria, and J.R. Ewing Bourbon. A couple of new wines named Manuscript and Match are set to kick off in February. The Manuscript Wines will feature a medium to full bodied Chardonnay from the Russian River Valley. The PS Match Wines are a collaboration with Patti Stanger of "Millionaire Matchmaker" on Bravo.
Coccia remarked, "Are we going to take a brand like Exclusiv Vodka and make it the next Absolut or the next Smirnoff? One day, we might. Lightning could strike the bottle. But in the meantime, we can build a nice, solid brand by talking to the retailers, doing some promotions, doing some in-store tastings. The bottom line is hustling and bringing it to the attention of the retailers and the consumers."
Coccia indeed started in September of 1971 as a salesman at Quality Brands where he worked his way up to management. He then moved over to management at F.P. Winner, which is where he and Brookman first met. For his part, Brookman got his start in the business with the Milton S. Kronheim Company in D.C. in 1975.
"We were both managers at F.P. Winner at the same time," Coccia recalled. "I stayed there until 1995 when I went on to the supplier end of the business. I started at Barton Brands and went on to Domecq Importers, which became Allied Domecq. They sold out in 2005 to Pernod Ricard and Jim Beam. At that time, I started my own brokerage, Active Marketing and Sales, and I have been an independent broker ever since."
Brookman thought he had left the business behind in 2013. "I totally planned on working on my golf game and playing with my grandkids, and that was going pretty well. But after a year, my golf game got worse and my grandkids and wife got tired of seeing me! And I did miss the action of the industry and was itching to do something to get back into it. I just needed something that would keep me driven on the back 9 of my life. I got used to reading a lot of stories to my grandkids and being back in the business will allow me to tell the stories of the brands we represent."
He and Coccia started talking this past summer about a possible team-up. At that point, Brookman hadn't worked in over a year. "I told him, 'When I grow up, I want to be like you!' He had this great, thriving brokerage business. What I did was buy into it. We're now equal partners effective Nov. 1."
Expansion is very much on the mind of both men. Coccia is especially excited for the new year ahead. "My original boss was Harvey Kasoff. He was the vice president of the old Quality Brands. He was always great with slogans and motivational things. And he told me, 'The only thing that makes money standing still is a parking meter.' I've been using that slogan ever since! The bottom line is you have to get up and get out every day, form and maintain good relationships with retailers, and always respect them and what they do. And follow up and follow through! If [an account] agrees to sell four or five cases of J.R. Ewing Bourbon, we'll back it up by doing an in-store tasting on a Saturday or a Friday night. Introducing the brand to the consumer and letting them see what it is all about is so important in today's world. But it also shows the retailer that 'Hey, we're here to support you.'"
He continued, "Here is what success is to me. Our company now represents five really nice suppliers. Success for me and for the company is to maintain and grow the business for those current suppliers and also be selective in anybody else that we choose to do business with. In other words, I think both Larry and myself as partners believe that we're not here to take on anything and everything that comes our way. We want to be selective in saying, 'Hey, that looks like a brand that could be fun. That looks like a brand that has some potential and could fit into our portfolio and blend in as part of our family."
Brookman agrees with that philosophy. He is particularly excited about the company's move into the wine side of the business with Manuscript and Match. "Up until now, it's pretty much been all spirits," he noted. "So, we're excited. Both are very good California wines that will have an appeal to pretty much the entire wine market."
So with over 80 years of combined experience in all things beverage, does the industry still have the ability to surprise them? "Every day!" Coccia was quick to answer. "When I started in the business, we were selling $3 and $4 bottles of blended whiskey. Brands like Three Feathers. I tell young salesman that today, and they look at me and say, 'You were selling what? Three Feathers? What is that?' Now, brands like Four Roses is making a comeback at eight or nine times the cost! Now you have Four Roses Special Blended Hand-Crafted Reserve. But guess what? Consumers are picking it up at $25 or $30 a bottle. Consumers are not afraid to spend that much for a nice bottle of bourbon or blended whiskey."
For Brookman, he says a big key is keeping on top of Maryland's changing demographics. "More and more," he stated, "demographics are playing a factor in Maryland. It's tough to get something to sell throughout the entire state. You really have to know the different markets and the stores where you can best play up and be able to capitalize on your products' growth. What sells in Prince George's County, it's not for sure that it will play in, say, Baltimore County."
In addition to Maryland, Active Marketing and Sales covers Washington, D.C., and Delaware for its brands. To help provide optimal service, Coccia and Brookman employ a well-trained group of promotions personnel. Looking ahead, Brookman commented, "The good thing about our brokerage is that we can really offer more of a hands-on approach. We can be out there more ensuring that the brands are growing properly. The biggest thing that we're going to try and do in 2015 is continue to effectively manage the brands that we have, but we're also going to be looking to expand. As long as it's a smart expansion and the brands make sense to our portfolio, we should be successful."
That smart growth strategy is already happening for Coccia and Brookman. It was recently announced that effective Feb. 1, their company will represent the McCormick Distilling Company, one of the oldest distilleries with a portfolio that attempts to touch every spirit segment.
And Brookman is eager to re-connect with all of the clients he had spent years forming valuable relationships with. He's already been welcomed back in ways that only our industry is known for. Laughing, he said, "I get compliments like, 'I thought we were finally rid of you' and 'You're like a bad penny. You keep showing up!' I tell you, it has been great coming back and seeing everybody again."