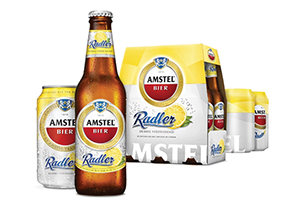 The Netherland's Heineken Brewery has added a new product called "Amstel Radler" to its portfolio of world class beers.  
The radler style of beer has been around since 1922 when a Bavarian tavern keeper named Franz Xavier Kugler created a beverage to serve a group of cyclists participating in a local event. His creation married fresh lemon juice with a local beer in roughly a 50/50 ratio. 
Over time various citrus juices, flavored soda and carbonated lemonade have been added to beer as the basis for popular summer drinks throughout several countries in central Europe.  In England or Australia a similar drink is known as shandy. Whether it's the addition of raspberry flavored soda in Berlin or a shot of peach syrup in France, low alcohol flavored beer is popular on a hot summer afternoon. 
Amstel Radler like other radlers has a low alcohol content at 2% abv. Once poured from its bottle, Amstel Radler pours a hazy yellow color and a large white lingering head appears in the glass.  There are pleasant aromas of lemon, citrus and light malt.  In the mouth, there is a feeling of light carbonation, and although the company lists hops as an ingredient there is a notable absence of hop aroma.  Other ingredients in the beer include fruit juice, lemon extract, lime juice, stabilizer, lemongrass extract, and locust bean gum.
Amstel Radler aims to be known as a refreshing pick me up after a workout or just a nice thirst quencher for a quiet summer afternoon at the pool, on a boat, or at the beach. Amstel Radler is a pleasant surprise in that it is not cloyingly sweet, and is in fact, an excellent thirst quencher.  
The new product is part of the world's third largest brewer's strategy designed to attract new drinkers and expand the beer category, while simultaneously closing the "innovation gap" with wine and spirits. Company test results to date indicate that fully 40% of consumer trial came from non- beer drinkers. Heineken is confident about the potential success of Amstel Radler, and has plans to roll out the brand globally in 2014.