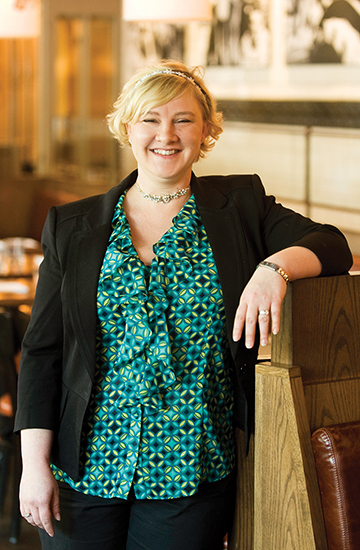 "I love taking care of the guests.  I like judging how their day has been going and what might make their evening better.  That's always been what I have loved about bartending.  When you get somebody who has clearly had a bad day of work, and they have that first sip and you can see their shoulders just -- ahhhhhh -- relax.  In those moments, I think, 'OK, I'm helping.'"
Those are the words of Amy Russell, bar manager at Casa Luca.  This popular establishment on New York Avenue, is one of Fabio and Maria Trabocchi's most popular dining concepts.  Russell is just proud to be a part of the couple's legacy.  "Casa Luca is Chef Fabio's more family-style restaurant," she stated, during a recent interview with the Beverage Journal.  "My understanding is a lot of his regulars kept saying to him at his other restaurants, 'We love this place, but we'd also love some place where we can bring our kids.  That was the inspiration for Casa Luca."
As such, Russell has had to tailor Casa Luca's beverage menu to fit the style and concept.  "What this focus has done in terms of my cocktails is bring them back down to Earth a bit.  Instead of weird syrups, it's been about going back to basics with classic cocktails and tweaks on classic cocktails.  The idea has been to make the drink selection more approachable."
She continued, "One of the drinks we're going to be putting on the menu shortly is a riff on the mint julep.  Instead of using simple syrup, we will be using fresh strawberry syrup that we'll be making.  Where I grew up on the Eastern Shore,  Somerset County used to be the strawberry capital of the state before everything moved to California.  It's nice to have that sweetness and that fruit character to balance out the mint, while switching rye instead of bourbon for a little kick."
Aficionados will still be impressed by the fact that Casa Luca has an array of unique Italian wines on tap -- available nowhere else locally, their website touts -- and an impressive cellar selection from Italy, Spain, and California.
Russell has been in the local hospitality industry for five years now.  She describes herself as having "stumbled" into it.  "I was at another bar's [The Passenger on 7th Street NW] friends and family opening, and they needed a lot of work to be done.  I wasn't working at the time, so I said, 'I can help out!'  After a week of hard, dirty labor, they asked me if I could barback.  I did that there for nine months, earned a bartending slot, and my career has kind of gone from there."
Where it has gone from there is indeed bar manager at Casa Luca.  "The hardest part of my job," she remarked, "is juggling the time between actual bartending, doing what I love, and taking care of the guests and the time needed to do the things that have to get done so that the entire bar experience is great."
Part of that experience is knowing what quality spirits to serve the guests to ensure the best possible drinking experience.  One of the brands she singled out as among her favorites is FEW Spirits.  "My favorite FEW spirit is the Barrel Aged Gin," she declared.  "When I did the Artini competition last year, that's when [local company rep] Shannon Crisp gave me some of the FEW Barrel Aged Gin, and I fell in love with it.  There are a lot of hybrid spirits and a number of aged gins.  But they either taste more like the barrel or more like the spirit.  They're not very integrated, and they're really hard to make a cocktail with.  I've tried my best.  But with FEW, the wood flavors complement the aromatics in the gin.  It doesn't fight them."
Russell tries to incorporate Italian ingredients into her cocktail recipes where possible, using Italian vermouths, liquors, and spirits. Her favorite concoction? "I paired the Few Barrel Aged Gin with the Italian vermouth Cocchi di Torino for a spin on a Negroni!"
Russell is now looking forward to better weather and Casa Luca's patio finally opening up to accommodate guests.  She concluded, "I've gone to some bars where I just haven't felt comfortable. and I maybe had one drink or two and left.  I think it's important to always make people feel comfortable.  Wherever I've worked, I have wanted people who sat down at my bar to feel at ease, like I had invited them over to my home for a dinner party."
PREVIOUS JOB: "I was actually a biologist in a former life."
KIDS:  1 son, age 15.
FAVORITE MOVIE: "Ip Man" ("My son is into martial arts and kung fu right now")
HIDDEN TALENT: "Let's just say I'm a very good marksman."
PERSON SHE'D MOST LIKE TO SERVE AS A CUSTOMER: Thomas Jefferson