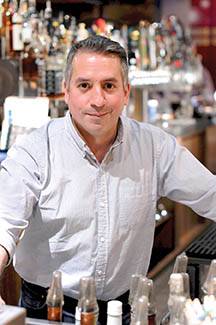 Most people who I interview for this column have come to the bar business with similar stories. "I started bartending in college and fell in love with it" or "My dad owned a tavern, so I grew up in the business." That's not the case with Babak Pakravan, head bartender at Penn Commons in D.C. A first-generation Iranian-American, his family's travels took him back to Iran where he had to eventually be smuggled out in 1983. He tried university life, but dropped out to join the United States Marine Corps. from 1985 to 1989. After those four years, he went back to college before becoming an officer in the U.S. Army.
He didn't get his start in hospitality until 1995, working various taverns and restaurants in Chicago. A year later, he moved to the District of Columbia and continued his service in our sector. "I was on the periphery early on," he recalled. "I was a dishwasher. I became a barback. I worked security. I worked at Timberlake's for 13 years. When Timberlake's closed, I came over to Passion Food Hospitality, the group I'm with now."
He initially started working at 10 Penh, a Pan-Asian restaurant, then went to Saba. He was the bar manager there until it closed, which brought him to Penn Commons, the newest restaurant in the company. Pakravan believes he has found a home.
"Penn Commons is a very high energy bar," he stated. "We have 38 craft brews on draft. We celebrate American distilleries and American craft breweries. We also have Jameson's and a lot of the other traditional stuff guests look for. But we like to guide the customer into the American equivalent of whatever spirit they're seeking. Our location is right by the Verizon Center. We're literally attached to it. So, before games, people of all ages come in and have drinks. It gets really loud, sometimes like a rock concert in here."
Pakravan says what he loves most about his job is the guest interaction. "I've always been a talker," he said, "and I like meeting and hearing people's stories. The challenge, which is also fun, is when I am trying to come up with a new cocktail for them. I actually like to revitalize classic cocktails, but not for the sake of, 'Oh, look at what I'm doing!' I'm really interested in enhancing ingredients to create a better experience for the guests. I also like to feature drinks where a person can go home and recreate it in their own home bar, as well."
Currently, he is using Purity Vodka and infusing it with watermelon radish and horseradish. "It's really aromatic, and we're using it in our Bloody Mary," he stated. "I'm doing a martini with it, as well, with some ginger puree, some sweetened lemon, and grapefruit bitters. It's very earthy, but very nice."
He also enjoys using FEW Spirits' various products and brands. "If you haven't tried FEW Spirits' Rye, try it!" he exclaimed. "It's very special. They're based out of Evanston, Ill., and Chicago has always been special to me having worked the bar scene there in '95. I carry two of their gins, the regular and the barrel-aged gin that I use in a classic daiquiri to give it depth. I really can't wait to see what they put out next."
Pakravan believes the world is seeing a revival of the Golden Age of cocktails. He is especially impressed with some of the young people coming up now and their passion and creativity. But tending bar is work, he's quick to point out. "This is a profession," he said. "Treat it as such, really like what you are doing, and good things will come. There is a creative process, an artistic component, to what we do that I really enjoy. You're not just copying, you're creating."
Looking ahead, Pakravan said he was most excited about rolling out Penn Commons' brunch cocktail menu in early February. He concluded, "I like to change things up as the seasons change. If there is anything new that comes out that is different in the market, we try to carry it at Penn Commons. Right now, for example, we are carrying a beer that is made by monks in Massachusetts, and this is how they support their monastery. Our bar is a testament to Ben Franklin's old saying, 'In beer, there's joy!'"
FAVORITE MOVIE: "Casablanca"
IN HIS SPARE TIME: "I like checking out the Washington bar scene and seeing what my colleagues are doing."
PRIZED POSSESSION: "I was a model builder as a kid, and I have the wooden airplane that is on the cover of one of the Tin Tin books."
DOES HE HAVE A HIDDEN TALENT? "I do, but not one I can talk about. It goes back to the Marine Corps!"
IN HIS SPARE TIME: "I like checking out the Washington bar scene and seeing what my colleagues are doing."