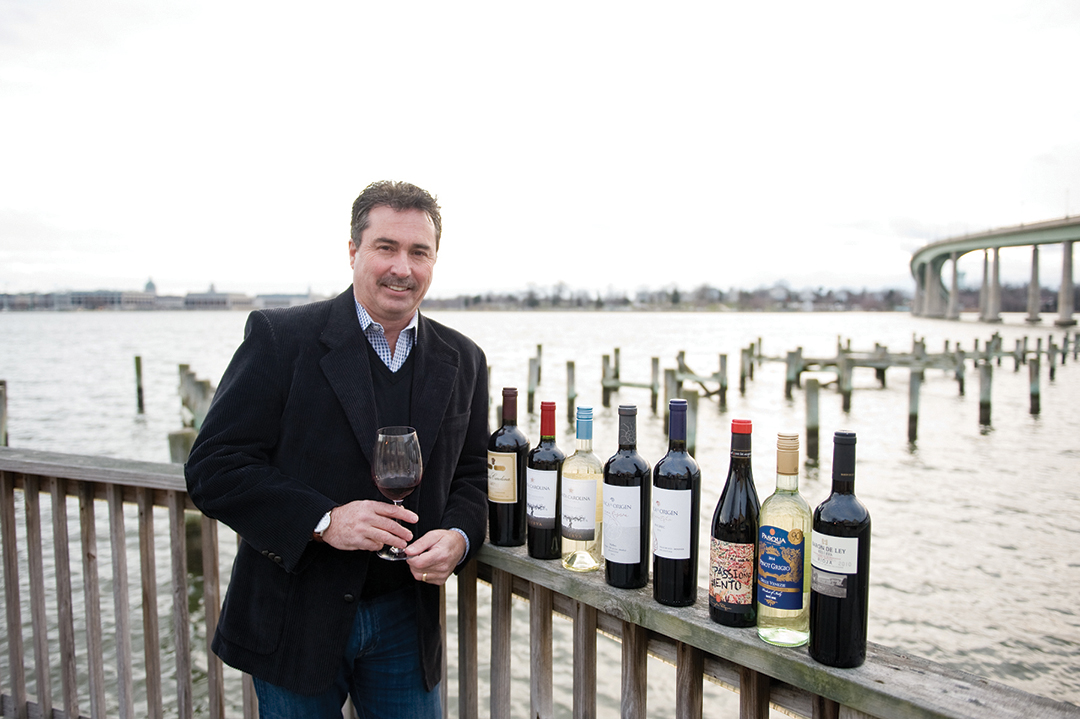 After a long career working for everyone from RNDC to Southern Wine & Spirits, Barry Cregan moved to the supplier side about a year and a half ago to serve as East Coast Vice President of Carolina Wine Brands USA. The company handles mostly South American wines for the U.S. market for Carolina Wine Brands, one of Chile's main winemaking groups owned by the agro-industrial group Watt's SA.
If you've seen Cregan or any of his colleagues lately, you can tell they are riding a real high. That's because the company's flagship winery, Santa Carolina in Chile, recently won the New World Winery of the Year 2015 honor from the Wine Enthusiast. Cregan traveled to New York City in late January to attend the awards ceremony.
"All of the big companies were there," he marveled. "It was neat getting that award because a lot of people in the industry were able to recognize who we were, and they came up and gave us congratulations. We also had the chance to have people taste our wines while we were there. It was a great experience. Winning an honor like Best New World Winery really tells the world where we're standing. What it also does is it allows us to use that in our marketing. We're putting little, round stickers on our bottles that say 'New World Winery of the Year.' We're going to use it on our point-of-sale. We're going to parlay that to the consumer and say, 'Hey, good value ... fantastic wine ... try me!'"
Santa Carolina certainly has a diverse portfolio worthy of trying. In addition to this diversity, Cregan says the key to the company's success has been putting out quality products at fair prices. "Our Reserva wines [Merlot, Sauvignon Blanc, etc.] are in the market priced anywhere from $10 to $12," he noted. "If you move up to our $20 to $21 wines, we received 90-plus points on all of our Chilean and Argentine wines from the Wine Enthusiast and Wine Spectator. Our icon wines receive 93 to 95 points every year. Even our Malbec was in the top 100 last year in Wine Enthusiast's Best Values. In this year's Best Values, we had our Chilean Carmenere make the list. We're in 96 countries hitting on all cylinders right now."
Cregan is especially high on the line of Chilean wines he promotes. Ever the salesman, he stated, "Chilean wines have a unique way of giving you fruit with some earth tones to them. What we do with Chilean wines and Argentine wines, too, is we enhance the times that you live in -- the good times, the bad times. We enhance the event that you're having. We enhance the food you serve. We enhance the moment."
One of the best moment-enhancing products in the portfolio is Santa Carolina's VSC Red Assemblage, a tasty blend of Petit Syrah, Cabernet Sauvignon, Carmenere, and Malbec grown in Peumo. The 2010 Herencia Carmenere, which earned 93 points, is another top seller. Full-bodied with fine-grained tannins, it has black fruit and spices and comes from two locales known for this varietal: Peumo and Los Lingues.
Also popular is Santa Carolina's 2013 Cabernet Sauvignon Reserva de Familia, which has garnered 90 points and is known for its nose. Indeed, it has aromas of ripe cherries in liqueur intermingled with more herbal ones and even some green peppercorns. Looking ahead, Santa Carolina's Reserva de Familia Carmenere 2011, Rapel Valley, is one to buy now and store for later. Wine Spectator Managing Editor Kim Marcus says it will be best from 2017 through 2020.
In addition, Santa Carolina has history on its side, as it celebrated its 140th year in 2015. In doing so, it participated in 140 different celebrations around the globe last year, including many of the major international wine fairs like Vinitaly and Vinexpo. The 140th celebration also included the release of a special edition of Reserva de Familia, the winery's emblem line.
One other thing that makes Carolina Wine Brands stand out is an unswerving commitment to sustainability and corporate social responsibility. From its use of irrigation measurement technology in its fields and vineyards to its minimal use of pesticides to Carolina Wine Brands' Santa Carolina and Casablanca brands purchasing clean energy bonds in Chile to neutralize the carbon footprint for the transportation of the cases they export, steps are being taken every day to ensure all concerned are doing their part to remain environmentally friendly -- an increasingly key selling point in the marketplace.
"We were also the first South American winery to do the Global Reporting Initiative (GRI)," Cregan added. "We also work with lightweight glass. Our super-premium brands are still in a heavier bottle, so we're looking to turn that around also. As far as industries itself, we were ranked No. 2 in Chile for sustainability -- not just the wine industry, but No. 2 of all industries in Chile. We're a company that takes care of Mother Earth."
Taking care of the planet is certainly a key selling point for socially conscious wine drinkers in the Old Line State. Cregan lists Maryland as among the company's key states in terms of sales and marketing. "I go all over as the East Coast Vice President, and Maryland is a unique proposition because it is an independent market similar to Connecticut and not a chain market. The consumer gets a chance to see more and different wines here, where the chain markets may not have as much variety. Maryland is really a positive market that skews high. The per-capita intake of wine, I think, is in the top 12 right now."
Cregan is based in La Plata, Md., even though his company's corporate offices are in Charleston, S.C. He got his start in the industry on the beer trucks in Southern Maryland, selling red, white, and blue Pabst. He moved on to a small beer company as a sales representative and then a sales manager before eventually hooking on as a field manager with what was then Reliable Liquors. He eventually moved on to National Distributing, which became RNDC, before moving to Southern Wine and Spirits in sales management.
He concluded, "After I left beer, I went to work with Reliable Liquors. And a gentleman there named Mike Stewart who is no longer with us told me, 'Barry, learn wines. Believe me, there will come a day where everyone will be drinking wine.' So, that's what I did, and he was right. I mean, I'm not a sommelier or anything. But I do know what I like. I know some of the history of wine. And if you're able to talk about wine and enjoy it, it becomes part of who you are. It becomes a soulful thing and not just a business thing."