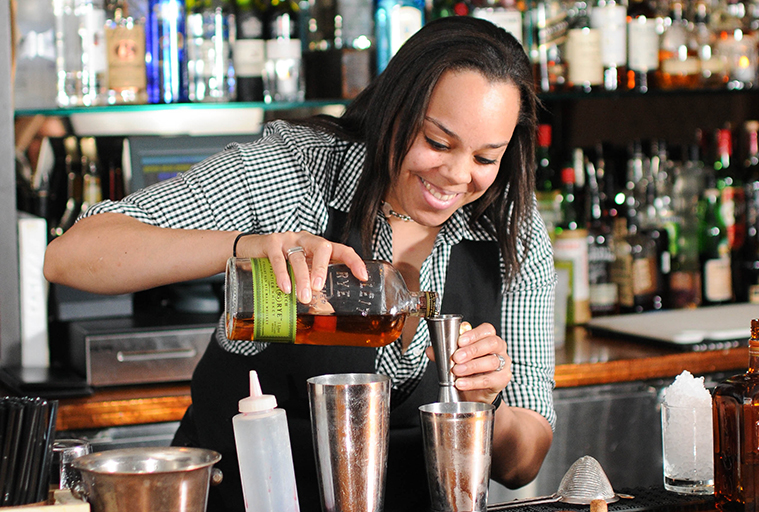 "I love the creativity aspect of my job. I love the autonomy that I have and the challenges I've been given to come up with new drinks."
So said Erin Ivey, bar manager at Lincoln on Vermont Ave., during a recent interview with the Beverage Journal. Ivey, who has been tending bar at various area establishments for the last decade, has become known for her craft cocktails. "What drew me to craft cocktails is I really love the integrity of the drinks as far as fresh juices and ingredients," she stated. " I enjoy making twists on an Old Fashioned, different syrups and such. I love being able to play and bring a different and unique element to drinks."
The drink that she most recently played around with and created is the Cherry Blossom Cocktail. She believes it to be one of the best concoctions she has ever come up with. "I don't like to make sweet drinks," she said, "so I chose morello cherries as the key ingredient. Morello cherries make a really wonderful syrup -- not too sweet, not too tart, right in the middle. I wanted to do something with rye, in particular, so I chose one of the most flexible ones I could think of, Bulleit Rye. I threw some mint in there for freshness; along with some fresh lemon juice; the rum syrup; and crushed ice, which is really appealing to the eye. The Cherry Blossom Cocktail has a beautiful red color. I'm very proud of it. It's got a great taste, and it's very refreshing. There is a little bit of residual sweetness. But mostly you get that tart cherry taste, along with fresh mint and lemon."
She continued, "Bulleit Rye is great. A lot of ryes can get pretty hot and spicy. Bulleit Rye is a little bit softer. I like the dry honey aspect that it has, too. It still packs that punch that most ryes have, but it's not super-hot. That's why I like to mix with it. It makes a great Old Fashioned, as well."
A member of the D.C. Craft Bartenders Guild, Ivey had originally been employed at Lincoln as a floor manager, but wanted to work more with customers. She left briefly to help open Osteria Marini on Water Street near Nationals Park. The Italian restaurant had a very big focus on craft cocktails right from the get-go. But Lincoln always felt like home to her. After six months away, she returned to Lincoln and was given the job she wanted all along -- bar manager. That was nearly two years ago, and she has been in charge of the restaurant's beverage program ever since.
"I do all of the Drinks of the Month here," she declared. "Those are my recipes. We put a lot of our focus on bourbon. We have infusions that we do, as well, in house. We use our own vodka for our Bloody Mary for brunch on Sundays. We use peppers and onions, as well as celery and tomatoes. It makes what we call our 'Breakfast Vodka.' We also have our Moscow Mule, and what distinguishes that from everyone else's is we don't use ginger beer. We infuse our own house-made ginger syrup. It really sets it apart from any other Moscow Mule you might have at another bar. That's probably our No. 1 selling cocktail."
Consistency is a big buzzword for Ivey. As management, she says it is a frequent challenge making sure everyone is on the same page and all doing the same thing. "I want every guest that comes in here to have the same drink, the same way, no matter who's making it," she stated. "So, the challenge is fine-tuning that with my bartenders to make sure we're all making our signature drinks the same way. We have a lot of creativity behind that bar."
One of her mentors was Brendan McMahon, who is now an owner of Beuchert's Saloon on Capitol Hill. "He really mentored me and introduced me to craft cocktails," she recalled. "He taught me all about integrity and taking your time to make drinks so you can be proud of them. Pride is essential. If you're not proud of the drink you're putting out as far as the taste and presentation, how can you expect to serve that to a guest? That was something that was very much cultivated by him and very much appreciated on my part."