At a key moment in "The Shawshank Redemption," Morgan Freeman's good-hearted convict friend, Red, posed the question: "Seriously, how often do you really look at a man's shoes?" Well, anyone who hung around Shane McCarthy in January and February of this year likely looked at his footwear quite a bit. The assistant general manager and beer manager at Ronnie's Beverage Warehouse in Bel Air wore pink boots day in and day out to promote a very special event his store hosted on February 26 to raise money and awareness for the Pink Boots Society.
Some of you reading this may be asking, "What is the Pink Boots Society?" It is an international organization of women that was created to empower female beer professionals to advance their careers in the beer industry, chiefly through education. The organization also seeks to teach women beer professionals the judging skills necessary to become beer judges at the Great American Beer Festival and other competitions. Society members include women who own breweries, who design beers, serve beers, package beers, and write about beer. The group currently has more than 3,000 members and counting.
"I've read a lot about beer history," McCarthy stated, during a late January interview with the Beverage Journal. "Women were actually the main brewers a couple of hundred years ago. A lot of the beer was made by women. That's where the term 'alewife' came from. But, today, it is a male-dominated industry. So, it's really unique that these ladies are trying to change that. They don't want to drink wine. They want to drink beer ... good beer! That really inspired me to reach out and try and raise money to send a woman to brewing school, because the Siebel Institute of Brewing Technology is NOT cheap!"
The February 26 event saw Ronnie's have a 12-tap takeover of all rare and exclusive beers from multiple breweries. "We contacted these wholesalers and breweries to specifically ask for rarities," he stated. "Most of the breweries involved have female brewers or members of the sales team who are a member of the Society. Ronnie's will tap all 12 kegs and donate all of the profits to the organization, and we will have females from the industry here talking about beer and brewing."
McCarthy also reached out to breweries who do not presently distribute beer in Maryland, but still wanted to be a part of the event. They donated gift baskets to raffle off to the public, and the raffle money was also to be donated to the Pink Boots Society. "For example," he noted, "Cigar City Brewing is huge in Florida and has some world-class beers. They have mailed us some amazing gift baskets that we'll be raffling off. We'll also be doing tastings. Actual women beer professionals will be doing bottle tastings. They'll be out there on the floor and saying, 'We can talk to you about beer. We know what we're talking about.'"
Additionally, McCarthy reached out to some craft-supporting, on-premise accounts to join him in raising money and awareness for the Society. Looneys, Sean Bolans, and others agreed to host events that same evening. Following Ronnie's lead, they also invited women to come out and talk about beer and share their passion for all things suds. "I think its special that competing businesses can get together for such a good cause," McCarthy remarked. "We wanted to create this almost festival atmosphere where you could get your packaged beer to go, get it home, drop it off, then go back out to Bel Air where there's going to be a different bar on almost every corner serving craft beer and benefiting the Pink Boots Society."
It should be noted that "Pink Boots" is actually an acronym. "P" is for passion, the "I" is for Integrity and Inspiration, the "N" is for networking, and the "K" is for knowledge. With regards to the second word, the "B" is, of course, for beer; the first "O" is for opportunity; the second "O" is for "open exchange of ideas;" the "T" is for teach; and, finally, the "S" is for success.
McCarthy is no stranger to success. He played a key role in putting together the well-received Bel Air Beer Week. "I also put together something called the Maryland Beer Project, which brings different businesses in the community to support craft beer. I've found craft beer is an amazing community builder."
He continued, "I thought it would be neat to get some of these local businesses that are supporting craft beer actively every day to get involved. For example, Birrocteca's beverage director is a woman, and she's really into beer. She knows exactly what she is talking about. In addition, there's Looney's in Bel Air. A woman named April runs their beer program, and she's also giving craft beer a chance. We're all helping the Pink Boots Society while bringing the community together. The customers can expect some pretty rare beers. We're calling it the rarest tap takeover in the state of Maryland! Instead of having 11 'normal' beers and one rarity, you're going to have a dozen very rare beers."
McCarthy has observed that women are accounting for an increasingly big portion of the consumer beer sales market. As a result, stores have to pay attention to this growing demographic and know how to market and sell to them. "In the store, out in the market, everywhere I go, I see two things," he stated. "I see new craft beer drinkers who are women and who are experimenting. They want to drink something that is flavorful and is a quality product. And, two, I see women coming out of the woodwork and standing up as women who proudly drink beer and have done so for years. I tell all of our beer guys who work the floor, 'Don't approach a female customer and assume she's buying beer for her husband.' That is a huge issue. It's kind of insulting to go up to someone and ask, 'Is this for someone else?' Instead, approach women and ask, 'What do you like to drink?' Then, they'll either tell you, 'Oh, it's not for me,' or they will get into a conversation about their beer preferences. The point of this whole event is to change people's perception on beer and women in the beer industry."
Of course, the question has to be asked. What's in this for Ronnie's Beverage Warehouse? It's all fine and great to support a good cause. But the bottom line is making money. McCarthy says it's also about growing the store's customer base, while at the same time being seen as a community leader.
"If we did a normal tap takeover, like we do almost every other week, we would be financially benefiting more than what we're doing for Pink Boots," he stated. "In our county, everything is C.O.D. So, we have to pay for it the day it comes in. When it comes to beer, basically what we are doing is purchasing beer and then giving it away for cost. We have to make a penny off of each keg. We're giving away all of our profit. We don't really look at this as 'How is this going to financially help Ronnie's?' Instead, we are more concerned with the community. I feel like we are giving back to craft beer, which has built this store. Through networking with the Pink Boots Society, it lets the community know that we want to get involved with different organizations and nonprofits. Sure, we're trying to reach out to some new customers, get them into the store, and show them that we can give you a good experience. But we stand for more than just the dollar sign."
So, about those pink boots McCarthy has been wearing? When asked to talk about them, he first chuckled and hesitated just a bit. But then he shared, "OK, I had to get on Google and convert my size in women's boots to men. Yes, I have a hot pink pair of women's-size 11 1/2 boots on right now. Our general manager, Megan, has been working for the store for over 10 years. She is actually a member of the Pink Boots Society, as well, and will also be in the house that night and wearing some pink boots also. They're actually pretty comfortable!"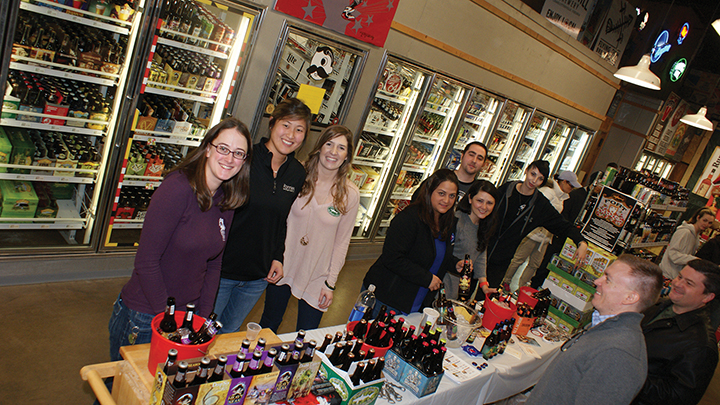 Here are Courtney Lacey, Brewer, Heavy Seas Beer; Megan Hunter, General Manager, Ronnie's Beverage Warehouse; Judy Huxtable, Sales, Dogfish Head Craft Brewery; Sami Myers, Sales, Victory Brewing Company; Shane McCarthy, Beer Director, Ronnie's Beverage Warehouse; Suzanne Woods, Sales, Allagash Brewing Company; and Hillary Harris, Sales, DuClaw Brewing Company; at Ronnie's Beverage Warehouse.
So Why A Pink Boots Society?
If you love craft beer, you probably remember the beer that changed it all—that beer that made you fall in love with craft beer. It's an exciting experience, and if you work in the craft beer industry now, it's also a life-changing experience. When I think of the first time I had Twin Lakes' Greenville Pale Ale, I can still remember the way my passion for craft beer took off. Something had just clicked; it was immediate. If you love craft beer and you're a woman, you probably also remember the first time you were treated like that passion was somehow unauthentic, or even worse, nonexistent.
For a long time I tried to ignore the relentless fruit beer suggestions from bartenders, and for the most part, I did. I ignored the man that asked what beer I preferred, so he would know not to buy it. I ignored the unorthodox comments from taproom employees stating that a beer was somehow inherently feminine, a "girl beer", for being light-bodied and sweet. I had just turned 21, and I guess there was a part of me that was just happy to finally be immersed in the local craft beer scene. That part of me continued to ignore these uncomfortable moments.
There came a time though, when I realized that this couldn't be ignored. I walk into a bar and sit down with my friend. A male bartender comes up and asks if we'd like a cocktail. The bar had a decent craft cocktail menu, so I didn't think much of the suggestion. I ask him, instead, what beers are on tap and he begins his unenthused descriptions of a variety of beers. He doesn't even manage to name breweries. His descriptions of the beers themselves, ranged from "it's good" and "it's lighter" so I assumed the guy was just a bad bartender. Then, my boyfriend and his friends sit at the bar. Immediately the bartender walks over and asks if they would like a drink. Yes, he chose the word 'drink'. He hands them beer lists, and seems tentative. They ask about the beers and suddenly he seems knowledgeable. That's when I start to get angry. Why was I never offered a beer list? Why wasn't I given the same descriptions? Why was my interest in beer not taken seriously?
I have talked about my experiences with many people, and all responses are different. I am lucky to have so many supportive friends, that not only sympathize with me, but have sadly been in similar positions. I've talked with people that assure me that I'm looking too much into it, or have just said, "I didn't know you were one of the feminist beer girls." What is even more troubling to me than those who roll their eyes are those that are surprised that I believe I have been treated differently as a woman in the craft beer industry. So many people refuse to look, to listen. This is not just a problem for women to deal with, it is everyone's problem.
The reason why organizations like Pink Boots society are so important is that they demand respect for women in the beer industry, and since I started working in the industry, I understand that respect can be scarce. I can't tell you how many times I've felt as though beer reps are genuinely surprised by my craft beer knowledge, or have asked the dreaded question, "Wait, you actually work for the brewery?" Sometimes, I feel like I'm not just representing myself to others in the industry, but that I have to represent all women in the industry. But the truth is, I don't want to do that nor should I ever have to.
I am just one woman, one palate, and one story. What's important is that these stories are heard, rather than ignored, so that the next time a young woman expresses interest in craft beer industry, she's not afraid to be heard, too.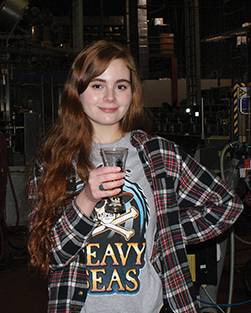 By Amanda Zivkovic, Heavy Seas Beer