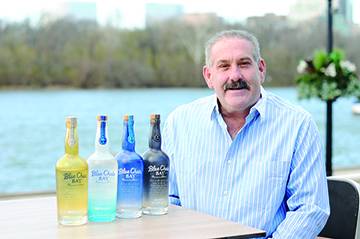 One of country superstar Kenny Chesney's biggest hits was "When the Sun Goes Down." Well, in the beverage biz, the sun has definitely not gone down on Billy Reilly yet. He's the new Maryland-D.C.-Virginia Territory Manager for Fishbowl Spirits LLC, an independent spirits company wholly owned by Chesney. Their signature product is Blue Chair Bay Rum.
Reilly believes he's the man to bring this premium-blended spirit, distilled in Barbados and inspired by the singer's relaxed island life, to market in our region. After all, he was the owner and commissioner of the Fastest Bartender Contest for many years, putting on exciting competition shows all over the Maryland-D.C. area. He sold that business to some members of his staff. "It has stayed in the hands of the people who have actually run it, and I am really happy for them," he said proudly, during a recent interview with the Beverage Journal.
Reilly also operated a small consulting firm which specialized in "out of the box" marketing. His clients included a number of bars, restaurants, and small businesses. "I was never far from the business," he remarked. "I heard about this job opening. I immediately inquired online, and I made the most of my interview opportunity and landed the position."
In his new job, he is responsible for both on- and off-premise sales. His first day was April 1. We chatted on March 31. "I am most looking forward to getting back and seeing a lot of the bars and restaurants that I've become very fond of over the years," he said. "I can't wait to see all of those friends who were waiters, waitresses, and busboys who have since assimilated into management and ownership. It will be great visiting territories where we used to have shows and to bring a fantastic premium product to their doors."
Asked if he was daunted by the work ahead of him, Reilly was quick to reply that his mindset doesn't allow him to see challenges. Ever. "I only see opportunities," he stated. "My theory in life is that there aren't any problems, there are just solutions. How can I be a part of those solutions? Honestly, the only obstacle I expect is overcoming established products that have been in the market for a while."
Reilly is thrilled to have the name recognition of such a major celebrity behind the brand he is touting. So far, he has marveled at the level with which Chesney has been involved in everything from marketing decisions to color schemes to taste profile. "Everything is Kenny!" declared Reilly. "He's not just lending his name. This is his deal. He's the new hardest working man in show business. And if we, his staff, can put as much energy into this product as he does into his shows, then I predict much success."
Reilly is one of those beverage industry professionals who has always prided himself on living and working by a code. "Be loyal to your establishment," he said. "Seek to make a difference and have an impact. Bring an excitement level, do what you say you are going to do, and make sure you follow through. The key to longevity in this business is you have to be productive, and you have to stay relevant and focused on the needs of the retailer, the bar owner, and the restaurant owner. Your name sticks with you. Hard work does pay off, and I am a living example of that."
In his nearly quarter-century in the business, the biggest change that he has seen is the shift from old-school bartending to the new trend of mixology. "Bartending is now much more than a job than when I started. It's a craft. People are studying and aspiring to be great bartenders now. It's not just a job that leads to another job. I also see a big upswing in spirits versus beers. Spirits are really gaining a lot of ground, and premium products have a very good opportunity in this market to establish themselves."
He concluded, "I am so looking forward to the year ahead. It will be a great year if I am successfully able to take this fantastic brand that has legs, move it into an exciting market, and get the name out. It's just an exciting time to give an old war horse like me one more great run!"
FAVORITE MOVIE: "Wedding Crashers"
ANY KIDS: Two sons. Colin, 13, and Will, 11.
IF HE'S NOT LISTENING TO CHESNEY, HE'S ROCKIN' TO: Bruce Springsteen and Bob Seger
HE COLLECTS: Cocktail shakers. "I am a collector of the craft. I probably have the single largest cocktail shaker collection in the U.S. Thousands of them!"