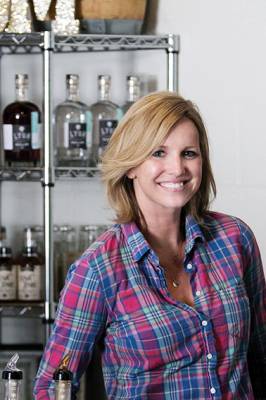 Guilds come in all shapes and sizes these days, and they have varying missions. The Screen Actors Guild, for instance, represents the interests of thespians worldwide who appear on the big and small screens. The Newspaper Guild is a labor union for journalists and other employees of newspapers and currently boasts more than 30,000 members across North America. The much smaller Lollipop Guild, meanwhile, is tasked with doling out sweet treats as a form of welcome to visitors of the magical Land of Oz's Munchkinland precinct.
The recently formed Maryland Distillers Guild is looking to be all those things -- an industry representative, a de facto labor union, and a welcome wagon -- and more for those artisanal distillers statewide who craft whiskeys, rums, vodkas, and other spirits. Boutique whiskeys and other spirits are surging in popularity with consumers both in Maryland and across the country. Unlike wines whose quality and character are shaped by such things as climate and soil type, spirits can be distilled anywhere with raw materials like barley or sugar to be shipped in if need be.
The distribution model now in place in Maryland basically allows a distiller to sell a limited amount directly to the customer -- three bottles per person each visit. In addition, distillers can go to distributors to retail their products or apply for a wholesaler's license themselves. Of course, each distiller needs state and federal permits. One person who has navigated this process and wants to help others do so is Guild President Jaime Windon, who is also co-owner, along with Ben Lyon, of Lyon Distilling in St. Michaels.
Windon stated in a recent interview with the Beverage Journal, "The guild will help bring existing distilleries together; encourage new distillers to open; and, through legislation and our education and marketing efforts, we'll be able to shape future opportunities for the entire industry. Once you do those things, you'll be able to foster jobs, agriculture, tourism, and so forth. This is an industry that will benefit the state on so many levels."
She continued, "It's exciting for me as a distillery owner, because we have wanted for that camaraderie ever since we opened in 2013. It's also exciting to be president of the guild this first year and help shape our industry and to help my fellow distillers thrive. An industry can't thrive with just two or three full distillers. If you go to a small distillery, buy a craft spirit, and it's not very good, you are much less likely to go out and purchase a craft spirit from any state. But when you walk into a small distillery and have a fantastic experience, you meet some passionate owners, you take a tour, you try a spirit that completely opens your eyes to something new, then you are far more likely to take a chance the next time you have the opportunity to visit a craft distillery or see a craft beer on the shelf. We're all working for the betterment of our industry. There is so much room for growth."
Beside creating their own guild, Maryland's distillers recently hired Kevin Atticks and his firm, Grow & Fortify, to manage the organization, lobby in Annapolis, lead promotional campaigns, and generally help the industry grow. In beverage circles, Atticks is best known for leading the Maryland Wineries Association since 2002 and has played a key role in expanding that group from 15 to 70 wineries. He has also proved particularly adept at pushing for revisions to state and county alcohol laws. The Maryland Distillers Guild joins the Maryland Wineries Association and Brewers Association of Maryland as clients of his firm.
Atticks remarked," The number of wineries who were trying to get brewery and distillery licenses was on the increase, and there were no real reference points for them. They were calling the state, and the state was saying, 'Give Kevin a call.' Or, 'Give other breweries and distilleries a call.' It occurred to me that there was a need to organize and create a professional face for the distilling industry and to help the brewers, as well. So, in December, I formed a firm and converted my relationship with the wineries, brought them onboard as clients, and they were fully in support of this idea. I then approached the active distilleries and convened a meeting of them. We got together in late January, and we came to an agreement about me helping them form an organization. The guild wants to promote directly to the customers, both in and out of state, that Maryland is a great place to come and visit, take a distillery tour, and refresh people's memories of the history of Maryland distilling."
Windon definitely believes the guild has history on its side. Maryland was known for its rye whiskey and rum during colonial times. Prior to Prohibition, the Old Line State produced the fifth-most alcohol in the country. "What many people don't realize is that Maryland has this illustrious distilling history," she confirmed. "Rum was the first spirit ever distilled in Maryland back in the 1600s. The colonists made and drank a lot of rum! The industry got decimated when the public's tastes changed, and rye whiskey fell out of fashion in the 1950s and '60s. In 1972, the last big Maryland distillery distilled its very last drop of whiskey, and we had a 40-year drought. So, it seems like a new thing to anyone under 40. But anyone in their 50s and 60s remember when Baltimore smelled like rye whiskey. Distillers were pumping it out. We want to bring back that recognition."
Atticks noted the guild is tackling its first big challenge right now: organizing. This includes developing bylaws and setting a legislative agenda. "We'll be testifying in Annapolis on behalf of the guild to create some events opportunities, allow distillers to attend some events away from the distillery. These won't be big sales opportunities, but they'll be great to promote products. Distillers should also have the ability to support charities and worthy causes through the donation of some of their product."
For those reading this who are dreaming of joining the growing ranks of distillers in Maryland, Atticks was quick to offer his advice: "Step one, we recommend calling the Guild. So much of what a start-up distillery goes through involves forging new ground at the local municipality or county level. In most places around the state except in the very specific instances where there are operating craft distilleries, the county and municipality will have no idea what to do with a request. For a start-up, that can become a quagmire that can go on for years. We'd like to be able to walk someone through that process, make calls to the county, go to meetings with them to make sure that it's done right so that we don't have bad precedents put into place that could cripple a local distillery or the local industry."
Windon concurred, adding, "Make sure you are getting into this for the right reasons. Have a passion for this and bring something unique. The only downside to an industry growing so quickly is that it can grow recklessly with people not adhering enough to quality. While it's always exciting at first to jump in and we certainly encourage people to get started, pay attention to the quality of what you're making, make sure you have done your due diligence, and make sure you have honed your craft before you launch your business. While we are excited to see new businesses open, we want them to be stellar distilleries. We want the reputation of Maryland be known not just for many distilleries, but to be known for quality distilleries. It's not so much about numbers as it is about quality."
The sizes of the state's distillers are indeed fairly small. Lyon, for example, uses a 26-gallon still and produces only between 400 and 600 bottles a month. Right now, there are four spirit-only distilleries in Maryland, three of which are also wineries, and another four operations still in the planning stages. By comparison, Washington state has 90 distilleries up and running.
Atticks remarked, "I think in 12 months, the industry will have doubled. It will have at least 12 distilleries operating. I think we'll have some small towns really excited to have a new distillery bringing jobs and lots of tourism. We will have Maryland distilling on the map again."
Windon concluded, "Craft distilling is all about experimentation and innovation. That's what we're passionate about at Lyon Distilling, making really great things that are unique. We love it when people come in and try a rum and say, 'Wow, I've never had a rum like this before!' That is what craft distilling is all about. It's about expanding what people think a spirit can be." n