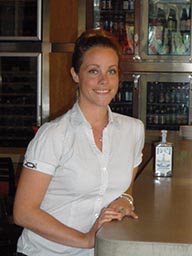 Caitlin Love has definitely found both her love and her passion working for Passion Food Hospitality.  She is a seven-year company veteran and has served as bartender at the firm's District Commons eatery since its September 2011 grand opening.  Located on Washington Circle, it's basically a 21st century take on the traditional American tavern.  In terms of food offerings, customers love the huge raw bar and the open-hearth oven where everything from flavorful tarts to tasty flatbreads are baked.  But Love believes it is the drink selection that gets so many customers coming back for more, especially those who like to sample from District Commons' 99 Beers on the Wall.
"District Commons and Burger Tap and Shake are conjoined restaurants," she stated, during a recent interview with the Beverage Journal.  "We are the sixth and seventh restaurants the company has opened.  District Commons is American-themed, so we have an all-American wine and craft beer list and lots of American spirits, as well."
Love says she most enjoy working with the newer spirits.  "There are so many beers and wines coming out now, especially on the American side!" she exclaimed.  "I especially like working with Shannon Crisp and FEW Spirits.  I really like the FEW Rye Whiskey.  I want to make a bourbon punch this summer with it.  Bourbon is such a fast-growing part of the industry right now, so I'm really excited to get to work with that.  I like using FEW's gin, as well.  It's very flavorful and blends really nice in a gin and tonic."
She also enjoys being creative with her own cocktail recipes.  At the time this interview was conducted in late May, she was toying around with a drink called the Rosie the Riveter.  It will feature Leopold's Navy Strength Gin with some rosé, some Michigan cherry liqueur, and some tonic water.  "So, it's like a cherry gin and tonic," she remarked.
Love started in the bar business right after she graduated from college.  "I'm from D.C.," she said.  "So, when I came back home, I wasn't really sure what I wanted to do.  I started working in the restaurant of an old family friend and just fell in love with the industry." 
Over the years, she has learned many things about what to do behind the bar and certainly what not to do.  She says the most important thing she has learned is patience.  "Too many people these days are into immediate gratification," she lamented.  "But being a bartender, especially in D.C. where the market is so competitive right now, you really have to take each day as it comes and be patient with yourself and with others.  Go ahead and bring up new ideas to people, but then let yourself get comfortable with the environment that you're working in."
She continued, "I'm also very picky about cleanliness. You can be really busy, but you don't have to leave things in a mess.  You can have your bar organized where you can keep everything in order even while you're busy.  That's the most credible way to bartend, for sure."
In terms of ongoing challenges, she says the hardest part of her job is working in an American-themed restaurant that people frequent because it is in their comfort zone, then challenging them to leave that zone and try something new and innovative.  "I really try and open our guests and clientele up to the concept of American craft spirits.  We're trying to raise the game.  The people who make them take  SO  much care in their products.  They are winning a lot of awards in Europe and across the world.  But you still have to convince some people to give them a try."
Part of opening people up to new drinks and new pairings is offering them new experiences.  To this end, she is looking forward to the special beer dinner that District Commons has scheduled for the week of the Fourth of July.  "It's going to be a beer pairing with various breweries," she stated, "including [wholesaler] Capital Eagle Inc. who will have their high-end brand manager there with us.  We will be pairing different types of beer with different types of cuisine.  The Fourth of July is always a big barbecue time.  If you're going to have a party, you're likely going to have lots of different tastes and palettes.   So, why not have something for everybody?"
WHAT SHE DOES
IN HER DOWN TIME:
"I like going to new restaurants. 
D.C. has so many!"
TOP D.C. TOURIST SPOT: 
The Franklin D. Roosevelt Memorial.  ("It's
really beautiful in the summer at nighttime!")
FAVORITE MOVIE:
"The Shawshank Redemption"
ALMA MATER:
The University of Arizona
PETS:
One dog, a beagle-mix.