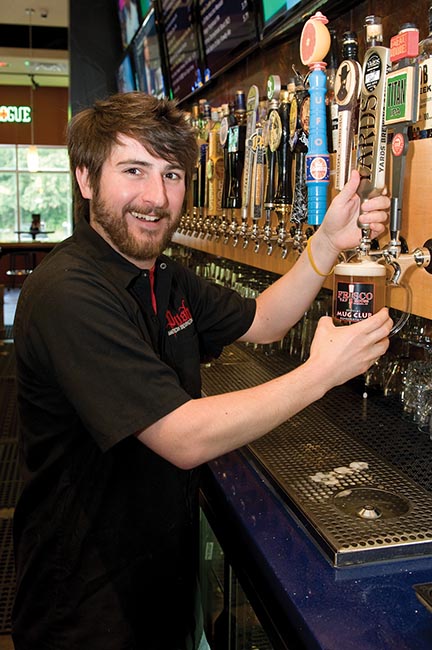 Michael Cermatori, bartender at the Frisco Taphouse & Brewery in Columbia, has a pet peeve.  "I do not like a sticky bar top!" he declared, during a recent interview with the Beverage Journal.  "That's just lazy bartending.  If you go in someplace and it's sticky, it's not some place you want to go back to.  Now, if you work in a dive bar, I don't want you serving me with white gloves and your pinky in the air.  But have some pride in what you're doing."
Cermatori will only turn 29 in July.  But he already sounds like a longtime veteran of the business.  "I would tell anyone new and young in the beverage industry to know your product, know your clientele, and be aware of your surroundings," he said at one point.  "Things can happen pretty quick in the bar business.  I am lucky because Frisco is a great place.  But I've worked at some other places where things would get out of hand real quick.  So, keep your head on a swivel and know what's going on."  
In truth, Cermatori has been in the industry for a decade, having started as a barback and a bartender in fine dining in Long Island, N.Y.  "That's where I'm from," he said.  "I moved down here in the summer of 2005 to attend college." 
And while he has studied Corporate Communications at the University of Baltimore, his time at Frisco is what has made Maryland feel like home.  He stated, "Frisco is a 56-tap craft beer house, and we also brew our own beer onsite.  We offer beer from all over the world.  The way Frisco is set up is we have these two flat-screen TVs turned sideways that have the beer list on them. People sit down and they start reading through.  They'll ask you questions about beer. You'll ask them, 'What do you like?' And they will either want something 'hoppy' or something 'malty' or something sweet or something dark.  With my knowledge of what we have on tap, I can whittle down their choices and get them something they can really enjoy."
Cermatori says he really loves interacting with Frisco's customers in this way. At times, he is as much a consultant as a bartender. "I've worked a lot of restaurant jobs," he remarked, "and Frisco has the best group of regulars. Every day at work, I get to see someone cool that I enjoy talking to and helping. I get to hang out with them, pour them a drink, and put a smile on their face."
On the flipside, Cermatori said the most challenging part of his job is always that random customer who has had a real bad day and just doesn't want it to get better. "You want to turn things around for them, but there are some people who just don't want to be cheered up.  That can be very frustrating sometimes."
In those instances, he remembers some of his early influences in the bar biz.  One was a colleague on Long Island named "Bix."  Cermatori describes him as "this crazy guy" who played in rock bands throughout the '70s, but also bartended on the side.  "He told me to work hard, always keep a smile on my face, and keep the guests happy -- that if I did all that, I shouldn't have a hard time in the bar business.  And I haven't!  I always try and keep that in mind."
And to stay on top of his game, Cermatori is always on the lookout for the latest customer trends and drinking preferences.  Last year, he observed, white India Pale Ales (or IPAs) were all the rage.  "This year, everyone seems to be doing session IPAs.  Basically, you get the big hops content you find in a regular IPA, but with alcohol.  A normal IPA is about 7.5 percent or 8 percent alcohol by volume.  These are more like 4.5 to 5 percent.   When you are at your backyard barbecue or out with your family, you can still drink some nice flavorful beer.  But it won't put you on your ass!"
He is also looking forward to Frisco opening a second location in Crofton.  "The word on the street is that it will offer 106 taps and all craft beer.  That should be cool!"
FAVORITE MOVIE: "First Blood"
HOBBIES OR SPECIAL INTERESTS:  "I love motorcycles, dirt bikes, anything with an engine that I can mess around on and maybe hurt myself on."
PRIZED POSSESSION:
"My 1994 Jeep Grand Cherokee that I've been driving since I got my license.  She's getting a little old, but I still love her dearly."
HIDDEN SKILL: "I can ski well!"
HIS MUSIC:'80s metal.  "But I also get down with some early '90s gangsta rap. 
I'm all over the place."
PERSON HE'D MOST LIKE TO SERVE AS A CUSTOMER: 
"Either Steve McQueen or Charles Bronson. I bet they liked beer."