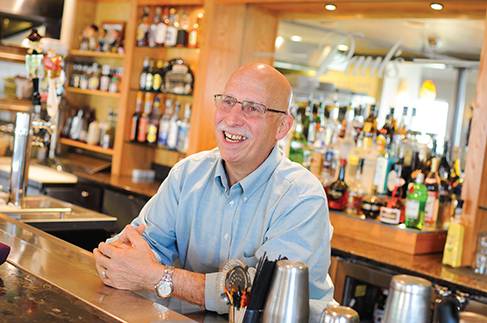 ...Has Found a Home at Paul's Homewood Café.
Annapolis certainly has its institutions that have been around for decades. The U.S. Naval Academy. The Maryland State House. St. Anne's Church. And Frank Cheplowitz. Wait ... who? Those who know the state capital's wining and dining scene know who. Cheplowitz has been a professional waiter there for nearly four decades. One of his first gigs was at the old Harbor House restaurant in the City Dock area. That was followed by a nearly 27-year stint at the Maryland Inn, where he did everything from serve guests to manage staff to order the wine.
He made the switch to Paul's Homewood Cafe nine years ago and has served as its head waiter ever since. The key to his longevity? "I still love learning about the business!" he exclaimed, during a recent interview with the Beverage Journal. "I love learning about food, about drinks, and about myself. It's really never too late to learn things. I also don't stress out about things as much as I did even just a couple of years ago."
As part of his continued education, Cheplowitz has recognized the value in staying close to youth. To this end, he has formed a bond with Chris Green, the head chef at Paul's Homewood Cafe. "He's not a kid, but I call him a kid," Cheplowitz said, with a slight chuckle. "Chris has brought in a lot of new ideas to this restaurant and is creating new sauces, mastering different preparations, and serving up some amazing dishes. I'm 62 and he's 27. But the remarkable thing is I am learning from him, and he's learning from me."
Cheplowitz went on to state that he and Green spend a considerable amount of time on food and beverage pairings. "Last night, we had a bone-in pork chop entree that had a little spice to it. So, we opened a couple of bottles of wine to see what would pair with that. If the customer is smart, they'll listen to you. Fortunately, our customers are pretty smart."
With regards to the restaurant's clientele, Cheplowitz says he has been impressed as of late with the sophistication of the younger generation, especially when it comes to their beverage choices. "More and more are drinking their parents' drinks," he stated. "They're going for the good Scotches and bourbons. They like the mixers and the Knob Creek. They're not abusing it either. They just want a nice drink with dinner. They'll come in and say, 'My dad had a glass of Worthy. Do you have that?' And they're telling me about all these new types of martinis out there. I've never seen so many different types of martinis! It's crazy."
In terms of providing quality beverage service, Cheplowitz is a firm believer in not being overly aggressive with the guests. He prefers listening to and sizing up customers, especially those who are not regulars. He said, "I tell all of our waitstaff, 'Never push alcohol.' You just don't push a customer. If they're interested, they're interested. If not, just let it go. You can ask, 'Would you like a cocktail,' and if they are interested, then you try and suggest different things pared with an appetizer or their choice of entree. I also don't like to push the most expensive wine. I'd rather sell a $7 glass of wine, because I know the chances are better that I'm going to get a second and even a third glass out of the customer than if I had recommended a $15 glass of wine."
Even at 62 in a profession most regard as a young person's game, Cheplowitz has no plans to retire anytime soon. He firmly believes that what he does for a living is not a job, but a calling. And he especially loves serving his fellow residents. "I was born and raised in Annapolis," he said, "and I've seen it change from an almost small town to a major competitive market with so many restaurants and wine bars. It's still a great city where you can raise a family and enjoy a good life."
He concluded, "I think of this restaurant as my home away from home. Many of our customers do, too. In the winter, people will actually walk to it when it snows People say I'm dedicated. THAT is dedication!"
FAMILY: A wife, two grown sons, and three teenage grandchildren.
FAVORITE MOVIE: "The Godfather"
CAN'T MISS TV SHOW: "The Chew"
DREAM GIG: "I love Mario Batalli! I'd love to just work with him in a restaurant for one weekend."
ALTERNATE PROFESSION HE WOULD LOVE TO HAVE TRIED: Professional boxer
GO-TO VACATION SPOTS: Rehobeth and Dewey Beach, Delaware
BEST BEER: Heineken
HIS COCKTAIL OF CHOICE: Bloody Mary
FAMOUS PEOPLE HE HAS SERVED: Harrison Ford, Vincent Price, Cal Ripken Jr., and former Baltimore Colts great Bruce Laird
DREAM CUSTOMER HE'D LOVE TO SERVE: Robert DeNiro