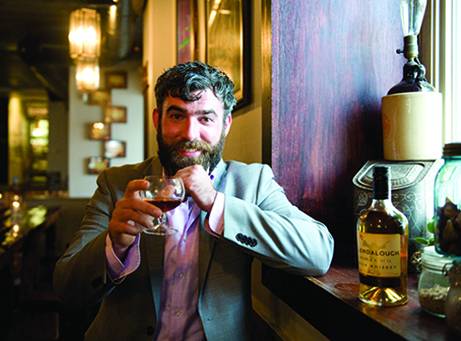 How Glendalough Is Preserving Ireland's Whiskey Heritage.
Donal O'Gallachoir was one of five friends who found that they had a shared passion. No, not for sports or automobiles or a particular brand of music. What brought them together was a quest to revive the heritage of craft distilling in their home country of Ireland.
As late as the 19th century, there were more than 200 licensed distilleries in Ireland in addition to countless unlicensed ones. Until recently, that dropped to a small handful. But the five friends' Glendalough Distillery is now looking to be a part of a true revival. Named after one of the most beautiful valleys in all of Ireland, Glendalough Distillery is looking to make a name for itself abroad, but especially here in the States. Initially, the founders started with poitin, the first-ever spirit distilled. Since then, they have moved on to whiskeys (the Glendalough Single Grain Double Barrel has become an especially hot seller), Irish Single Malts and four wild botanical gins for each season.
O'Gallachoir handles all U.S. sales and marketing for the brand. He visited Maryland (at a Baltimore whiskey haunt called Of Love and Regret) in mid-May to talk up Glendalough Distillery and its products, and the Beverage Journal was fortunate enough to get an interview with him. What follows is our chat:
BEVERAGE JOURNAL: Could you please introduce yourself to our readers, sir?
DONAL O'GALLACHOIR: I first started in the drinks industry at the tender age of 17, doing on-premise activations for some of the big brands around Ireland. I did that throughout college. When I finished university, I went to work for an Irish whiskey brand. We ended up taking that national across the U.S. All the while, I used to meet up with my cousin, Barry, and the other guys, and we used to talk about setting something up for ourselves. We eventually jumped into this two feet first. What we really wanted to do was bring back some of Ireland's whiskey heritage. There were independent craft distilleries in Ireland before "independent" and "craft" were even buzzwords. Every town had a couple of distilleries, and there was a wealth of different styles.
B.J.: What is your current job title?
D.O.: That would be "Whiskey Slinger."
B.J.: Awesome.
D.O.: No, I am the national sales manager. I look after growing the business in the U.S., everything from distributor relations and opening new markets to training our sales team on the ground and developing campaigns and POS materials. Anything that gets our whiskey out there and gets our whiskey selling, that would be my neck of the woods.
B.J.: You're based in Boston, right?
D.O.: For my sins, yes.
B.J.: So, as a visitor to our region, what is your impression of Maryland and Washington, D.C., as whiskey markets?
D.O.: I think it's a great whiskey market with a lot of opportunity for Irish whiskey. I am impressed that the people are very knowledgeable. I've met people who are 21, 22, 23 who ask questions like "Is it column distilled?" On the retail side, there are a lot of terrific specialty stores that are doing a great job educating and up-selling consumers. I think there is also a good cocktail scene in both Baltimore and D.C. From my experience dealing with people on the ground, people are just delighted that there is something new and interesting coming from Ireland, because for a long time there wasn't.
B.J.: Can you talk about the early days of going into business for yourself? What was that like?
D.O.: When we started self-distributing in Dublin, it was me in a beat up Volkswagen Golf driving around with hand-written invoices. I got my car broken into a few times. It was very humbling.
B.J.: How often do you get back to Ireland?
D.O.: About twice a year. In fact, I am going back this week for an engagement party. There's no rest of the wicked, right?
B.J.: You've gotten high marks for your bottle design. Is there a story behind this rather striking label?
D.O.: Where we are from is Wicklow, just south of Dublin. Where we settled next to is Glendalough. Glen is a valley, da is a short Irish word for two, and lough is a lake. Glendalough is a 6th-century monastic settlement that still stands in all of its glory to this day. ... It was founded by St. Kevin, who looked a bit like Bear Grylls. St. Kevin was born into nobility in Ireland in the 6th century. He was supposed to be a king. But he turned his back on that to go his own way in the world. He wanted to carve his own path, so, he did a bit of soul searching, and he gets to this one point at the top of a mountain, looks down, and he sees these two pristine lakes at the bottom of a valley. He goes between the two lakes and sets up shop. At that point, he became very religious. Because of his strength of character and his preaching, everybody wanted to live around this holy man. To this day there is a 6th Century monastic settlement that will stands there 1400 years later.
The image on the bottle is him. St. Kevin used to pray up to his waist in ice-cold water. Monks were into that kind of thing at the time. They would pray with their hands stretched towards the heavens. It is said that he was so harmonious and one with nature that a blackbird flew down from the mountain and landed on him. And the blackbird was so at peace, that she laid her eggs and St. Kevin stayed like that for two weeks until the hatchlings hatched.
B.J.: So, the bottle is both a nod to where there was such early distillation in Ireland and to this guy, St. Kevin?
D.O.: It was a nod to a guy who could have done it the easy way, but he choose to make his own way. He and we have that independent Irish streak. What we like to think we're doing is carving a new path in Irish whiskey.
B.J.: So having been in this business since you were 17, what have you learned?
D.O.: (laughing) I've learned that no good conversation starts with "You know what you should do?" Seriously, though, in this business, it's not what you tell someone about your brand and your story. It's what they tell their friends that really matters. And always do what you say you're going to do. It's not about the orders. It's about the re-orders. That's really what this industry is about.
B.J.: And is there any advice that you have for anyone reading this who may, one day, hope to do start their own business?
D.O.: Get people from every skill set that you don't have.
B.J.: And what specialized skill set do you possess?
D.O.: Talking ... and drinking!