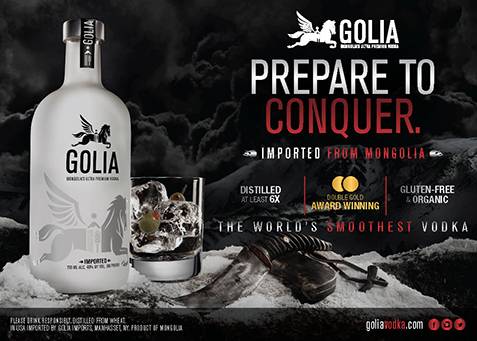 Looks to Be a Horse of a Different Color...
The first thing I noticed when I went to crack open my first bottle of Golia Vodka, the latest hot import from Asia, is the majestic label featuring a winged horse. While I am quite certain the owners of American Pharoah poured more than their fair share of vodka and other spirits upon winning the Triple Crown recently, I was a little iffy as to what a similarly legendary beast had to do with vodka. So, I went to the source, Golia Vodka Chairman David Solomon.
"It's a Pegagus to Americans, but called a Wind Horse in Mongolia," he stated. "In Mongolian folklore, the Wind Horse is conjured up by shamans to take the spirit on its journey to Heaven. So, what we want people to think of when they are drinking Golia is that they are ascending to Heaven. You'll see that we also incorporated the Mongolian sun, mountains, the water, and the wheat into our version of this Wind Horse."
Golia Vodka has been incorporated into packaged goods stores throughout Delaware, New Jersey, New York State, Quebec, and Pennsylvania so far and is now making inroads into Maryland and Washington, D.C., thanks to distributor Southern Wine & Spirits (SWS). It's an 80-proof product that hits the lips and gums with a slightly sweet mouth feel, then quickly fades into a quite dry flavor with hints of sea salt, licorice, and even a bit of mint leaf.
Maryland and D.C. vodka lovers are going to embrace this product for a number of reasons. First, the company uses only organic and all-natural ingredients. "We don't put anything man-made into the bottle," Solomon touted. "We don't use chemically treated water. It's pure H2O from our own deep underground mountain well water source in the Altai Mountains of Mongolia and fed from a place called the Khuiten Peak. Where our well water is, there are lakes in that area where you can literally see lake fish up to 50 feet below the surface. You just can't source ingredients like this anywhere else on the planet that I know of."
He continued, "The second key is the grain. We don't use chemical fertilizers or pesticides. Mongolia is often called the world's last unexplored frontier, unspoiled and totally magnificent. You have three million people, 20 million goats, and land as far as the eye can see from the Gobi Desert in the south to the Altai Mountains in the north."
In addition, each batch is distilled at least six times. That's the starting point. That's the minimum. If Golia's master distiller feels a particular batch needs more distillation to be even smoother, he has permission to go up to as many as nine times.
The company's filtration process goes above and beyond, too. Most vodkas will be filtered through one, maybe two types of filters at most. "Our vodka goes through four different types of filters," Solomon stated. "Each batch has gone through charcoal, quartz, silver, and platinum filters, because we find that each one removes different types of impurities and makes it that much smoother."
Solomon has proven to be an ultra-smooth businessman in the States, founding the Redbox DVD vending machine concept and owning a 20-store Toys "R" Us franchise. What took him to Mongolia? A friend, Lee Cashell, went on a junket to the country when it was first opening to the West. He fell in love with his tour guide, got married, and never left. Today, the husband-and-wife team's companies own many different things in Mongolia from a cement factory to apartments to the largest real estate brokerage company.
Solomon went to visit him. "I also fell in love with the country; the people; and, most importantly for this story, the vodka. We saw a real opportunity to bring this kind of quality spirit here."
The company is now looking to expand distribution of Golia Vodka throughout America, with Maryland and the nation's capital being their current hot target. "I am extremely optimistic about the Maryland and D.C. market," Solomon concluded. "We're based just outside of Philadelphia. So, it's a market we can cover very easily, and it's a place I can personally go to for tastings. I also think the Maryland and Washington customer, in general, is knowledgeable and appreciates finer spirits, particularly craft spirits like ours. This is an opportunity for us to come in with a fantastic vodka at a competitive price point. We have a good story to tell, too. It's just kind of crazy that Mongolians and Americans are working together in Mongolia making great vodka. I'm sure you don't read about that every day in the Beverage Journal."