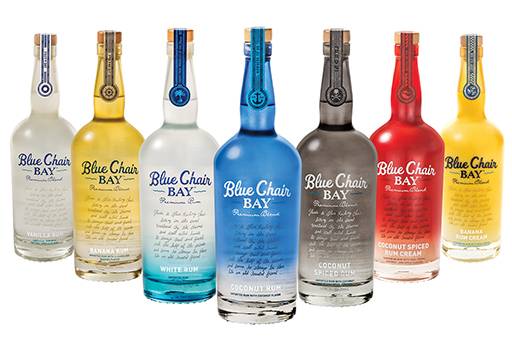 ...and a Blue Chair Bay Rum:
On country superstar Kenny Chesney's current U.S. tour, fans can walk through the singer's American Kids bus. Inside, there are displays that tell the story of the singer's music; his lifestyle; and, most importantly to Beverage Journal readers, his line of flavored Blue Chair Bay Rums imported and bottled by Chesney's Fishbowl Spirits LLC. "There is an opportunity to taste, as well," said Fishbowl Spirits President David Farmer. "So fans can come to understand what these rums are all about."
First and foremost, what Blue Chair Bay Rums are about is lifestyle. Chesney is selling an island vibe that comes through in many of his most popular tunes. Created at a small distillery in Barbados and launched in April 2013, there were the three initial selections: Blue Chair Bay White Rum, Blue Chair Bay Coconut Rum, and Blue Chair Bay Coconut Spiced Rum. Before long, Blue Chair Bay Banana Rum came along and was also a hit. In June, the company is launching Blue Chair Bay Vanilla Rum and Blue Chair Bay Banana Cream Rum.
This reporter tasted both of the new releases. If I had one word to describe their overall taste profile, it would be "clean." Sometimes flavor-infused spirits have a sort of artificial taste to them. Some, quite honestly, go over the top. One of the great things about Blue Chair Bay is the lack of an overbearing taste. This is a very fresh line that is obviously a testament to Chesney's insistence that the rums be as natural as they could be. Farmer remarked, "This is his rum. It's not a sponsorship. It is a labor of love for him."
The singer's influence is most evident in the design of the bottles. "He wanted it to look like the beach, he wanted it to feel like something you got at the beach," Farmer said. "He loves the worn look, so that's why you see the lettering have that faded, worn look. And you also have the lyrics of his classic hit 'Old Blue Chair' on there that connects him and the bottle."
Blue Chair Bay doesn't come across as particularly masculine or feminine in its taste or its marketing and point of sale materials, but instead finds a sweet spot right in the middle. The products mix well with the traditional colas and diet colas, but splashes of fruit juice -- pineapple and orange, in particular, with soda water -- bring out a popping array of tastes.
Of the four releases already out, my personal favorite is Blue Chair Bay Banana, in which the company took its classic beach-made white rum and added caramelized banana with just a hint of island spice and toasted coconut. It makes for a truly great Banana daiquiri, but also mixes well in such up-and-coming cocktails as the Grilled Banana Punch and Bananas Fostertini. I also enjoyed Blue Chair Bay Coconut Spiced Rum with its delicate, yet smooth blend of coconut, nutmeg, cinnamon, and clove. I sipped it on its own, mixed with club soda and a sprig of fresh mint, and it was delightful.
Food pairings are also proving quite important to getting this brand out into the public consciousness. Farmer says he is aware of several restaurant menus across the country that have a Bananas Foster with Blue Chair Bay Banana Rum in the mix. "We have a great relationship with Logan's Roadhouse," he added. "They sent me a menu just the other day of some food options that they're going to run using our product. They have a Blue Chair Bay Rum-glazed barbecued salmon salad, a rum glazed salmon, and a glazed flatiron steak. They've done a great job with those, and it definitely gets Blue Chair Bay out there."
Farmer is also excited about the ongoing 50 ml program, featuring a line of little bottles that are getting more and more people to try the product. "With this being a premium rum, we're asking a lot for someone to pull an $18.99 or $19.99 bottle down off the shelf and buy it," he acknowledged. "We feel it's a great rum, a premium rum. But for consumers, we felt it was important to give those who are not quite sure of it the opportunity to at least test the brand. Hopefully, this will push more people in the right direction ... our direction."