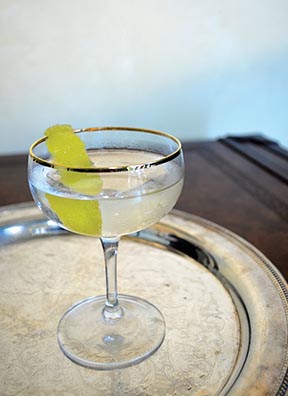 No longer simply juniper, this spirit can be classic or creative, modern or mystical
According to conventional wisdom, and to the Alcohol and Tobacco Tax and Trade Bureau, gin is a distilled spirit with its main flavor derived from juniper berries. That leaves a lot of room for interpretation.
Just ask Frank Cisneros, partner at Manhattan's Gin Palace, which boasts over 75 incarnations of the spirit. "It's actually a carefully curated list, where the flavor profile of each gin is distinctive," explains Cisneros, pointing out that now is the best of times for the Prohibition-era darling. "Just five years ago this would not have been possible. But we now have access to great variety—traditional styles like Old Tom gin, new gins in the American style, as well as classic London Dry."
London Calling
For most of the modern era, London Dry has been the prevailing style of gin. Think of classic, juniper-forward brands like Tanqueray, Bombay Dry and its premium sibling Bombay Sapphire, and Beefeater. With a potent punch of juniper and ABV that exceeds the minimum 80 proof, Cisneros says these gins have the necessary backbone to stand up in cocktails like a Negroni. Detractors, and those weaned on vodka, however, sometimes liken their flavor to that of a Christmas tree, recognizing the juniper berry's evergreen origins.
Acknowledging that one gin does not suit all comers, many of these flagship brands have added line extensions, adjusting flavors, adding botanicals and sometimes lowering proof. Bacardi's Sapphire East, introduced in 2012, is a recent example. "Sapphire is a big, bold, classic among London Dry gins," says Gary Hayward, house of Bombay brand ambassador. "However, we recognize that is not for everyone, and so we looked at the latest trends and modern flavors, consulting with bartenders to develop Sapphire East, with its additions of lemongrass and Vietnamese black pepper." With a more modest 84 proof, compared to Sapphire's 94, Hayward says that Sapphire East will help ease the entry to gin, especially among vodka drinkers.
Sapphire East's flavor sits firmly in the London Dry tradition, while offering consumers something extra. Cisneros observes this is a popular extension strategy among benchmark brands. "These are iconic gin brands, so I see their super-premium gins as a reward to their faithful fans and to the Master Distiller, offering something extra special." Created by Desmond Payne, the Master Distiller in charge of stewarding the 180-year-old Beefeater brand, Beefeater 24 includes a unique blend of Chinese green and rare Japanese Sencha teas to complement, rather than reinvent, the Beefeater style, bottled at 90 proof.
Tanquerary No. Ten, among the first to market in what Angus Winchester, Tanqueray global brand ambassador, refers to as the "ginnovation" of the 21st century, recently received a package makeover that reaffirms its super-premium status, with a faceted bottle cast in green glass that is more vibrant than the traditional Tanqueray. "Number Ten does everything that classic London Dry gin can do, but also shows how gins can play wherever other white spirits do these days, as most came after gin. It's a simple but great step up in flavor for a customer who typically drinks vodka martinis," explains Winchester.
Lest you think London Dry Gin remains the domain solely of big brands, Fifty Pounds is a gin made in the heart of London from a recipe dating to the first half of the 18th century. Crafted in batches of less than 1,000 bottles, Fifty Pounds is a boutique product that embraces the traditional London Dry profile.
Less Juniper, Tastes Great
A few London Dry style gins have long prided themselves on a more subtle juniper note, notably Boodles, which deviates from the pack with its understated juniper flavor and a range of botanicals that favors savory herbs and spices over citrus. However, no one really knew just how far gin could roam from its juniper roots until Hendrick's Gin launched in 1999.
While William Grant & Sons' Hendrick's does include juniper, Bulgarian rose and cucumber are its hallmark aromas that captured the imagination of consumers and opened the gin category for experimentation. Some purists question whether some of the new entries are really gin, or merely botanical spirits, but following The Wall Street Journal's anointment of Hendrick's as the "Best Gin in the World" in 2003, there has been a steady stream of gins that pride themselves on a few proprietary botanicals, often emphasizing citrus, floral and other flavors over juniper.
Call them Contemporary Western Dry Gin, or perhaps Modern London Dry; by any name, many of these products are far removed from grandmother's gin, with Bulldog Gin, launched in 2006, a good example. "We have juniper, but it is dialed back a bit, so that you can taste all the other botanicals," explains Bob Beleson, managing director. "Suddenly you are tasting lotus leaf, white poppy and Dragon Eye, a Chinese fruit that is similar to lychee. We find people value a more complex and interesting balance of flavors."
Bulldog Gin's brand positioning and marketing also stray from the traditional, with advertisements projected in public spaces, urban sidewalk stenciling and New York taxi commercials. Bulldog certainly got the attention of Campari America, which as of January 1st partnered to distribute the brand nationally.
The Nolet family, notable for their creation of Ketel One Vodka, offers an eponymous gin in the contemporary style: Nolet's Silver, an exquisite gin whose delicate floral notes belie its 95.2 proof.  In addition to Turkish rose, Nolet's Silver includes peach and raspberry as signature botanicals, but make no mistake, this is not a flavored product or one that exudes overt fruitiness. While the $50 MSRP puts Nolet's Silver firmly in the super-premium realm, Nolet's Reserve—with its saffron and verbena and $700 price tag—has smashed the ceiling on gin price.
Other modern gins embrace current culinary trends in their recipes, like Caorunn, which hold a distinct regional identity derived from botanicals native to the Scottish Highlands. "Foraged within a hand's reach of the distillery, the Celtic botanicals infused in Caorunn provide a sense of place," says Caorunn's Simon Buley, referring to the gin's wild rowan berry, Coul Blush apple, dandelion, myrtle and Scottish heather. Of course, Caorunn does include the requisite juniper, but it is more of a footnote. "There is an ever-sophisticated consumer who is actively looking for unpredictable drink experiences that deliver nuanced flavor, over one-noted profiles from heavy juniper gin styles," asserts Buley.
A sub-category all to itself, Monkey 47 is German gin based on the recipe of Wing Commander Montgomery "Monty" Collins of the Royal Air Force, who repurposed the juniper used to cure black forest hams for concocting gin in the region sometime in the 1950s. Revived by Germany's Black Forest Distillers, Monkey 47 is newly imported by Sidney Frank Importing Company.
American 'Inginuity'
While Western Europe has taken decades to slowly migrate away from London Dry traditions, in the U.S. the revolution is fast and furious, as craft distillers tinker with not just the botanicals, but every element of gin, sometimes even working on unusual base spirits. "The contemporary gin boom has primarily focused on unique botanical infusions. At 1911 Spirits, we took it one step further, distilling our gin from apples, which creates undertones of vanilla and caramel which delicately complement our botanicals," says Stephen Brennan, co-owner and director of sales. Distilled in Upstate New York, 1911 Gin features only about half the juniper found in a typical London Dry.
In contrast, Seattle-based Big Gin, introduced in 2011, embraces gin's piney pedigree. "We are using a pot still and include gobs of juniper as well as botanicals sourced from around the world, because we want to compete on a world scene," says distiller Ben Capdevielle. However, Big Gin shows its American roots with a base distilled from corn, as well as a "Bourbon Barreled" rendition. While top-selling domestic brand Seagram's Dry Gin has long boasted barrel-aging as a point of differentiation, Big Gin Bourbon Barreled has an unmistakable wood influence, perceptible in its golden-cast and rounded taste. "New oak is a detriment because it kills aromas and we really wanted the juniper to stand out. So it occurred to me that many premium spirits are aged in used bourbon barrels," says Capdevielle, who currently distributes Big Gin in a dozen states.
Given the large number of ingredients in many gins, organic-certified offerings are few. Farmer's Gin, however, tackles that task by using organic botanicals and organic grains, free of chemical pesticides, chemical fertilizers and GMOs. Farmer's achieves a balanced style with subdued juniper balanced with floral notes of elderflower and citrusy lemongrass.
Moving Forward, Looking Back
Gin is a darling of the craft distiller set precisely because it does not require aging. Cisneros, who features the local gins of New York Distilling Company and Greenhook Ginsmiths, both from Brooklyn, in his cocktails, says he is especially excited about the rapid proliferation of craft gins. "It's an analog to what happened with beer, and how craft beer consumers take their choice very seriously. Gin is the perfect vehicle for creativity by distillers. You can distill it today and sell it tomorrow," says Cisneros.
As mixologists delve into the history books and encounter myriad recipes using obscure gins, styles rarely seen since Prohibition have returned to the back bar. Old Tom gin, of which Hayman's Old Tom, launched in 2007 is the best known, is slightly fuller-bodied and sweeter than London Dry. Tanqueray Malacca has been likened to Old Tom in style by some bartenders, who are especially excited about its recent return as a limited-edition bottling. "It's certainly closer to Old Tom–style gins, a softer and richer variant than London Dry," says Winchester, who notes the marque has been a bit of a "unicorn" for bartenders and is being positioned primarily as an on-premise draw.
Dutch Genever, which Jaron Berkhemer, marketing director for Lucas Bols USA, is quick to point out is not gin, can't help but be mentioned in the same sentence. "Although Genever shares a characteristic with gin—juniper—it really is a category of its own and actually gave birth to a juniper-based spin-off known as gin," says Berkhemer with pride. By combining a base of malt wine with several distillates, Bols Genever is malty, full, rounded and complex, quite at home in a variety of 19th and 20th century cocktails.
At New York Distilling Company, owner Allen Katz crafts Chief Gowanus from a recipe he discovered for an early American version of "Holland gin," based on flavored rye whiskey which is then aged in barrel for three months, clarifying it is indeed "a kissing cousin to Dutch Gin."
Katz also offers Dorothy Parker as his American-styled gin and has revived navy strength gin Perry's Tot, bottled at a traditional 57% ABV. Plymouth, a bartender darling and companion to Pernod Ricard's Beefeater, is one of the few other distillers to offer a navy strength gin, which despite its potency retains the palatable Plymouth flavor profile. "As a style, Plymouth Gin is less dry than a London Dry," says Juli Falkoff, brand director. "Back in the 1750s, the ports of Liverpool, Bristol and Plymouth created their own versions of London Dry Gin, a more aromatic and fruity gin. Today only Plymouth Gin survives."
Cisneros may have to add another page to his gin list if the excitement continues, but he's not complaining. "It's a great time for gin, with the American craft distillers and revival of gins most of us have only read about," he says. "At the same time, I don't think brands like Beefeater or Tanqueray are going away. We have all these gins for a reason. They are each special."

By jeffery lindenmuth