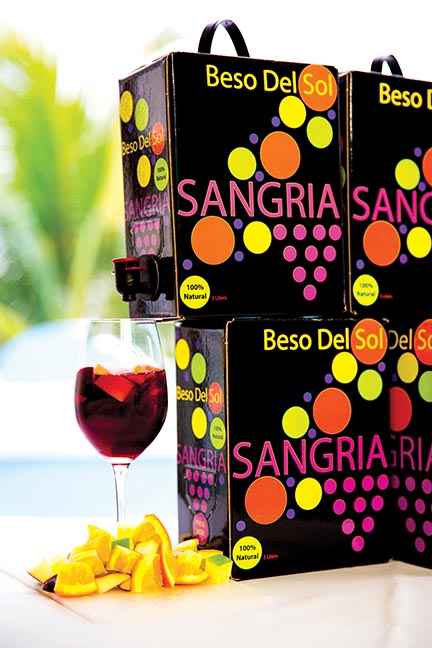 … Aims for Mucho Success In Maryland and D.C.
In early March, Beso del Sol Sangria expanded distribution to 10 states, including Maryland and the District of Columbia. The product is a joint venture between Arctic Beverage LLC and L&B, LLC, which have endeavored to bring a premium product in the high-growth sangria category to market. Arctic Beverage, importer of Beso del Sol, is partnering with Prestige Imports in Maryland and D.C.
The product features a colorful and modern box packaging that makes Beso del Sol ideal for celebrations and other gatherings -- both indoors and out. Christina Staalstrom, Commercial Director of Arctic Beverage LLC, comments, "We decided to go with a bag-in-the-box design. That category is growing in the U.S. and it's a category that we feel is perfect for our sangria. Not only does it stand out on the shelf in terms of packaging, it is attractive to have out for group gatherings. It's also great from a convenience and a cost-savings perspective to the consumer and the distributor. We feel like our timing is really good on this one. A lot of sangrias on the market tend to target the Spanish consumer. We're targeting the American consumer."
Arctic Beverage is supporting the brand with a strong in-store merchandising and sampling program along with local market advertising and event support. Staalstrom says the goal is to be in 11 states before the beginning of this summer.  "Unlike most of the sangrias that you have out there," she states, "we are really trying to target a younger and more modern demographic. That's why we went with the bright packaging, the bold colors, and all-natural flavors. There are no artificial additives at all. It's ready to serve. All you have to do is pour it over ice, throw some fruit in there, and you're good to go." 
This marks the first joint venture between Arctic Beverage and L&B to develop, produce, and bring a brand to market for commercial distribution.  Imported from Spain, Beso del Sol Sangria is indeed the first premium sangria made from 100 percent natural ingredients available in the United States in a bag-in-the-box design. High-quality Spanish Tempranillo wine is blended with a selection of fruits to create a light and fruity sangria that is both sweet and refreshing.
Staalstrom, a 17-year veteran of the beverage industry having started on the non-alcoholic side, says she and her colleagues are looking forward to the challenges of our marketplace. She notes, "In the Mid-Atlantic, there is seasonality. Sangria is definitely something people love in the spring and summer, and that's why we're launching it now. Maryland and D.C. certainly have a large Latino population, and they're familiar with the product. More broadly, I think in any large, transient city like Washington where you have a lot of people moving in and out, you have people who are willing to try new products. It's a market of people who are willing to see what is out there and not just stay with the tried and true. So, it's a good place for us to get some valuable feedback and some new consumers."
She is also looking forward to a long and prosperous relationship with Prestige Imports in distributing and selling the product. "They have a great reputation in the industry," she said.  "They're very focused on building brands as opposed to just moving cases. For us, it's very important to have a partner that wants to build the Beso del Sol brand in the marketplace and grow the sangria category as opposed to just pushing cases out the door. They have good relationships with a lot of independent retailers and also the larger chains. I think it's going to be a great fit for us!"
Made according to a traditional Spanish recipe, Beso del Solo Sangria is well balanced with a smooth finish at 8.5 percent alcohol. Each 3L box is the equivalent of four traditional 750 ml bottles. The technology used ensures that each sip is fresh, from the first one to the last. The wine stays fresh for up to six weeks after opening and generally retails for around $20 per box.