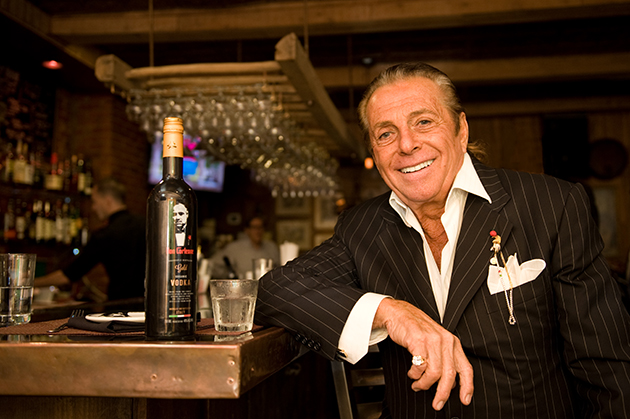 The makers of Don Corleone Vodka are hoping this is one spirit customers in our area can't refuse. Produced by Distillerie Francoli in Italy and inspired by "The Godfather" movie franchise, MJ Licensing Company launched the label back in February of this year in the New York Tri-State area. Ever since, the company has been rolling out the vodka nationally and in select international territories with the help of Brand Ambassador Gianni Russo.
Does that name sound familiar? It should. Russo played Carlo Rizzi, the no-good, wife-beating son-in-law of mafia boss Don Corleone in the original 1972 "Godfather" film. It was his first movie, and he went on to appear in over 40 other motion pictures (everything from "The Freshman" to "Any Given Sunday" to "Seabiscuit"). He also ran one of Las Vegas' most happening restaurants in the Rat Pack heyday of Sin City.
Russo was in the area in early June to introduce Don Corleone Vodka to this market. Appearances included cabaret performances at 49 West in Annapolis and Germano's in Baltimore, a bottle signing at the Perfect Pour in Elkridge, and a meet-and-greet at Magruder's supermarket in the nation's capital. We were lucky enough to sit down with Russo to ask him about his business.
What follows is our chat:
BEVERAGE JOURNAL: Mr. Russo, what makes Don Corleone Italian Vodka stand out in a crowded vodka marketplace?
GIANNI RUSSO: Recognizing that it IS a crowded market, the decision was made to go with an ultra-premium vodka. That's what this is. And we knew we would have an iconic brand and name that fortunately I have a relationship with. And when I say "we," I am talking MJ Licensing Company, who owns the brand. I am the spokesperson for the company. We are cultivating something that I think is quite unique. It's quadruple-distilled, and I think our last process is what separates it. Before it gets into the bottle, we pour it over frozen granite. I don't know how our vintner came up with that, but it just softens it. It's such a smooth vodka.
BJ: Can you talk a little bit more about the taste profile?
GR: There's no burn. There's no after taste. I drink it straight chilled without even ice. But we've also come up with some signature drinks. I came up with the Black Hand, which you can do as a martini or as a shot. It's one ounce of vodka, one ounce Black Sambuca. You shake it, chill it like a martini, and serve it straight up. It looks like a black martini. What's nice about it is you can use it as an after-dinner drink, because it has the soothing taste of the Sambuca. But the young generation loves it as shots. We also came up with a drink for the women. The Kiss. That's equal parts limoncello and vodka, and you can garnish it with orange or lemon, and again that's great as a chilled martini, a shot, or an after-dinner drink.
BJ: What do you think of the bottle art? It certainly stands out on the shelf.
GR: If you were going to buy a trophy bottle, this would be it. We just launched this in February of this year, and we knew we could sell a million of them because "The Godfather" has now crossed four generations. I applaud the decision to go with a black bottle when nearly everyone else is clear glass. And the pouring line is down the side. At the end of the night, when you want to make inventory, you know how many shots are left.
BJ: You're not just a celebrity spokesperson who has no real idea of what he's talking about. You've been in our business before.
GR: I've been in the club business most of my life. I worked my first club when I was 18 on Staten Island.
BJ: So, you know premium beverage service. When you talk, you talk from experience.
GR: Yes, indeed. I opened one of the signature restaurants in the '70s and closed it in 1988 called Gianni Russo's State Street. I came up with the idea where I would serve gourmet food for 12 hours, from 6 at night to 6 in the morning, because the celebrities had nowhere to go but coffee shops. And I was hanging out with most of them at that time. I created this space, and it became the haunt of everybody. Frank Sinatra, Sammy Davis, Dean Martin. It became a late-night spot. Tom Jones was at the big Hilton on Paradise, and I was right next door to the Las Vegas Country Club on State Street between Sahara and Paradise. So, it was easily accessible. I had limos to go pick up people. There was one night I couldn't believe. I got a call from Don Rickles, and he had a special table that he liked and he said, "I'm gonna come in after my show. Can I have my table?" And I said, "Sorry, Paul Anka is there now." So, he asked, "How about the one across near the fireplace?" "No, Tony Bennett's there." Then, he said, "Aw, come on. How about the one next to the bandstand on the other side of the fireplace?" And I said, "Can't. Frank is there." And he said, "Frank who?!" I said, "If you have to ask that question, you don't know the guy." He hung up on me!
BJ: It was that kind of place, huh?
GR: Yeah, and not only that, but the greats would come and sit in. I remember after one of the big boxing fights, there was this up-and-coming comedian who came in. He had a couple of movies out right away, and he came in with his brother and all of that after the fight.
BJ: Who?
GR: Eddie Murphy! He did about a half-hour of stand up. Then, they all sat down and at the end of the night, my maitre'd brought them a bill for $2,300 and his brother said, "What is this?! My brother did 25 minutes up there!" They called me over, and I said, "Well, I didn't ask him to do it. You have to pay the check!"
BJ: Frank, Sammy, Dean. So many legends. What were some of their drink preferences? Do you remember?
GR: Dean and Frank were straight shooters. They'd just put the bottle on the table and that was it. That used to be the thing, to show the balls you had as a man. When guys were guys, they drank shots. Jackie Gleason would try and bury you with them. That guy could drink all day! But, at night, they were more refined. This was back in the late '60s and '70s when gentlemen always dressed. They'd go out, a lot of times, even in tuxedos. And they'd love martinis. Dean would call them "martoonis." Those were great, great days. I come from a time when my grandmother would rub Scotch whiskey on my gums when I was teething to numb them! It was a different time. But maybe we're bringing some of that back. Now's the time for Don Corleone Vodka.