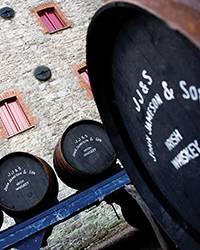 Irish whiskey is undergoing an unprecedented wave of new distilleries.
Imitation is the highest form of flattery, the saying goes. But investment is pretty high up there, too. For years now, Irish whiskey has been posting noteworthy gains on a small base. Now the supply side of this phenomenon has jumped in with real capital, and big plans.
Here is most of what you need to know about the growth trajectory of Irish whiskey: In 2011, there were four distilleries operating in Ireland, and now, at least 14 are up and running with nearly 20 more in various stages of planning. And make no doubt about where distillers expect most of their new whiskey to be flowing: to the United States, their number one market.
Irish has for decades been driven by the success of Jameson, representing about 75% of U.S. volume. But as other brands—Tullamore D.E.W. and Kilbeggan, specifically—were purchased by companies with a strong presence in the U.S., more weight has been put behind them. In some cases, new iterations and brand extensions have arrived, with companies—not always the big ones—committing greater resources. Even young, lesser-know labels are showing growth—Castle Brands' Knappogue Castle age-statement single malts and value-priced Clontarf, for example.
Malini Patel, VP of World Whiskies and Americas Innovation for Beam Suntory, owner of Kilbeggan, Two Gingers and three other Irish brands, summarizes: "A global boom over the last several years has driven the interest of Irish whiskey amongst consumers looking for quality spirits with distinct flavor profiles and unique stories. We are also seeing a larger variety of Irish whiskey available today than five years ago with new brands coming to market at a very fast pace and established brands releasing new expressions."
"Irish continues to gain momentum in numbers and with bartenders with its very approachable style and taste," says Sona Bajaria, Brand Director for Jameson. "Jameson has opened the door for Irish whiskey for American consumers generally—they drink it and enjoy it, even if they move along in their whiskey journey to try other Irish products, which is happening increasingly, as they move to super and ultra-premium, and that has benefited our higher-end brands Powers, Midleton, Green Spot, Yellow Spot and Redbreast."
One of the few mysteries in Irish is the next steps for Bushmills, Ireland's oldest registered distillery. In 2014 Bushmills became part of the Proximo portfolio, which has always been defined by the Jose Cuervo brand. Bushmills is routinely respected as an important Irish whiskey, especially for its malt expressions, and for having introduced the first flavored Irish in the U.S. several years ago: Bushmills Irish Honey. The trade is eagerly anticipating what Proximo will do with the brand.
Edge of the Irish
Irish whiskey is in general considered lighter and smoother than bourbon and Scotch, a more approachable and a great entry point for newcomers to whiskey. While most Irish whiskey sold here is blended, many brands now feature extensions in the individual styles—single grain, single malt and single pot still—with more aged expressions and, lately, cask-finished types available.
Other innovations are taking hold. Jameson last fall launched Jameson Caskmates, finished in stout casks.Teeling sells a small batch finished in rum casks and a single grain matured in Cabernet Sauvignon barrels. And Tullamore just released Trilogy, a blend of triple-distilled grain, malt and pot whiskies matured in three cask types—bourbon barrels, Oloroso Sherry butts and rum casks.
Tullamore's oldest release to date, Trilogy is part of the range expansion that will roll out over the next few years, a result of being owned by William Grant, a company with access to a broad variety of high quality casks with which to experiment, says U.S. Brand Ambassador Tim Herlihy. "The real significant change in Irish whiskey, beyond the growth of so many new producers, is it's no longer just entry level," he says. "We're seeing more single malts and single pot still whiskies and will see more of that coming on, with a real breadth of style and price points."
Future Bright
"Irish whisky has definitely arrived and the big brands continue to grow substantially, making this a very interesting and exciting time," says Jack Teeling, Managing Director of the Teeling Whiskey Company. "Things are very much dominated by the big guys and the new whiskies are coming from a narrow production base, but there's a whole host of smaller guys trying to get into the business, and I believe over the next five to seven years, as production comes on stream, the supply will expand quite dramatically in terms of flavor profile and expressions." Teeling released a single malt last May and now has a core range of three whiskies, as well as some limited offerings, like a malt finished in white port casks and 12 single casks to be released in February and March.
The expanding supply hasn't been lost on on-and off-premise retailers. "We came to realize that Irish has so much versatility and diversity within it that the many types can really be applied to many different platforms in the cocktail world," says Jack McGarry, one of the men behind The Dead Rabbit, currently considered one of the best cocktail and all-around drinking destinations in the country. Their current menu, in fact, is based half on Irish whiskey-based drinks, and with more than 180 different labels of Irish behind the bar, McGarry reckons they stock the most of any operation in the U.S. But it's not just for show; the Dead Rabbit pours more than 100 liters of Irish each week, making it the biggest category at their bar.
McGarry says showcasing the properties of Irish is something they've taken on at Dead Rabbit, but admits that many operators and bartenders only know about Jameson. "People don't order if they don't know what it is," he explains. "Many people don't understand what single pot still whiskey is, for example, so we train our staff on whiskey flights and how to recommend the right style for each guest, making it easy and accessible to our guests."
Donal O'Gallachoir, Brand Manager for the 2011-launched Glendalough Distillery, says as the range of possibilities—grain or malt, continuous or pot still, peated or unpeated, as well as various finishes—expand throughout the market, consumers will welcome the chance to go beyond the blended style. Glendalough, for instance, currently bottles three poitins (see sidebar), a 7-year-old and 13-year-old single malt, as well as "Double Barrel," aged in bourbon and Sherry casks.
Most of the whiskey currently being sold by these brand new distilleries are sourced from one of the major Irish companies, as they wait for their young whiskies to mature. As William Grant & Sons' Herlihy notes, there will be a flood of new expressions once that happens, and the real proof of what's next in Irish will emerge only then. "There's a long long way to go and it will be interesting to see what this boom will have us talking about in five years time," says Herlihy, "after the wave of new Irish whiskies come over our way."
The Poitin Factor
If mezcal and moonshine can find a bigger market, why can't poitin? That's the question some Irish distillers are starting to ask of spirit retailers.
Donal O'Gallachoir, U.S. Brand Manager of Glendalough Distillery, now promotes three poitins, and compares its prospect to that of mezcal in relation to tequila: "Like mezcal, like pisco, poitin has an appeal to modern drinkers looking to try something different. This is a time in which people are looking to grow their knowledge of the Irish category and anything that starts that conversation is a positive thing."
Traditionally, poitin (pronounced "po-CHEEN") was the precursor to whiskey, made from malted barley, sugar beets and potatoes. Glendalough produces a premium expression at 40% alcohol by volume; one aged in Sherry casks; and one bottled at 60% or "Mountain Strength."
Other brands, including Bunratty, have entered the U.S. market in the past few years. Newer importers feel the time is right now that any and all spirits seem to have a waiting customer base.
Mad March Hare, distilled in pot stills from malted barley, is pitching their poitin with a "craft" angle. "Poitin plays a large role in the history of Ireland and especially Irish whiskey, with local distilling tradition being similar to that of American craft spirits," notes John Ralph, co-founder, Mad March Imports. "With the U.S. market accounting for approximately 36% of Irish whiskey sales, and craft spirits continuously growing in popularity, we feel it is the perfect opportunity to introduce the U.S. consumer to the ancient craft of Irish poitin." Mad March Hare launches in CA, MA, IL, NY and CT this quarter, at SRP $24.99.
Getting Greener All the Time…
Arguably a sign of the Irish category's continuing strength, the U.S. market has seen a fair number of new entries in recent years. It's no shock to see them put their nationalism front and center, playing off Irish history, geography and tradition. To wit: West Cork and Donegal Estates both evoke beloved counties on the Emerald Isle. Claddagh Irish Whiskey honors the traditional Irish ring design, whose significance dates back centuries. The Pogues is made in partnership with the ever-popular Irish band.
The Irishman, produced at the Walsh family distillery, leaves no doubt as to its heritage; plus the recent extension, Writers Tears, honors 19th century Irish writers and playwrights. Kinahan's Irish Whiskey, with Dublin roots dating back to 1779, was actually the first ever whiskey to be trademarked. Winebow is bringing in the brand to the U.S., with a blended whiskey (92 proof) and a 10-year-old single malt.
With straightforward, authentic appeal, the expansion of labels in the Irish category has the feel of a family getting bigger.
Selling Points
**Irish whiskey is generally lighter and smoother than bourbon and Scotch, more approachable and a great entry point for whiskey newcomers.
**New expressions of Irish whiskey have great appeal for whiskey enthusiasts as suppliers are putting the best material and effort into specialized bottlings.
**Irish whiskey is underrated as a mixer; did you know that half the cocktails on the menu at The Dead Rabbit (recently named Best Bar in America) are made with Irish whiskey?