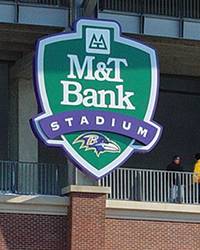 Tim Graham Looks to Score With Beverage Service at M&T Bank Stadium
If you've ever owned, operated, or tended bar at a sports-themed restaurant or tavern, you know there is always the risk that some customers may get a bit out of hand if their team is losing. Heck, even when the Ravens, Redskins, Orioles or Nationals are doing well, the atmosphere can get rowdy. Chances are, you only have to be concerned about a few diehards getting too distraught over a final score. Tim Graham, Beverage Manager at M&T Bank Stadium for concessionaire Aramark, has to worry about a few thousand!
Graham has held his current job since last June, having previously served as Beverage Manager at Oriole Park at Camden Yards. He wasn't there when the Ravens had their Super Bowl run a couple of years back. But he was there for this past season's injury-plagued, 5-11 disappointment.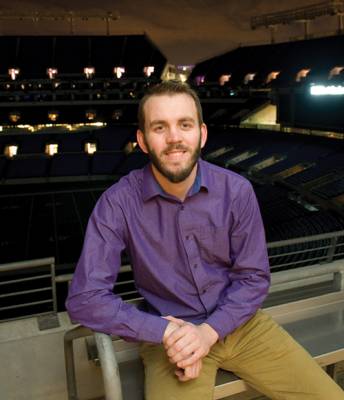 "There are so many moving parts behind the scenes," he said, during a recent interview with the Beverage Journal. "It's how you carry yourself and how your staff carries themselves in those moments that can be the difference between a mob of 50 angry people or everybody just keeping their cool. There are just a lot of things you can't control in this particular business. You can't control the on-field product. You can't control the game day weather. But anything you can't control, you still need to be ready for. If it is a poor season on the field like the Ravens have had this year, you need to know what that brings. What that brings is tension. The people aren't quite as easy-going. They are a little quicker to complain. So, you have to be prepared for that. The same holds true for when they are doing really well. We'll want to ride that out and celebrate with our many fans."
Graham's responsibilities are many. Chiefly, he is tasked with hiring and training the stadium's bar staff. One of the challenges, of course, is his hires may only be on the job for eight days out of the whole year. To train someone new for a live NFL event is almost impossible. "You can't mock up what they are going to continually see on game day," he said. "But we constantly have a demographic of new staff who we try to pair up with our veteran bartenders. We really rely on some of our strong folks, some of whom have been here since the stadium opened, to make sure everybody's comfortable."
A lot of the bartenders and servers Graham employs do it "for the fun of it," he noted. They have other full-time jobs. Others are so-called "lifers," career servers who bartend wherever the proverbial fish are biting depending on the time of the year. A lot of the suite attendants who work at M&T also work at Verizon Center in Washington, D.C., or at Oriole Park or at the Nationals stadium, for instance. "Probably 60 percent of the people are here for the extra income," Graham estimated. "It's good money for the time spent. The other 40 percent, I would say, are adding this to their food and beverage service jobs to fill out their year-round schedule."
In training servers and bartenders, Graham is not shy about instructing such staff in the knowledge that, sometimes, people just need to be told what they want to drink. A lot of customers, especially those standing in lines with anxious people behind them, get anxious themselves about the question: 'What would you like?" Graham and his staff have found it much more effective to lead with: 'Would you like to try?'
Graham remarked, "If you lead with 'Would you like to try our Purple Whatever, five or six times out of 10 they'll answer, 'Yeah, OK, I'll try that.' They don't have to think about it. It keeps the line moving, and it elevates the bartender from an order taker into someone who has a suggestion, someone who has valuable input. You're always walking a fine line between helping the customer decide and telling him or her what they want. In the end, though, you can't really re-invent the wheel, especially when you're serving thousands and thousands of drinks."
He went on, "I also order all of the alcohol for the stadium, all of the wine and liquor and some of the beer. Most of the beer portables and the stands that have drafts come from our central warehouse. All of the liquor, though, is controlled by me. I order it, and I and my team issue it out to each of the bars and monitor their yields and any of other issues that might come up. We want to always make sure we have almost exactly the right amount of everything. I have 32 bartenders at club level. Probably my main game day duty is to watch over them. Every bartender has their own unique stock. So, part of my role is to keep them accountable. Also, we have the suites where there are a lot of special orders and higher-end products going up there. I look over all of that."
But it's not just Ravens Game Day where Graham and his staffers spring into action. There are probably about 200 days where there is something going on at the stadium and catering is needed -- everything from corporate events and holiday parties to weddings and concerts."We do events year round," he stated. "For example, we have dozens of weddings every year. Some people will get married elsewhere and then have their reception on the club level in one of the lounge areas. But a lot of the ceremonies are here, too, because the space is purchased for a block of time and some find it both unique and cost-effective to use the one space for the entire event."
If he has an operational philosophy that he lives by and tries to impart to his staff, it's this: "Under promise and over-perform. Don't promise anything you know you can't deliver on. That's the best way to get into trouble. I am definitely not saying set your bar low. But make it so you have room to exceed people's expectations. Allow yourself room to blow minds."
One way he does that is beverage selection. Under his leadership, M&T Bank Stadium has quickly garnered one of the best reputations in the NFL as being a venue to get really good drinks. One of the reasons is something Graham likes to call "in-between cocktails." He explains, "What it comes down to is perceived value. Anybody can make a rum and Coke. The key is to find that little way that make drinks just a tiny bit more than you would expect. The bartender is in the driver's seat of the experience, because drinks are often what customers are presented with first. ... People are coming and paying a premium price for drinks; they want to walk away from the bar feeling confident that they spent their money well."
He continued, "We may do a signature cocktail, a Sangria or a punch, that utilizes products already on-hand, while also managing cost. But it's also not something stadium goers expect when they go to a bar. It also crosses demographics. A lot of the stadium experience is male-driven. So, typically, there are a lot of beers and dark spirits mixed with cola. It's really important that you keep the female consumer in mind, to give them a reason to come into the concourse and spend money. You have to give every consumer a reason to walk into your space where you're selling things. If they're staying in their seats because there's nothing inside for them, then we've lost out on residual food sales and the like."
This creativity has extended to M&T's catering events, its suite service on game days, and other special gatherings. "With catering and in the suites, that's where we have the opportunity to add a little flair. These are people who are entertaining, and they expect something upscale. We have a menu that we've crafted, which is a great starting point, but I love working with the suite holders who want to customize their bar area. To be able to provide something way better than they expected, that is the best feeling. They get eight games a year, and they pay darn good money for it. The same thing goes for weddings. We have one chance to make a bride happy. Probably the most rewarding part is when the bride and their family comes back to us with an e-mail or a call and says, 'Wow, you guys knocked it out of the park! That was awesome!"'
As for the most challenging part of his job, Graham harkened back to his transition from working a Major League Baseball season to now working pro football. He concluded, "You don't have a 10-game home stand where you can say, 'Hey, bartender. Yesterday, you did this wrong. So, let's work on it today.' Some people are gone for six months, and then they're back for just eight games. Basically, in foodservice at this scale, the approach we live by is: 'Stuff is going to go wrong behind the scenes. It's never perfect no matter how much you plan. We know that. But as long as the guest doesn't see us sweat, we're fine!'"