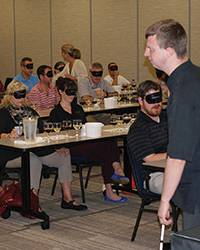 Host of Francis Ford Coppola Winery's Tasting in The Dark
Henry "Hoby" Wedler is a blind graduate student at the University of California, Davis, founder of the nationally recognized chemistry camp for the blind and host of Francis Ford Coppola Winery's Tasting in the Dark experience. When he's not busy working towards his Ph.D. in organic chemistry or leading his blind or visually impaired chemistry camp students in conducting lab experiments through touch and smell, he turns his attention to wine – where he's passionate about wine flavor and how it relates to chemistry.
Once per month Hoby travels to the Francis Ford Coppola Winery and hosts Tasting in the Dark, a blind tasting experience that he helped establish with the Coppola winemaking team in 2011. The surprising and enlightening two-hour wine tasting, where guests are blindfolded and led to the Winemaker's Lab, explores how flavors and aromas in wine are accentuated when experienced in complete darkness. Hoby believes that when a sighted person is in complete darkness, he or she feels more vulnerable and his or her senses become more heightened, bringing out more flavors in a wine.
Blind since birth, Hoby was inspired by programs offered by the National Federation of the Blind in high school, and with encouragement from professors, colleagues and others in the wine industry, he gained the confidence to challenge and refute the mistaken belief that STEM fields are too visual and, therefore, impractical for blind people.
Hoby also founded and teaches at an annual chemistry camp near Napa, California for blind and low-vision high school students. Chemistry Camp demonstrates to the students, by example and through practice, that their lack of eyesight should not hold them back from pursuing their dreams.
"Francis Ford Coppola Winery has been extremely fortunate to work with someone as talented as Henry Wedler to help develop Tasting in the Dark," said Corey Beck, Director of Winemaking and General Manager. "Not only has Henry been an inspiration to our guests and the employees of the winery but he has one of the best palates I've ever been around when it comes to wine tasting."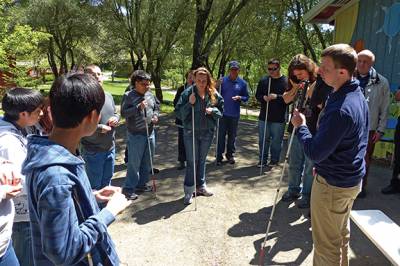 Hoby Wedler, Francis Ford Coppola Winery; teaches his annual chemistry camp near for blind and
low-vision high school students.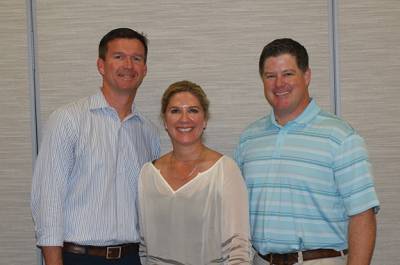 Robert Burke, Reliable Churchill; Kara Regal, Francis Ford Coppola Winery; and Dean Stair, Reliable Churchill; assisted Hoby in conducting a fascinating wine tasting that explored how flavors and aromas in wine are accentuated by simply 'turning off the lights.'