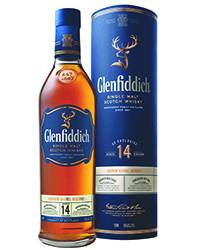 Glenfiddich Pays Tribute To The American Whiskey Industry With 14 Year Old Release.
Glenfiddich – one of the world's most awarded single malt Scotch whiskies – has recently released a new expression to its permanent portfolio: Glenfiddich 14 Year Old. Exclusive to the United States, the bourbon barrel reserve is a celebration of American spirit. It pays tribute to the shared history of American and Scotch whisk(e)y, and the American Oak ex-bourbon barrels that are the backbone of the single malt Scotch whisky industry.
Glenfiddich 14 Year Old uniquely delivers a bourbon heart with the soul of single malt. Matured for 14 years in ex-bourbon American Oak casks, the whisky delivers beautifully complex flavors of woody spices combined with ripe summer fruit, resulting from the spirit's interaction with the casks. After waiting patiently for 14 years, Glenfiddich Malt Master, Brian Kinsman, finishes the whisky in deep charred new American Oak barrels supplied by The Kelvin Cooperage in Louisville, Kentucky. The result: a rich, sweet and vibrant single malt.
Kinsman comments: "American Oak casks have had a significant influence on single malt Scotch whisky maturation and the flavor profiles we find today. By maturing this expression in bourbon casks we've created a beautifully intense flavor, reflective of the relentless passion we have for producing incredible single malts. With notes of fresh oak and velvety caramel, our 14 Year Old remains true to Glenfiddich's heritage of producing fruity and deeply flavored whiskies and is the perfect marriage of bourbon sweetness and Scotch complexity."
Peter Gordon, Glenfiddich Company Director added: "As a family run company we're able to be bold and innovative with our whisky making – and the exclusive Glenfiddich 14 Year Old is a wonderful example of this. We cherish our independence as it gives us the freedom to work with people who share our values – such as The Kelvin Cooperage, which is itself a family run company – and continue to create innovative whiskies of exceptional depth, distinction and diversity of flavor."
Glenfiddich 14 Year Old is presented in a deep navy blue casing – inspired by the color of the Kentucky state flag – and is embossed with Glenfiddich's iconic gold stag. The packaging is a celebration of the two whisk(e)y worlds and pays homage to the American whiskey industry's contribution to single malt Scotch whisky. Glenfiddich 14 Year Old (43% ABV) is certified Kosher and will be available nationally this fall at luxury whisky retail stores and premium bars and hotels in the United States.
Malt Master Brian Kinsman's Tasting Insight:
Colour: Rich golden
Nose: Deep vibrant vanilla oak notes with hints of citrus, caramelized brown sugar and cinnamon. Baked apple and ripe summer fruits are balanced with the rich oaky aromas.
Taste: Beautifully rich and sweet with layers of creamy toffee, woody spices, candied orange peel and fresh toasted oak.
Finish: Long lasting with a lingering sweetness.
Main Flavors: Vanilla sweetness, summer fruits, fresh oak.