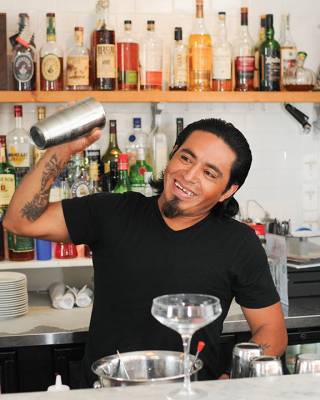 If you operate a restaurant that has a full-service bar, you really can't ask for a better bartender than Isaac Martinez. He's the man behind the taps at the very popular, always bustling Hank's Oyster Bar in Washington, D.C. When asked during a recent interview with the Beverage Journal what his overall work philosophy is, Martinez had this to say: "I am interested in learning more and more so I can become better. I want to know everything! When people come in and say, 'Can you make this drink?' I always want to be able to say, 'Yes, I know how to make that drink.'"
Martinez came to the United States from Mexico in 2001 and has never gone back. His English is not the best. This reporter had to ask him to repeat a few answers during our chat and had to rewind the tape more than a few times while transcribing. But, clearly, the force of his personality is what has his customers coming back to him again and again. And the fact that he makes one of the town's best Old Fashioneds! He remarked, "I really like it when people say to me, 'Oh, you work HARD! I like how you work!' I am motivated by this as much as when people say, 'I like this drink you just made me.' When you work at a bar, you have to have a lot of energy. You have to be in shape."
He continued, "I've always worked in restaurants and bars. I've worked as a barback and as a bartender. Right from the start, I really liked the job and the business. I enjoyed mixing drinks, and I still like coming up with something new for the customers."
Celebrating its 10th anniversary year, Hank's Oyster Bar has been attracting a wide array of customers ever since being founded by Jamie Leeds in May 2005. From the get-go, the establishment specialized in serving what it describes as "Urban Beach Food." Menu favorites range from lobster rolls to fish-of-the-day specials to (of course) such ice bar options as raw oysters, tartar, and ceviche.
Hank's is named after Leeds' dad, who she has credited in numerous interviews as her inspiration for becoming a chef. In its first decade, Hank's has received rave reviews and positive press from such local outlets as the Washington Post and the Washington Times to such national publications as Gourmet, Bon Appetit, and Southern Living. There are now three locations in all, including Dupont Circle (the original, where Martinez is employed), Capitol Hill, and Old Town Alexandria, Va.
But no great dining establishment is complete without stellar beverage service, and that's where Martinez comes in. "I focus a lot on tequilas," he said. "That's what customers know me for. A lot of people don't like tequila. Or maybe they like it, but they are worried that some people may say something if they order tequila or they don't want to get a headache from drinking too much of it. But I mix tequila with other liquors. I like to get people to try it first. And, if they like it, then I tell them what's inside. I think it's good to try different drinks, and tequila is definitely different" than the usual beers, wines, and cocktails people order.
While he concedes that the work hours of a bartender can be challenging, especially considering he is the father of a young son, Martinez wouldn't want any other job. He especially loves being regarded as one of the nation's capital's veteran bartenders. As such, he has some words of wisdom for those just coming up on the D.C. beverage scene: "Don't give up. If you really like it, you should continue it. A lot of people will say, 'Oh, I don't like this' or 'I don't like that.' Don't get down, don't get depressed. It's hard work, but there is opportunity."
He concluded, "You have to like talking with the customers. I like talking about their lives -- where they're from, what they did today. Sometimes, customers give me advice about what they've seen in other restaurants or even in other countries. You can learn a lot from people."
WHERE HE'S FROM: Mexico
KIDS: One son, five years old.
WHAT HE WATCHES: Action Movies
THE SPORT HE PLAYS: Soccer
HOW HE SPENDS HIS FREE TIME: "I like to go to other bars and try their different cocktails."