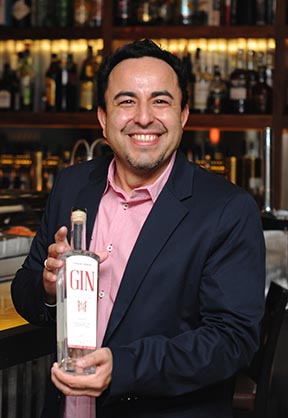 Mike Rizzo is in charge of all things baseball for the Washington Nationals.  Chuck Hagel is in charge of all things defense for our country.  And what about that other great Washingtonian, Jon Arroyo? "In a nutshell, I am in charge of everything that is liquid for the Founding Farmers Restaurant Group," he stated.
As the company's Beverage Director since its inception six years ago, he truly is responsible for not only all of the beer, wine, and spirits served at Farmers Table D.C., MoCo's Founding Farmers in suburban Potomac, Md., and a soon-to-open location at the upscale Tysons Galleria II mall in Northern Virginia, but also the three restaurants' coffee program, their tea program. "Everything!" he exclaimed, "Every liquid product. I love the juggling act that is my job. There are lots of moving parts, lots of chess pieces."
When the original Founding Farmers location opened on Pennsylvania Avenue six years ago, cocktail programs were few and far between citywide. "We were very new to the scene," Arroyo recalled, "and we had a very specific approach. We had the farmers' table approach. We wanted to work with smaller producers of spirits and producers who practiced some of the same belief systems that we do, which are sustainable practices, more organically grown products, and things of that nature."
Arroyo found that one of his favorite industry players to work with in this regard is Shannon Crisp of FEW Spirits. "Shannon and I go way back," he stated, "He is a perfect example of some of our core belief systems where we try and support up-and-coming brands and up-and-coming companies that are doing great things. We've been working with their products since they started their company, and their business has grown pretty quick over the past couple of years. One of the absolute favorite spirits that we work with is their Hawaiian Spiced Rum."
Arroyo also serves as the brand ambassador for locally based Copper Fox Distillery, run by Rick Wasmund. The two have been friends for a long time, and Wasmund is also the distiller for Founding Farmers' in-house spirits, Founding Farmers Rye and Founding Farmers Gin. "He and I work side by side to articulate the recipes that are going to be our proprietary blends," stated Arroyo. "We have been partnering and developing relationships over the course of the last year to continue to support people who are doing great things in small doses. I recently flew to Peru to hang out with Melanie Asher with Machu Picchu for a week. Together, we worked on a proprietary picchu blend for the Founding Farmers. It will be released just in time for our opening in Tysons II. I've also partnered with a winemaker out of New York from a little wine shop called Brooklyn Oenology. Her name is Alie Shaper, and together we worked on a proprietary white wine blend and are officially releasing it next Monday [this interview was conducted in late September]."
With all the exciting challenges of his job, Arroyo is still a counter man at heart. He stated, " I don't get behind the wood as often as I'd like at this level. So, the time I do get to spend with the young bartenders coming up, working with them side by side, is great. Even if it's just adjusting their technique on how they're holding a shaker or things of that nature, that's the absolute best part of my day. And I try to have one of those moments every day, if possible."
One of his passions continues to be creating new beverages, new cocktails. "But I get pulled in so many directions that it's very difficult to slow down and say, 'Oh, today, I'm going to just work on new recipes!' You get to a certain level of responsibility where it's just not possible. I have over 30 bartenders who work for me right now, and I've got two head bartenders at every bar. It's all great. The energy is great, and I love the juggling act of it all. But at the end of the day, you just want to make cocktails every once in a great while. You just want to pour a glass of wine and talk to a guest."

FAVORITE MOVIE: "Old School"
PRIZED POSSESSION: "My father's watch."
FAVORITE D.C. TOURIST SPOT: The Hay Adams Hotel bar.
BEFORE HE GOT INTO THE RESTAURANT BIZ, HE WAS: An actor.
OTHER CAREER HE WOULD LOVE TO HAVE ATTEMPTED: Anthropologist.
HOBBIES/SPARE TIME ACTIVITY: Stand-up comedy.