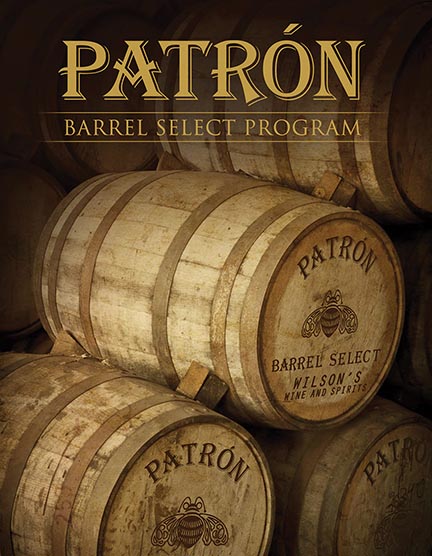 Patrón Spirits has inaugurated a buy-the-barrel program called "Patrón Barrel Select" where spirits retailers and on-premise accounts are able to taste and choose their own bespoke barrel (about 27 cases) of aged Patrón tequila unique for them. Each barrel has been in the company's aging room for a specific period of time.  As a result, no two are alike.
Greg Cohen, Vice President of Corporate Communications for Patrón Spirits, recently sat down with the Beverage Journal to discuss the program.  "The way that tequila is produced and aged and blended from different barrels is such a challenge," he stated.  "Our master distiller and his team blend different barrel types, different wood, different lengths of aging to create those products.  We thought it would be really interesting if we gave people an opportunity to sample those different tequilas that are aging in those different barrel types over the different lengths of time, on their own ... just straight out of the barrel. Each is very unique. When they are blended together to create reposado, for example, that's the taste that people know is Patrón.  But when you taste those barrels individually, and there are so many different combinations, you get really distinct and different tastes.  It's still Patrón.  It's still very recognizable.  But you get a lot of different flavors and a lot of different complexities."
One of the first retailers in the country to purchase a barrel of "Patrón Barrel Select" is Lax Wine & Spirits in Washington. D.C.  The store received a big helping hand from Patrón Spirits Production Manager Antonio Rodriguez, who selected the barrel.  Rodriguez remarked, "I was very honored that Lax asked me to help choose his barrel, and I was given such free reign to pick something special.  The request was for a light reposado.  So, this particular blend of reposado, Barrel #24 of Batch 111.2, matched what they were looking for."
Rodriguez indeed selected a light reposado that has been aging in French allier medium toasted oak for six months.  It is a blend of tahona and roller mill produced tequila, which is characterized by an aroma and taste of lemon tea, light agave and wood, sweet vanilla, light butter, light raisins, and nuts.
He added, "I very much enjoyed the citrus notes and sweet vanilla that I was getting from it.  I thought it would be perfect."
The bottles from the barrel should arrive at Lax Wine & Spirits by the end of October.  The store's staff is looking forward to promoting.  "We are actually the No. 1 Patrón account in D.C.," store owner Lax stated proudly in a separate interview.  "We sell about 450 cases a month.  Our customers really love the product, and we wanted to do something very special for them.  I wanted to show these customers that whatever Patrón is doing, we want."
Cohen added, "We have a team in the Washington area, and they had worked closely with Lax and had known him for a long time.  It came about through their collective efforts.  We will provide some materials to help merchandise it.  With our collective efforts, we'll certainly do our part to help.  But it will be up to the individual retailer and restaurant to decide how best they are going to promote it."
Both Cohen and Rodriguez are hoping to take this initiative from its current infancy and develop it into a signature program for the company.  As this issue was going to press, a restaurant in Tampa, Fla., had also bought a barrel.  There is definitely precedent for it, too, as several whiskey companies and bourbon labels have launched similar programs successfully.  
Cohen commented, "We think it has a lot of potential.  It's not for everybody, though, because there is a substantial number of cases involved that come out of a barrel.  It's really just for those retailers and accounts that recognize the potential of something like this.  We hope a lot of accounts take us up on this as we attempt to grow this into something substantial.  But it's the first year that we've done it, so we will see where it goes.  This is about a store or a restaurant offering their customers something they can only find there.  These cases that Lax will bring in, they will only be available in his store.  And when they are gone, they're gone.  That's very exciting for consumers who are looking for something different that they can't find anywhere else, and there is great appeal for retailers who want to offer that to their customers."
Rodriguez agrees and hopes to offer his help in the same way he assisted Lax.  "It would be my pleasure and privilege to help select barrels for other accounts!" he exclaimed.  "But it's also fun and exciting for people to visit us in Mexico to choose a barrel for themselves that is to their individual liking."
He concluded, "What is particularly exciting about working at Patrón is that we use an ancient method of tequila production called the 'tahona' process, where a giant two-ton stone wheel slowly crushes the agave.  Only about five distilleries in all of Mexico still make tequila this way.  So, I feel very fortunate to have this opportunity to make tequila the same way it was done 500 years ago."