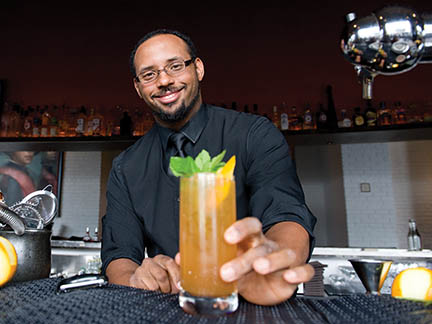 Aaron Joseph has been bartending for 13 years, most of them in the Maryland-D.C. market.  But it was his brief time early on in the Caribbean working for the former Orient-Express Hotels Ltd., now Belmond Ltd., that stoked his passion for using fresh ingredients in cocktails -- a passion that has helped position him as one of the best craft bartenders in the Baltimore market.
Early in his career, he learned his craft at such places as the Inn at Perry Cabin on St. Michaels and Farmers Fishers Bakers in Georgetown.  He really got traction at Bourbon Steak at the Four Seasons in Washington, which led to his current position as lead bartender at Wit & Wisdom in Baltimore's Four Seasons Hotel.
"Wit & Wisdom is Michael Mina's vision of an American tavern," Joseph described, during a recent interview with the Beverage Journal.  "Our beverage program reflects craft cocktails. We use fresh ingredients, fresh produce, and we make a lot of our own bitters and syrups and things of that nature.  We try and keep it as crafty and as interesting as possible by incorporating new and up-and-coming spirits.  We love providing our customers with an array of flavors, and we change our menu roughly four times a year to capitalize on the different seasonal ingredients."
Joseph has been at Wit & Wisdom for the past 19 months and believes he has finally found a home.  "I love just walking into the building each day!" he exclaimed. "I really have a passion for what I do.  I've been fortunate to find a career where I can share that passion with other people, both new and regulars."
For Joseph, it's all about having and showing passion for what you do.  That's what he believes separates the truly great bartenders from the merely good ones.  "It really is a matter of loving what you do and doing what you love.  If you love what you are doing, then you're not really working.  And if you are doing what you love, people will notice and that will translate into quality."
He continued, "I have been very fortunate to have been taught things like technique and execution by a number of people I consider to be industry leaders.  For example, there is a gentlemen in D.C. named Duane Sylvester, who played a really big part in helping me become the person that I am.  He's the lead bartender at Bourbon Steak, and he would always tell me that the quality you put in front of your guests is a direct reflection of you.  Try and take pride in every drink you serve a guest, whether it be a vodka and tonic or one of the more elaborate specialty cocktails.  So, each drink is indeed an extension of me and an extension of our program."
Joseph says he has a special affinity for using rum and bourbon in his various concoctions.  But he also takes pleasure in creating cocktails with spirits that people are unfamiliar with.  Still, even he acknowledges that getting customers to stray from their normal drinks and drinking habits can be hard.  So, too, can keeping up with changing tastes for that matter.  "Anything that is difficult or challenging in my job I try and think of as new and refreshing," he said.  "I love obstacles, because then things don't get boring or mundane.  It's the difficulties and challenges that make us who we are.  If it was easy, more people would be doing this."
And what has he learned in his 13 years behind the taps?  Plenty, as it turns out.  "The best thing you can do is listen," he concluded.  "Be approachable.  There is value in every job that you have, whether it's a job you don't really desire or one that you don't think is going to lead you anywhere.  There is value in just the experience.  Even if you're working for a dive bar that is paying you a certain amount of money and no more, you're still learning.  Find positive value in everything.  There is a lesson to be learned in every experience, even a time or two where you were treated terribly.  Hold onto those experiences, because they mold your career."
FAVORITE MOVIE: "The Five Heartbeats"
CAN'T MISS TV SHOW: "True Blood"
WHAT HE DOES IN HIS DOWN TIME: "I love going to the Farmer's Market on Sundays."
WHAT HE COLLECTS: Shot glasses and old vintage liquor bottles.
FAVORITE BALTIMORE TOURIST SPOT: "I'm still a sucker for the Inner Harbor."
PERSON HE'D MOST LIKE TO SERVE (living or dead): Richard Pryor