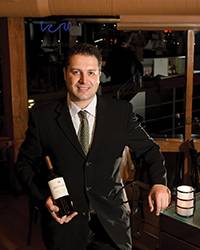 Julian Demiri arrived in the United States in 1996 as a young 19 year-old from Albania. He arrived speaking no English. He arrived with no job. He had however, just won the lottery.
Every year the United States offers around 50,000 temporary green cards to applicants from around the world. While this may not be the lottery you had in mind, it is in many ways just as important in the lives of those who are picked. What those "winners" do with such an opportunity makes all the difference.
Speaking French and Albanian, Demiri hit the ground running at a now defunct bar in Fells Point. After five years, Demiri earned full citizenship and sought a job at the Inner Harbor staple, the Rusty Scupper. The Scupper has become a well-known landmark in Baltimore with an impressive history and an award-winning wine list.
Demiri interviewed with long-time General Manager Ed Prutzer, but he was told that due to slow business following the 9/11 attacks they didn't have the shifts available to hire him. Continuing to press for a position Julian was offered "a few shifts." That small 'trial offer' suddenly became an open position. Without hesitation Demiri took that stroke of good fortune and ran with it. Just a few years later he began as a shift supervisor and now serves as the Assistant General Manager and Director of Wines.
Demiri's quick to point out that he has had help along the way, "When I came here 20 years ago from Albania we had nothing and I knew nothing. I had to assimilate and I got lucky to have a few people along the way who gave me a chance and shared their knowledge with me."
While Demiri had help in developing the Rusty Scupper's award-winning wine list he has worked with it longer than anyone. When given an opportunity to do so, he made it his own. Explaining the first of his challenges, "When I got the job, everything was a little high, some of the pricing was off. We had to bring in new wines and adjust."
Eleven years in a row the Rusty Scupper has earned the award for 'Best Affordable Wine List' from Wine Spectator magazine. The award is one of three that go to entry, mid, and high level wine lists in each state, each year. From 2004-2015 the Scupper has won the award for Maryland.
The feat of dominating such an award for over a decade is no easy task. Demiri believes the restaurant's success comes from a series of approaches that are each backed with reason and evidence. Demiri describes the process as if he's a scientist delicately balancing an equation, but with the confidence of a UFC fighter.
The accessibility of the list helps to keep the award coming back to the corner of the harbor. "We never fail on that," said Demiri referring to the distinction. "We design it this way for a reason. We want affordable and inexpensive if you are on a budget. [If] somebody is entry level they get it. [If] somebody is an expert they have that too."
This balance isn't achieved through only feel, but also an understanding of the customer.
"I think American palates are different; softer, sweeter, floral, fruity." Demiri continued, "You need to adjust with the market. A recognizable list with easy to drink wines. The best reading is the guest. You have to adjust day to day."
Perhaps it is the ability to adjust to changing circumstances that has made Demiri one of the best at what he does. After two decades in the United States he's ascended to heights he certainly may never have dreamed about. As far as the next twenty years are concerned? Demiri stays driven rather than dream-filled, "I've had to be dynamic in the past 20 years and I don't see that changing. In our business you cannot get stale, you cannot get complacent. People's tastes change and you need to stay fresh and give people what they want."
If you could choose any wine, which one would you drink:
"Napa Cabernet"
Person you'd most like to serve:
"Andrew Zimmerman from Bizarre Foods"
Other career would
loved to have tried:
"A pilot. When I was a kid I always wanted to fly."
Next major industry trend:
"I think the trend toward local and artisan products will continue."
Favorite thing to do outside of work:
"Spend time outside with my family. I take a lot of day trips into the far counties of Maryland and into neighboring states"